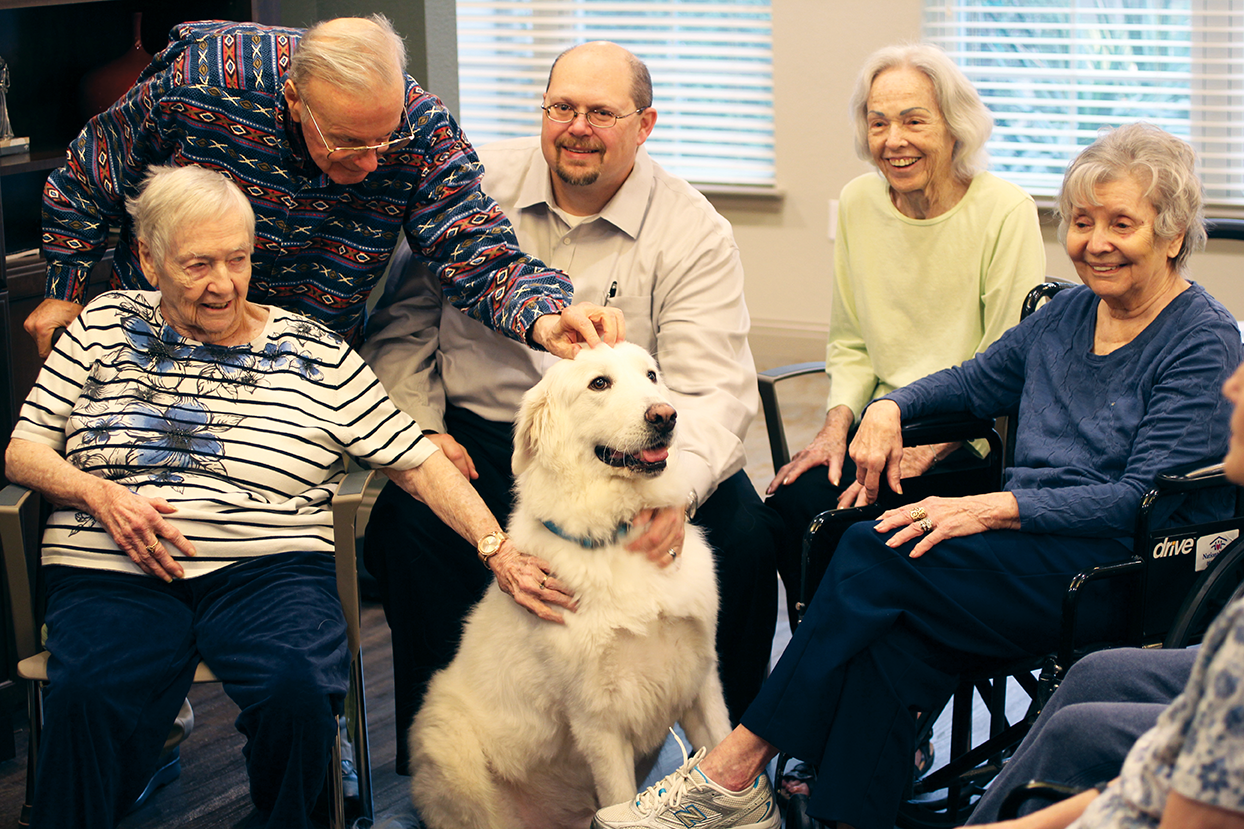 To those of us who have enjoyed sharing our lives with a beloved animal companion, we totally understand what a beneficial impact their proximity can have – keeping close during good times but also when we need a little help and/or one-on-one camaraderie as well. Yep, even in this modern age of high-tech personal connectivity filled with scientific marvels (can you say social media?), having that special four-footed friend at our immediate side can truly brighten any occasion or situation.
And realizing the same, the smart folks at one of our ZIP's senior living communities, Franklin Park Alamo Heights, have added to their already competent and caring (human) staff another member whose sole responsibility is to paw around the grounds, nuzzle the residents and accept the occasional treat, while administering some very therapeutic hands-on, heart-felt interaction. Known appropriately as "Doc," this can-do canine has proven to be one heck of a "pet-able" practitioner, dispensing doses of delight throughout his adopted and adoring community while warmly wagging to boot. Now that's a dog's life!
Having animals around has been shown to offer a variety of positive benefits to people living anywhere, in almost any environment. We Homo sapiens just "feel better" when we share some time with a dog or cat. And since Doc has signed on with Franklin Park, the responses from those who call it home have confirmed this. As the property's general manager, David Ewing, attests, "We had been thinking about adding a dog to our roster for a while, and in retrospect, we wonder why we waited so long." But more on Doc's on-site contributions later.
Doc, a 70-pound snow-white Great Pyrenees blessed with a loving, attentive disposition, had found himself abandoned and consigned to a San Antonio rescue facility. His is a social breed and needs a "family" to flourish. Fortunately, in September of 2016, through the services of a local trainer who knew the community was looking for a dog, Doc was introduced at Franklin Park as a possible addition. And after meeting the large, friendly animal, as David remembers, "Everyone was struck by his gentleness, beauty and overall calm." After a short trial period, Doc formally (and eagerly) was accepted by staff and residents for duty. And he and his new pals have been lapping it up ever since.
To see Doc with the residents, especially those impaired with memory issues, is, as David admits, "incredible." He explains, "People who are usually nonresponsive due to their conditions become more alert and animated in Doc's presence. Some who seldom ever say anything will speak to him, offer affectionate pats while seemingly remembering their former dogs. It's quite moving." Whoever Doc encounters, whether hale or impaired, the reactions all seem to be positive. People just like pets, and when this four-footed staffer makes an appearance in any part of the community, moods lighten and smiles appear.
So with Doc given free roaming privileges at Franklin Park and the residents, quite frankly, all a little ga-ga over him, life is good – for Doc and his many new friends. The program has been so successful that Franklin Park will be introducing dogs to its other properties in the coming months. It really has been—and continues to be — a win-win situation, thanks to this very pet-able practitioner. "Please scratch behind my ears!"
By Ernie Altgelt