A Thanksgiving Menu, to Share With Your Pet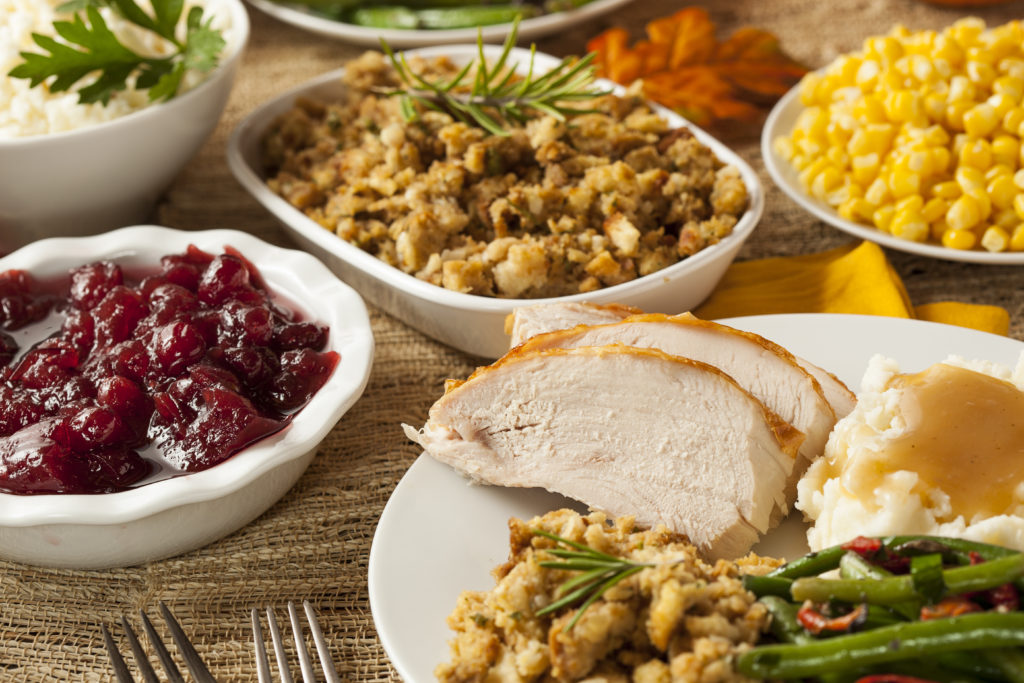 Soon, you will gather with family and friends, and sit at the Thanksgiving table. There, you will enjoy an array of wonderful dishes.
You know who else is gonna be at that table?
Me! Staring you down, and drooling, over that turkey leg!
You think I'm going away empty-handed?
But, according to veterinarian Chris LaBrie, DVM, you can share your Thanksgiving "people food" with us pooches, those delicacies that we all love. "In general, vegetables and fruits are safe for pets. There are a few that we avoid: some cruciferous vegetables like onion and garlic, in large quantities. Fruits you do not want to give your dog are grapes, avocado, (the pit is toxic), but in general, most are safe."
So, let's look at a typical Thanksgiving menu and what dishes you can share with Fido.
Yams ?
"Yams are perfectly fine," says the Kothmann Pet Hospital doctor. "The yam itself is not bad for the dog." But, he says, all that sugar and butter we add to it, is.
Peas and Pearl Onions
"Peas are fine. But, I would stay away from the pearl onions. And, the creamy-white sauce that goes with it."
Carrots, Cauliflower, and Broccoli ?
"Carrots are perfectly fine for dogs, cooked or raw. They love them, and there are not a lot of calories. They can eat cauliflower, broccoli, even lettuce. Most vegetables are safe. It is just that we like to cook them with oils, and butter and sugar," and those are no-nos.
Cranberry ?
"Cranberries are OK. You want to limit the sugar, keep the portion small because of the sugar, in the processed stuff."
Turkey ?
"Turkey is OK. We want to stay away from the fat and gristle. White, or brown meat, is fine." The caveat? Bones. No turkey bones for the dog! "Poultry bones are hollow, and they tend to fracture into sharp points."
Gravy ?
No. "Because of the flour and butter."
Rolls ?
"Yes, they can handle bread. As long as it is not overly buttered, and is fairly plain," says Dr. LaBrie.
Pumpkin pie? ?
"Plain pumpkin." Fido may have, (if he wants it), plain cooked pumpkin meat. Pie has a lot of sugar.
So, how can you feed your family a sumptuous holiday dinner, while including the family dog? Before you start cooking for your family, cook for the dog. Choose what you want to make him, cook it clean and then prepare your dishes for your family, with the requisite sugars, butters, and fats.
"The things that we get into trouble with dogs are the fats. They do not digest them, as well as we do," says Dr. LaBrie.
And, surprisingly, milk is not recommended for dogs or cats. LaBrie says after nursing; even cats lose the proper enzymes to process dairy, making it harder to digest successfully. LaBrie believes in feeding your animals name-brand, top-quality pet foods. "Dog food companies take a lot of time, and do a lot of research to make sure that they are feeding your pet the most balanced diet."
But, he knows that some people enjoy preparing meals for their animals. For those devoted owners, check out www.balanceit.com. This trusted resource offers recipes of home-cooked meals for your dog or cat, that are evaluated by veterinary nutritionists.
By Berit Mason