We don't speak your language, but boy, do we talk with our eyes. Just one look at a dog in a Halloween costume tells you what he thinks about that!
"Get me out of this thing!" he would say if he could talk.
Alamo Heights jeweler Oscar Villarreal loves his pups, and every year, he dresses them in Halloween costumes.
"They hate it!" Villarreal said with a laugh. However, his '09 customers love it. "We do it for the clients, because it's fun."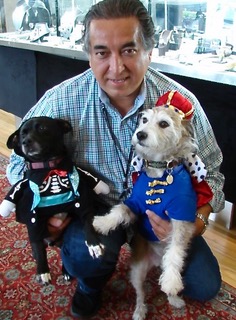 His scruffy dog is Boerne Boy, saved from wandering around a gas station, and his little black dog is Mecca, who was to be surrendered before Villarreal adopted it.
"For Halloween, we've bought them a King costume, a Dia de los Muertos costume, a crab outfit, a hobo costume, and a piñata outfit," he said. Last year, Boerne Boy was a shark. What people do to their dogs these days!
Villarreal owns The Jewelry Store on Broadway, and said the pups are his shop dogs, the "greeters."
"When we put them in a costume, they freeze up and go catatonic," said Villarreal. "Then, they are good sports about it."
He allows his customers' pets to enter the store with caution, and said more '09 stores are now "pet friendly," letting us dogs inside with our masters.
We are now about eight years into this business of pet owners dressing Fido as a frankfurter, shark or lobster. The National Retail Federation started tracking sales of Halloween costumes for pets in 2010. They wouldn't have bothered, if those sales had no future.
"Halloween costumes can run anywhere from $35 to $45," said Tina Kuykendall, whose husband Mike owns Mike's Dog Store on Sunset Ridge. "It is harder to fit large dogs. They don't seem to make as many costumes for them. Many customers want novelty – we carry killer whale, taco and pumpkin costumes."
Halloween-themed leashes and collars are for sale, plus candy corn plush toys. There are tricks and treats as well! The boutique sells carob-frosted dog cookies, and peanut butter Rice Krispie treats decorated with a ghost, just for your hound.
"Halloween kicks off holiday sales in the pet market," Kuykendall said.
Of course, chocolate is toxic to dogs. Dr. Chris LaBrie doctors pets over at Austin Highway's Kothmann Pet Hospital.
"The two toxic components in chocolate are methyl-xan-thines, which are theobromine (most toxic) and caffeine," he said. Whereas dark chocolate is good for people, he said it's terrible for dogs. "In general, the darker the chocolate, the more dangerous. White chocolate is the least toxic, and cocoa powder and Baker's chocolate are the worst."
When a pup eats it, signs of chocolate toxicity appear anywhere from 30 minutes to 12 hours after ingestion. Symptoms are increased heart and breathing rates, fever, and vomiting. We are really in trouble if we start to have tremors, seizures or cardiac arrhythmia.
"If you watched the dog eat the chocolate within the past 30 minutes and you know how much was eaten, induce vomiting with oral hydrogen peroxide administration (1 milliliter per pound of dog), or 1-2 tablespoons of salt in the back of the mouth," he said. "It is best to do this outside, as it will make a mess."
LaBrie said if you are uncomfortable performing this, or are unsure how long ago he ate the candy, hotfoot it to the vet.
"Some pets require hospitalization and decontamination," said LaBrie.
Villarreal's shop dogs may bring Halloween frivolity, but he is very serious about homing stray pups. He assists many national rescue groups, sending local rescues to a good home, wherever that may be. In fact, he just sent one to Los Angeles. The dogs he fosters are house-trained, leash-trained and kennel-trained, so they're ready to go and socialized.
So people, in summary, us pooches can have just as much fun during Halloween as you do (as long as our Halloween treats don't involve chocolate.) Feel free to dress us up in those cute little costumes, but here's a good rule of thumb: don't force us into anything, especially if our puppy dog eyes are telling you, "No."
Roxie