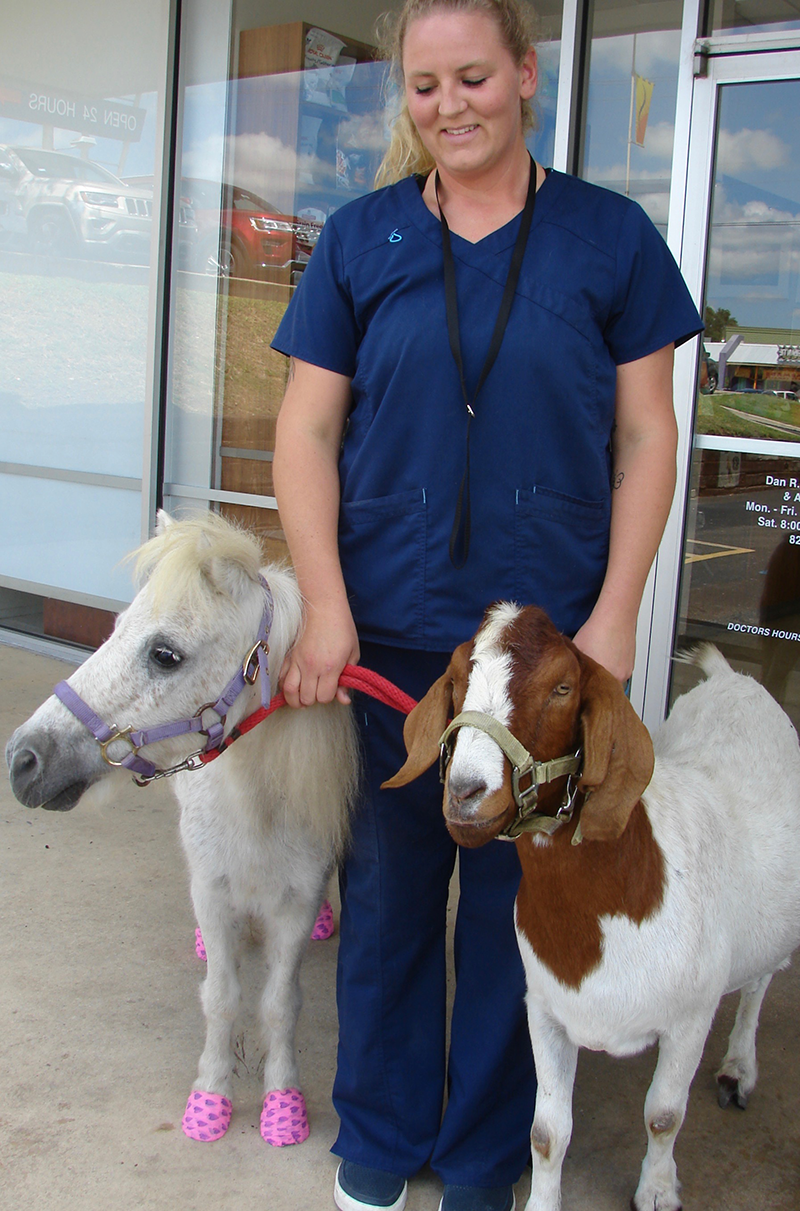 Not only does ´09 vet tech Jennifer Brown heal animals all day at work – more than 20 pets wait for her, at home, too.
"I started riding horses when I was seven years old," said Brown, who, as a youngster, was a 4H club member, showing pigs, goats and horses.
Brown lives northeast of town, on a 10-acre spread with her mom and dad. She was nice enough to bring two of her pets to meet me: a miniature horse named Chevy, and a friendly, big-bellied, rescue goat named Leo. I wanted to know: What is it like to have a such unusual pets, aside from a dog and cat?
Boy, did they draw a crowd!
We were chatting on the sidewalk at the Sunset Ridge clinic, and people came to admire, pet and take selfies with the mini-horse and goat. "It is uncommon, so people think that it is cute and charming," said Brown, obviously used to that kind of attention. "All of them are in the backyard – right out the back door. Everyone is out together. I integrate them slowly, so that no one gets hurt." Good advice!
Her collection includes her horses Brew, Maddy and Katie, the miniature horse Chevy, a miniature donkey named Tito, two goats named Raj and Leo, Bubbles the rabbit, four dogs who go by Mac, Jax, Quinn, and Maggie, as well as four cats named Bugs, Pip, Baloo and Kallie, plus five no-name Guinea pigs.
She says it is fun, but it's work, too, with the shoveling, the feedings, and the watering.
"My day starts about 7:00 a.m. Feeding takes about 30 minutes," Brown said. "I throw out hay, give them water. Evenings, that takes about an hour. I feed them grain, restock, clean out water buckets. Most work is done at night."
With Thanksgiving around the corner, are the animals included? Absolutely! In fact, they celebrate at her parents' home, because after feeding the people family, the animals must be fed, too.
"I make them cookies and a cake for the holidays," she said. What kind of cake does a horse or a goat eat, you may ask? "The cake is made of oats, honey, molasses, apple, carrots, and then I mold it together," she explained.
Her mom and dad are used to her brood, rarely blinking or raising an eyebrow if Chevy is in the kitchen, nosing around for a snack. "My parents aren't surprised anymore, when an animal is in the house," Brown said with a laugh. Nice people!
As for the goat: Can you really have a relationship with a goat? According to Brown, yes you can! "Leo has a really funny personality," she said. "He is very sweet. He is really like a big dog. But, he is food motivated."
Lest you assume it's easy to own an exotic beast, Brown said: "It's complicated. Farm animals have different needs. It's 100 percent outside, in the heat, in the barn, in the pasture. It's not just filling the water bowl and treats."
Brown advises that if you are interested in adopting an unusual pet, bone up on your research. Feed, nutrition, hooves, vaccinations – there is a lot to it.
Why does Brown have all of these animals? She says loving animals comes naturally to her.
"What I like about animals is everything," she said passionately. "I think it's something that just comes to people. You are born with the bug."
From a dog's perspective, I think it's fine to have a unique family member in the pack, if they are properly cared for, and if it is appropriate. We all have fur coats, a heart, a central nervous system. We all feel fear, happiness and joy. We are all God's creatures.
So, whether you be goat, mini-horse, dog, or even cat, I think this inter-species thing may be a learning lesson for us all.
Until next month!
Woof, woof! Roxie
By Berit Mason