Alamo Heights Animal Care Services has a long list for Santa
Single-handedly, Angie Marzec runs the City of Alamo Heights Animal Care Services. As the Animal Care Representative, Marzec works hard.
"I handle bite investigations, rabies quarantines, animal cruelty investigations, deceased animal pick-up, report writing, fundraising, laundry, cage cleaning, searches for pet owners, and I manage lost and found animal postings."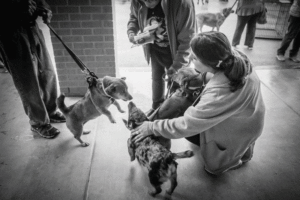 The night I visited Angie, I saw an office filled with to-do notes, scribbled dry boards, animal chews, toys, and paperwork.
She introduced me to three adoptable pups: Skylar, a Great Dane, Calvin, an older cutie with black and white patches, and sweet, sweet Honey, a pit-bull mix, filled with love and affection. New owners get a few free hours with a trainer to help you both adjust.
"I decided early on to do everything I could to make Alamo Heights one of the first municipalities in the area, to have a self-sustaining, no-kill program. But I discovered that we don't have the resources, for all of the animals in need."
This department impounds about 300 animals a year, half of them returned to their owners, some 125 animals are re-homed, and about 25 euthanized, for medical reasons.
Local rescuer Sonia Pompa, (a volunteer with Denver's Soul Dog), says ´09 has a dumping problem! She advocates mandatory spay and neuter.
"I have found abandoned/stray animals in the Quarry, behind restaurants on Austin Highway, around Olmos Basin Golf Course, and dogs dumped on the course. In the past 4 years, I have saved over 20 dogs, from the course area."
So, Marzec has a lot of Christmas wishes!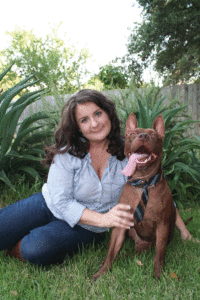 "This holiday season we invite you to participate in our Comfort and Joy Toy Drive. We really need comfortable beds, long-lasting treats, and toys. I can guarantee that with the gift of a toy, or a delicious treat, or a soft blanket to snuggle, you will have brightened the day of a shelter pet, who truly needed their day brightened." She does not need food.
Drop off is at Pet Supplies Plus, 1242 Austin Hwy., or the Alamo Heights Police Department, 6116 Broadway.
Give money! Write a check to: Alamo Heights Animal Care Services, and mail it to: Angie Marzec Alamo Heights Animal Care Representative, 6116 Broadway, San Antonio, TX 78209. It will cover vet bills for pups like Honey, who was terribly abused.
Another way to give is to ID your dog.
"I urge pet owners to microchip their pets, but a microchip is only as good as the information attached to it." So, make sure the information is up-to-date, along with tags.
"I'll be organizing a small group of volunteers to help me bring Christmas cheer to the animals, waiting for adoption. We will deliver the stockings, filled with the donations from our Comfort and Joy Toy Drive, go for a walk, and spend quality time with our adoptable animals." To join, contact Angie at amarzec@alamoheightstx.gov or 210-832-2216.
She also has her own wishes for Santa. "In 2019, we need help to organizing a volunteer program, with people who have the following skills: basic animal handling, behavior and training, fundraising, marketing (print and social media), newsletter publishing, DIY crafting, basic woodworking, donor management, volunteer management, socializing fearful and underage animals."
Angie also wishes Santa would help her get a new facility, a kennel where volunteers could walk the dogs, so they don't go stir-crazy, and a new shelter, with everything under one roof. Most of all, she wishes for Alamo Heights residents to take a greater interest in our Animal Care Services.
"It is just as important that I am kind and empathetic when dealing with people. I am a much more effective advocate for animals when I don't make snap judgements about pet owners, and instead just start conversations with them."
Until, next month!
Woof, woof!
Roxie
BY BERIT MASON