Where Some '09ers Spend Summer Vacation
Disney World? Nope!
The Bahamas? Nah.
Paris? Snooze!
Best Friends Animal Sanctuary in Kanab, Utah? Heck, yeah!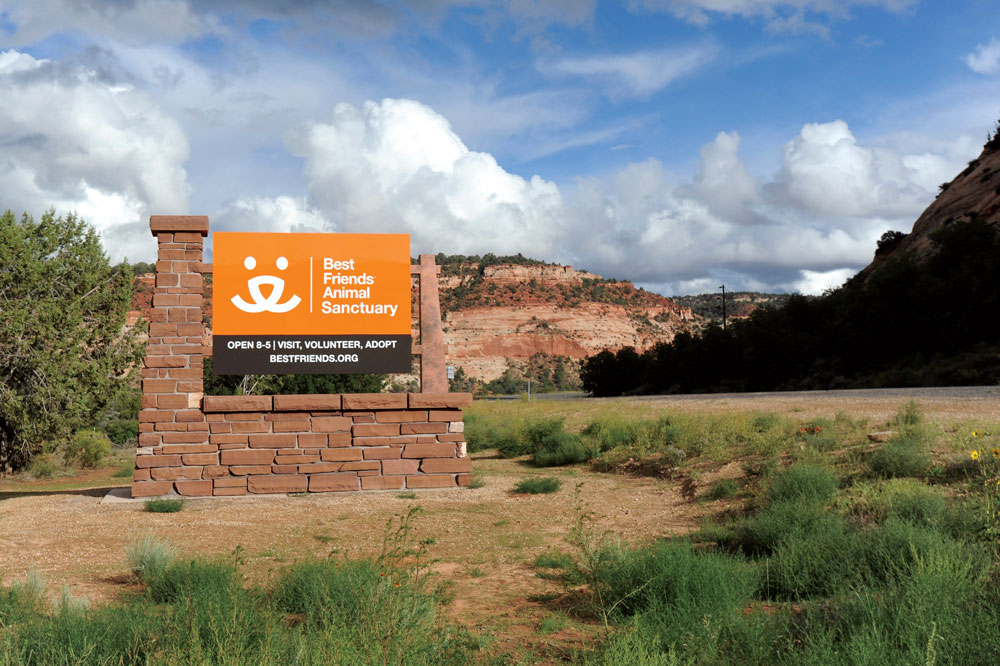 For the last three years, '09 resident Holly, her husband, mother, and sister, Nancy have spent their summer vacation in Utah, helping once-neglected animals, to live a wonderful life. Some 1,600 rescued pigs, cats, dogs, horses, and bunny rabbits live that wonderful life in Angel Canyon, in southern Utah, at the Best Friends Animal Sanctuary. This family is so smitten with the place, and its residents, that they have forgone exotic destinations, just to be here. "The scenery, and the animals …" extolls Holly. "It is these wonderful animals in a beautiful setting."
The sanctuary is home to neglected, homeless critters, coming in from around the country to spend their days in this gorgeous, arid, western setting. Here, the rocks are red, the grass is green, and the sunset a brilliant blend of orange, and yellow. With so many pets and because these are domestic animals, help is needed caring for them. So, here come volunteers from around the country and the world, to lend the many extra hands needed to run such a place. "We stay in cottages on the property. They are very comfortable," says Holly's mom, Alice Carson. "They have a porch, where you can sit out, have a glass of wine, and watch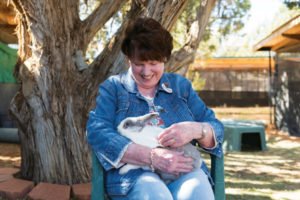 the horses, which are right there!" says Holly.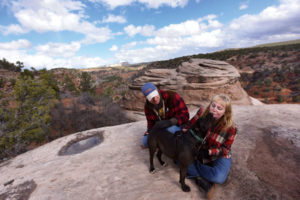 And at this compound, animals are the hosts. Don't be surprised if a "guest relations man," on four paws, in a fur coat, wanders in and out of your lodgings. "You are allowed to foster an animal, and they can also bunk with you," says Holly. "Around the cottages, there is always a dog, or two, that has been brought home. It gives the dog a break and a chance to be with a family." Many animals are up for adoption. Socializing them to prepare them for a new home is part of the program. "I love the cats," says Alice, "and I love taking the cats on stroller rides. But this time, I worked with the pigs, and I was fascinated by them. I had just never been around pigs." Here, they are generally of the pot-bellied variety, ending up in rescue because, as usual, the owners "just didn't know" that little piggy would become a 400 lb. behemoth. "Some of them like to be walked," says Alice. "Others don't." I can see that!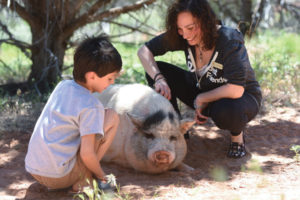 The Best Friends Animal Society was established in 1984 when a group of friends in Arizona decided that they really wanted to help animals. With little money and no relatable skills, today they run nationally acclaimed animal welfare and rescue organization. Best Friends Senior Manager of Volunteer Engagement, Pat Guerrero says this "working" vacation uplifts everyone. "Best Friends Animal Society engages volunteers as true partners in our work of saving animals. We couldn't accomplish all that we do without the efforts of volunteers, both at our sanctuary and in our programs across the country. We welcome volunteers from around the United States, and other countries, as we love sharing the pleasure and fulfillment that helping animals brings to those who do so."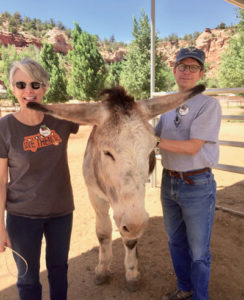 Guests socialize a shy cat, take care of the rabbits, feed the horses, walk the dogs, offering what these neglected guys crave most: love and attention. Alice and Holly say it's a top-notch operation. "It is very well organized," says Holly. "You go to orientation, and then training sessions. They split up the day with a morning and an afternoon session." After a morning walking pigs, a visitor might hike, picnic, or take a drive in the afternoon, enjoying the sights. And boy are they some sights! Angel Canyon sits amongst the Grand Canyon, Bryce Canyon, and Zion national parks. Until next month!
Woof, woof! Roxie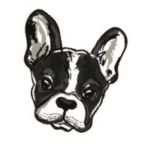 By Berit Mason