Ask Roxie: Tips for '09 Pet Owners from an '09 Pet
Though I live in comfort and security now, once I ran the streets, with no home, no food, no love. And lots of dogs and cats are in the same sad shape: homeless and hungry through no fault of their own, left to die on a lonesome road or to be hauled away and killed.
Fortunately, San Antonio has achieved no-kill status with help from many charitable organizations such as the Animal Defense League, founded in 1923. Now ADL has been awarded a second home, managing the city's Paul Jolly Center for Pet Adoptions, the closest pet adoption site to '09, located at 210 Tuleta Drive , 78212.
"We are THRILLED to have yet another Animal Defense League site in the city … easily accessed by the 78209 ZIP code. Between the two locations, we feel confident your new best friend will be waiting," says '09er Anna-Laura Howell Block, ADL board president.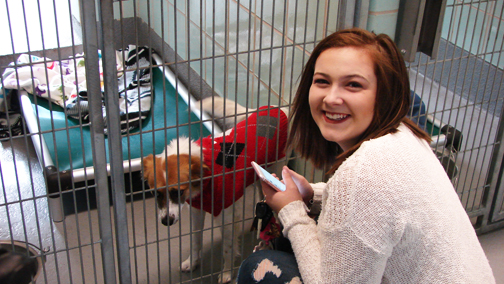 ADL executive director Janice Darling says the city has come a long way since Animal Care Services was known as the "pound." She reminds us that homeless pets are a community responsibility: "The truth is we have to look at ourselves and the people who create these problems."
Visitors Justin Trevino and Joan Woods say the attractive Paul Jolly Center encourages adoption. "It's pretty, it's clean, there are toys for them to play with, and it's like 'Oh, I am going to pick my new kitty today,'" says Woods. "Presentation is important. They are properly taken care of, and their coats look nice," adds Trevino.
Which is exactly the marketing trend among shelters: no more dark cages filled with sad, neglected animals. Today, pet lovers are attracted by clean, open spaces, well designed facilities and nurtured cats and dogs.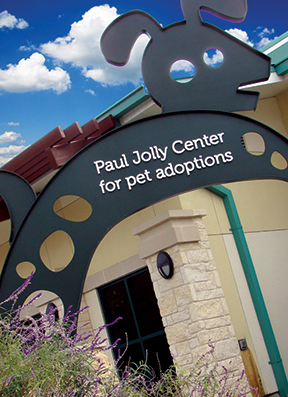 ADL staffer Cassandra Rocha says new owners go home with a pet — and instructions. "We tell them what they can expect," she says. "Cats will go into your home and scope it out for a few days, and you may not see them. Dogs may not eat or drink for the first couple of days because they are anxious."
No-kill isn't guaranteed. A 90 percent live release rate can drop, as unwanted puppies and kittens are still being born.
The center is open every day except Thanksgiving, Christmas and Independence Day, so stop by, take a bored shelter dog out for a walk, cuddle a kitten, foster one or adopt. Your days will be forever enriched, I promise.
Woof, woof
Roxie
BY BERIT MASON