From Diamonds to Dog Food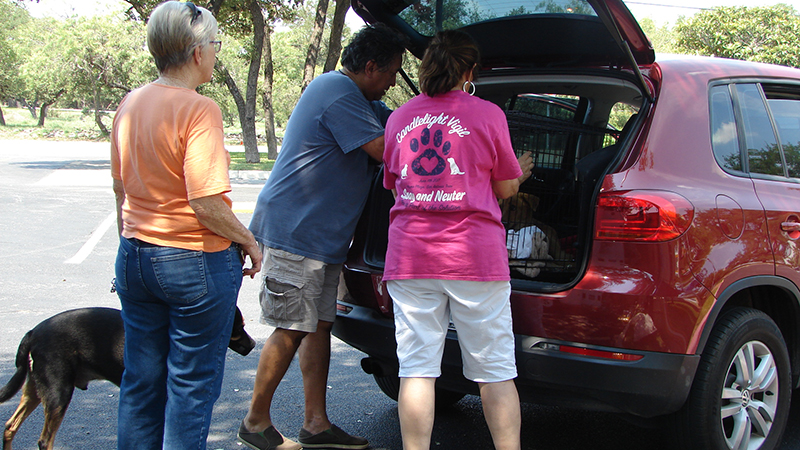 Most '09ers are familiar with the little green house on Broadway next to the gift shop Hanley-Wood. It's been under renovation. Who's moved in? Oscar Villarreal, owner of The Jewelry Store.
Pearls, diamonds and gold are his vocation. But a great passion of Villarreal's is animals in need. So when he saw and heard of the distress of displaced Houston shelter pets, their homes flooded from Hurricane Harvey, he and friends swung into action.
He and fellow pet rescuer Sonia Pompa volunteer with Canada's Niagara Rescue, shipping unwanted Texas animals north. They decided to find foster parents for San Antonio shelter pets to make room for Houston shelter pets made homeless by the floods of Harvey.
"We decided to pick up dogs from San Antonio Pets alive, so what we did was call upon friends and family to become fosters," says Villarreal.
Most of us saw the television coverage of the storm and the puzzled, concerned expressions of Houston's pets being rescued along with their families, traveling to safety in makeshift boats. Their innocence of the situation and their plight touched people around the world.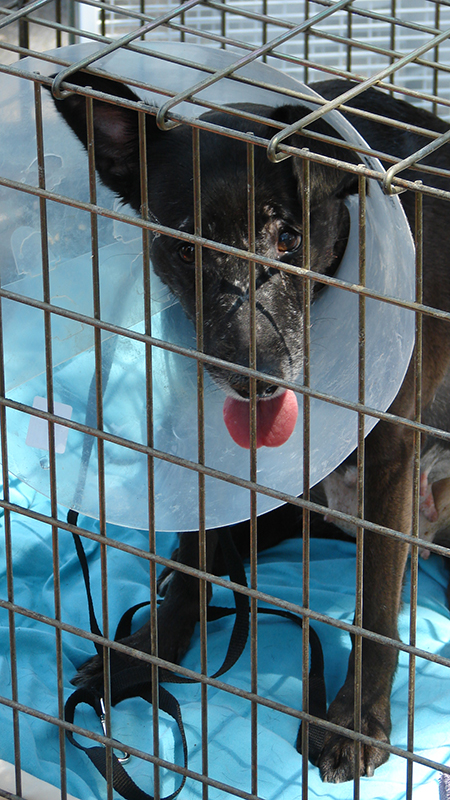 "The dogs coming out of the Houston shelters, we picked up those dogs first, as did rescuers in Austin and Dallas. Kansas City rescuers picked up 150 dogs to take to Kansas. New York came down with a rescue group to take them up there," explains Villarreal. This triangle of activity, he says, gave still-open Houston shelters more room for intake.
As we have seen from a spate of disasters to hit the nation, Villarreal says during Houston's historic floods, there was no shortage of people who wanted to help: "People from around the country showed up in Houston with trailers, trucks and vans, pulling out 10, 20, 50 dogs at a time."
Hurricane Harvey was over two months ago, but Villarreal says proper pet placement could take up to six months. Through Niagara, the San Antonio shelter pets were sent to Canada, making room for Houston. Rhode Island, Chicago and even residents in New York's Hamptons also stepped in to help.
As strong advocates for spay and neuter as the surest way to reduce pet overpopulation, Villarreal's team made sure their Houston guests were chipped, spayed and neutered before they were found a home. "It's critical that we don't put any more cats and dogs that can reproduce onto the streets," he says.
Both Villarreal and Pompa know this firsthand. That's because Pompa has spent lots of her own money rescuing, chipping, spaying and neutering dumped dogs and cats left behind in Alamo Heights. Most surprisingly, she says people dump their pets at the Quarry Market and at the Olmos Golf Course, of all places.
We visited the staging area that Villarreal and his fellow rescuers set up at Hollywood Park's fire station. A canopy shaded volunteers, the many cases of dog food, the tons of bottled water. Foster parents drove up in their shiny SUVs, coming to collect a dog. It was a hot, sweaty, strenuous effort, driven by love and compassion.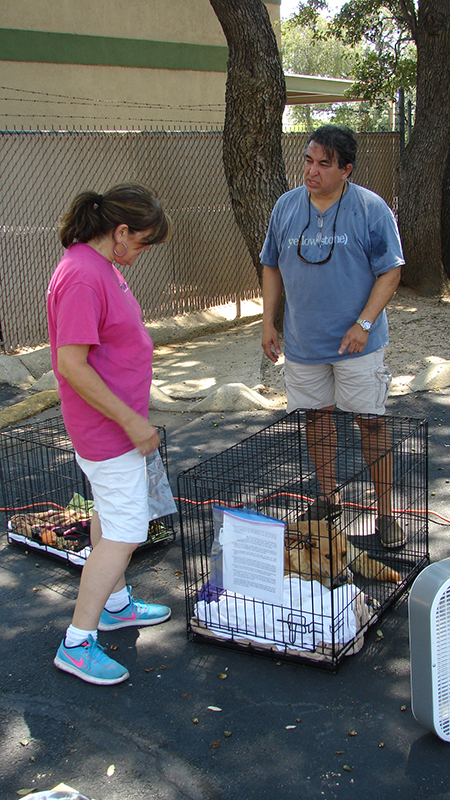 "Some people had to leave their dogs. They had to rescue their children and family members first," says Villarreal of the thousands of Houston families and pets affected by the historic floods.
But that day, Villarreal's desire to help was clear. It was in his voice, vigorous and determined, and in his actions, decisive and enduring.
He and his crew busily shuffled crates and cages while greeting fosters, handling logistics and comforting dogs.
Through Villarreal's efforts and from those involved, 14 dogs were rescued and homed, alongside the many, many others assisted by all the volunteers who stepped up to the plate.
We are now deep into fall, and life is humming along for the active, compassionate jewelry store owner. Dogs and diamonds — not a bad combination at all.
By Berit Mason