Alamo Heights Chamber of Commerce
Cristina Canales, co-owner of Pinot's Palette
What do you do for a living?
I am the co-owner of a Pinot's Palette franchise in Alamo Heights. We are part of the fastest-growing paint-and-sip networks in the country. When guests come to our studio, they enjoy a no-experience-required art class that includes all the supplies. It is directed by a trained local artist, who guides guests step-by-step through a featured painting. We bring a fun, BYOB, creative experience to our studio as well as provide this experience through our Pinot's Palette mobile business.
How long have you been doing this work?
We opened our doors more than two and a half years ago!
What do you enjoy most about your job?
Putting a paintbrush in someone's hand is an amazing experience to watch –you are allowing each person to connect with their creative, fun side in a very relaxed environment. The smiles, new friendships and reignited romances are some of the things our business allows us to experience every day. I also love how Pinot's Palette gives back to our community and our ability to support local artists. We strive to make an impact on our local community and the city we love.
When did you join AHCC?
This is my second year on the board.
What is your role with the Chamber?
I have been an active member of the board, supporting a key role in our annual Taste of the Heights fundraiser. I have been in charge of coordinating the music as well as other logistics. I also help with our upcoming annual holiday parade, which benefits Elf Louise.
What benefit do you most enjoy as a member of the Chamber?
The Chamber has allowed me to really connect with my community and other small business owners. The support and friendships I have been able to foster through our chamber have been very rewarding.
What do you think people would be surprised to know about AHCC that makes it unique?
We have lots of members who do not live in the A.H. area, but in greater San Antonio. These members have found it very beneficial to be a part of the Alamo Heights Chamber, and they are really helping us expand our network across the city.
Alamo Heights Chamber of Commerce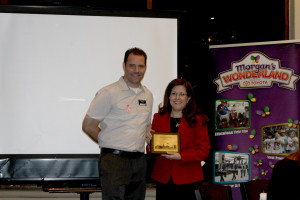 Rose Marie Slagle of Plains Capital Bank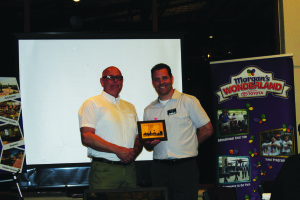 Joe Haynes of Telepacific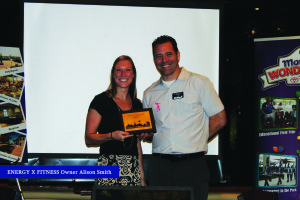 Energy x Fitness Owner Alison Smith