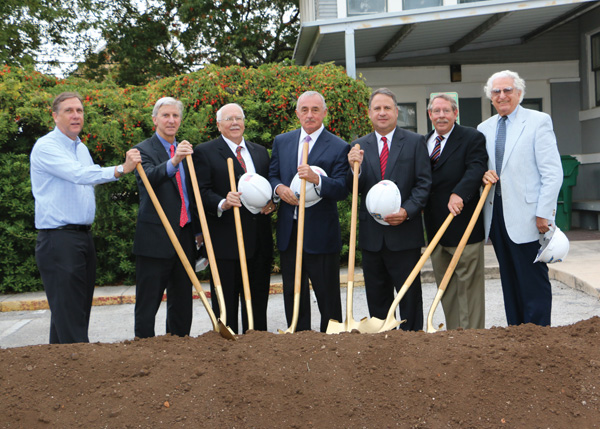 Alamo Heights city workers look forward to working in a brand-new 26,400-square-foot facility that will include city council chambers, a courtroom, fire and police stations and office space. Ground was broken Sept. 12 for the new municipal complex, to be built on the site of the existing structures at 6116 and 6120 Broadway.
Bountiful Bouquet
Parades, pageants and purposeful celebrations may be months away, but many of 78209's volunteers planted a profusion of seeds this past summer to ensure that noteworthy endeavors may blossom into philanthropic success in the coming year.
Flower power
Before the final float passed the reviewing stands last year, Battle of Flowers president Anne Ballantyne had her eye on the future. With a new float builder adding dazzle to the day, the ladies in yellow were exuberant that 2014 would be nothing less than spectacular and continue to raise funds for children's arts, education and musical endeavors. Now, 2014 parade chairman Terrie Musselman has her theme, float designs and medals ready to roll out for the event where Fiesta began, and the new theme is brilliantly conveyed with iconic symbols of celebration. But parade enthusiasts will have to wait until November, when all will be announced. And last year's grand marshal, actor Armie Hammer, has volunteered to assist in soliciting a friend from Hollywood's elite for next year's GM.
Fall's true colors
The brilliant blooms of the chrysanthemum announce autumn's arrival and the exemplary deeds of the Charity Ball Association, which has awarded more than $14 million to Bexar County children's charities since its inception in 1954. Community contributions vice president Betty Venson, along with Gayle Embrey and AnaPaula Watson, have obtained commitments of more than $700,000 from 174 patrons. And the ladies have their first gold chrysanthemum patron, who made a gift of $75,000. With just five women on the community contributions committee, each with a circle of friends, the benevolent bunch reached out to patrons for community support. And a diverse group of donors came forward, including 50 new patrons that had never given to the Association's worthy cause in past years. Funding "bricks-and-mortar" projects that create nurturing environments benefiting the minds, bodies and spirits of children in need has been a garden of good deeds that continues to grow.
Cactus bloom
The new Briscoe Western Art Museum, named in honor of the late Texas Gov. Dolph Briscoe Jr. and his wife, Janey, will swing open its doors with a festive fandango and grand opening weekend on Saturday, Oct. 26. The festivities will spread across the Briscoe campus, featuring charros, trick ropers, a working chuck wagon, artist demonstrations, a hands-on children's area, Western themed-food, live entertainment and more. Inside the museum, tours of the galleries will take place throughout the weekend.
Marking a milestone
Margo Spitz tells us that some endeavors seem to fall effortlessly into place, but that's not how it was with the city's first National Charity League chapter. It took Leslie Kingman and Lynn Cunningham nearly three years to launch the now-thriving mother/daughter community service organization — facing hurdles all along the way.
During a San Antonio Country Club luncheon, the two co-founders recounted how it happened to current and past NCL moms, including Belinda Nixon, Sarah Forney, Magdalena Gaona, Pat Krueger, Lisa Rosenbloom, Nita Kiolbassa, Tracey Bunce, Cindy Mantz, Paula Mays, Pam Rosser, Brooke Bremer and Susan Janes. How, for instance, they had to create a board before they had an organization, how they had to sell NCL to the community, how daunting national charter requirements had been.
According to Lynn, "Fate brought Leslie and me together, but determination, dedication, and hard work kept us going." Seven years, thousands of mother-daughter service hours, and countless benefits to young NCL members later, she proclaimed, "Mission accomplished!"