Since "The Broadway" residences opened, the new building has provided a home away from home for many people. And for Renée Matous, it afforded a reason to drive 138 miles to and from Belton, TX once a week.
At 51, Matous knew it was time for a change. After a successful accounting career and raising her three children, Matous decided the time was right to fulfill her creative passion and enroll in the School of Media and Design at the University of Incarnate Word to get her degree in interior design. An artistic soul, Matous needed a space that would inspire and stimulate her creativity.
After searching for property in San Antonio, Matous fell in love with The Broadway and made the building her part-time residence. The design student was attracted to the architecture, floor-to-ceiling windows, open floor plans, gourmet kitchens, master suites and hardwood floors. The unmatched central location was also a driving force behind selecting "The Broadway".
"The Broadway" is an interior designers dream! The residences are expertly crafted and no detail has been overlooked," said Renee Matous. "My unit on the third floor served as a perfect canvas for my vibrant and contemporary style."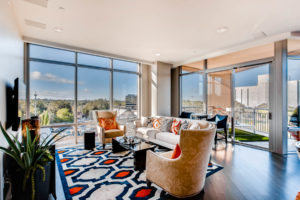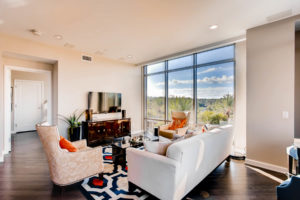 During an initial visit to the University of Incarnate Word, Matous noticed the beautiful high rise within walking distance to the campus. "I felt like the contemporary building was just what I was looking for architecturally and design wise." When Matous made the decision to leave her home in Belton once a week and head to San Antonio, she had very precise criteria for her soon to be home away from home.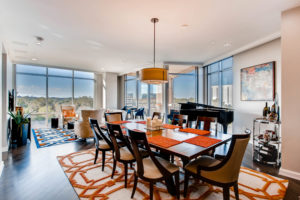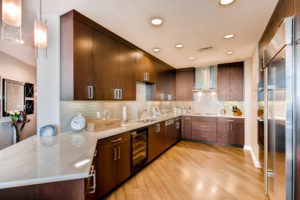 For Matous, San Antonio surroundings provided design inspiration for her condo. The Broadway is located within walking distance from some of the best museums in the city including the Witte, San Antonio Museum of Art and the McNay. She describes her style as contemporary, vibrant, and fun.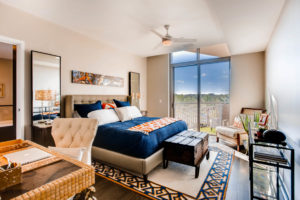 Matous decorated her home around her Kyle Bunting rug, which she designed. Keeping a consistent color palette of navy, cream and orange throughout her unit allowed Matous to unify the entire space.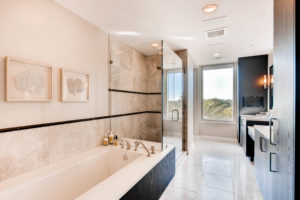 With two children in college and a 14-year-old and husband back at home, Matous finds herself traveling weekly between Belton and San Antonio. She prepares dinners for the week and then heads to San Antonio Tuesday through Thursday to attend class and study. The condo has become her weekly getaway and Matous takes full advantage of the amenities throughout the property. When she is not studying on her balcony overlooking the pool and Incarnate Word campus, Matous enjoys putting her nose to the grindstone in "the Broadway's" conference room and business center, community great room and by the resort style pool.
"My advice to anyone decorating a high rise is to maximize the views," Matous said. "I live in a corner unit, which overlooks the pool and campus. I feel as if the pool is an extension of my home and the beautiful green spaces soften the high rise feel." At The Broadway condominium prices start in the $700,000s and rise to more than $10 million. Matous will graduate in May of 2018 with a Bachelor of Arts degree in Interior Design from the School of Media and Design at Incarnate Word. Until then, she is enjoying her stay at her home away from home.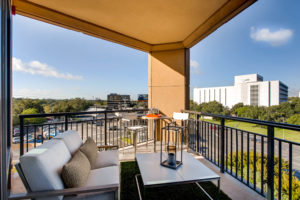 Photography courtesy of The Broadway