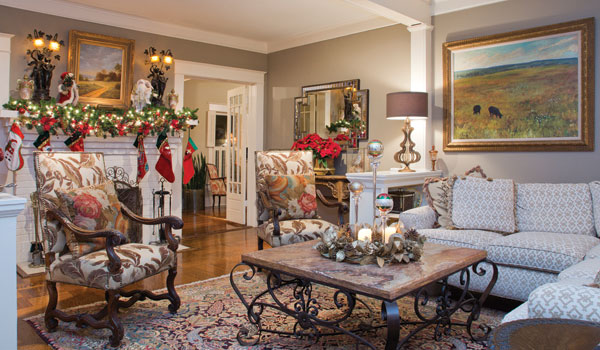 Empty Nesters Refeather Their Surroundings
---
By: John Bloodsworth
---
Built in 1910, a charming home in Alamo Heights had served a family well. Since their children had flown the nest, the homeowners felt that it was time to refeather in a fashion that more suited their penchant for entertaining. And with the holidays approaching, timing could not have been more apropos.
Interior designer Mary McGaughy knew the home well, having worked with the couple on previous projects. Adept at reading what a client wants, she began to take inventory of everything that was there with the homeowners.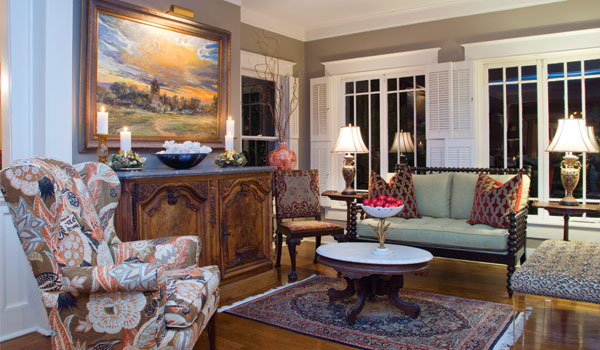 "The most significant request was that their home be open and suitable for entertaining large gatherings of family and friends," says McGaughy. They began the process by getting rid of items that were no longer used, including furnishings, fixtures and an assemblage of clutter and collections. "It was exhilarating to purge," remarked the client as she began the process of liberating herself from items that had been in her home far too long.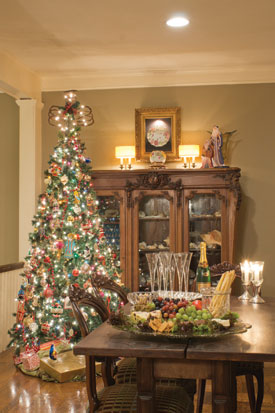 "You work with the bones instead of changing them," says McGaughy, particularly when you have a home with a 100-year-old floor ventilation systemthat requires special placement of furniture, built-in bookshelves and surfaces with various textures and levels.
Ascending the stairs to the upper floor, guests are greeted by a series of rooms that open into each other, each designed to multifunction according to the needs of the client.
At the top of the stairs, a bank of windows facing east allows bright morning light to envelope the sitting area, anchored with an Old World spool settee.
The openness of the piece allows light to filter into the room, while a fabric-covered bench with acrylic legs reflects light back onto the stairwell.
A custom-made sofa floats in the main living area, giving the room a much more spacious appearance while allowing the heating and cooling vents in the floor to function properly. A pair of built-in bookshelves also dictated furniture placement.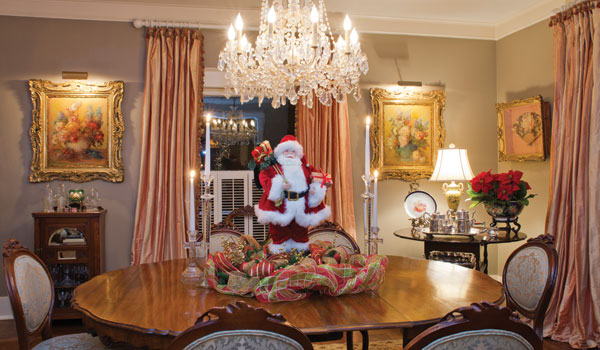 "Table tops up or table tops down work to provide additional dining and serving space when entertaining," explains McGaughy. A large mahogany drop-leaf table functions as a sofa table but can be extended to serve as a buffet for dinner parties or an impromptu fireside dining table for the couple.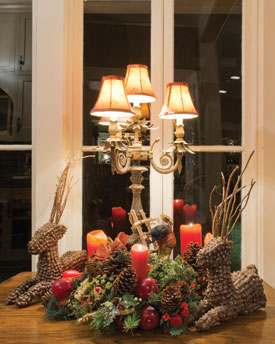 A French country hunt board and pastoral oil painting are new additions that blend seamlessly with the clients' impressive collection of European and American antiques. A French country display cabinet that has been in the family for three generations holds a collection of shells and geological artifacts.
A massive mirror in the dining room came from an old family estate in San Antonio and hangs above an English buffet with white marble top.
In what was once the son's bedroom, twin Belgian beds are covered with taupe and cream toile bed covers laden with pillows that were repurposed from the living room. A pair of lamps was also rescued from another part of the house, along with a rectangular mahogany coffee table with brass railings that now serves as a stand for luggage when guests arrive for the holidays.