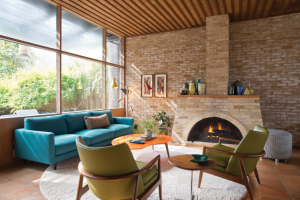 It was the 1950s, a time of forward thinkers who were reshaping our lives. The modern age brought us color TV, microwave ovens, transistor radios that could fit into our pockets and rockets blasting into outer space, not to mention hula hoops that also kept the world spinning.Built in 1956 by a forward-thinking architect named Milton Ryan, the Terrell Hills home of business partners Douglas Galloway and John Allison exudes the "coolness" of midcentury modern design."This was a case study house," explains Douglas. "You see many of these homes in Pasadena and Palm Beach." Major architects of the day, including Richard Neutra, Charles and Ray Eames and Eero Saarinen, were commissioned to design and build inexpensive and cost-efficient modern homes during the housing boom just after World War II, when millions of soldiers were coming home.
Three years ago Douglas and John purchased the home, which had been a residence for the same family since 1958. Owners of the contemporary, trend-setting San Antonio furniture business, Nest Modern, Douglas was at their Austin location when he received a call from John. "The home was on the market and I told John to go look at it," said Douglas. "If you like it, put a bid on it." They did. And their back-up bid sealed the deal.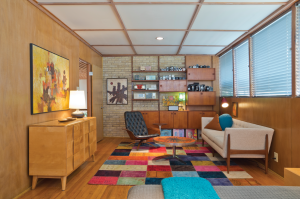 The bones of contemporary design were there with clean, simple lines, a flat roofline, expanses of glass connecting the interiors to the outdoors and an unobstructed, open floor plan. The duo removed a greenhouse that had been built onto the rear of the structure, opening up a floor-to-ceiling view to the back patio and yard. Pergolas and windows were replaced. Carpet was removed to reveal rich hardwood floors, which were all leveled. And luxurious mahogany wall paneling was replaced where boxy closets had been added to bedrooms. The cantilevered steel carport's decking was redone, giving the home midcentury curb appeal with minimal landscaping.
A restrained collection of regional midcentury art and ceramics melds impeccably with vintage pieces that have been carefully orchestrated to blend with contemporary furnishings from Nest Modern.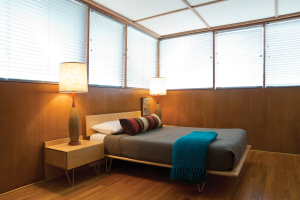 The living area is anchored by a pair of Milo Baughman laid-back lounge chairs upholstered in green leather from modernist furniture company Thayer Coggin. A contemporary sofa from Nest Modern beckons conversation and cocktails in front of a Jonathan Adler orange kidney-shaped coffee table. Original to the home, a midcentury interpretation of a kiva fireplace personifies architect Ryan's innate ability to take influence from the Southwestern surroundings. Dinner parties move to the round Saarinen dining table with chairs covered in Knoll fabric that were vintage finds. A George Nelson bubble lamp illuminates lively gatherings. Two bedrooms and baths on the upper level of the split-level home offer respite, done in midcentury comfort. Removing a wall created a sitting room from a third bedroom in Douglas' retreat. A vintage wall cabinet from a Dallas buying trip holds his collection of cameras, radios and classic jazz records. Douglas explains, "I don't have a rhyme or reason — if I see a little find, I'll buy it. As time goes by, I've gotten more selective."
A vintage lava-glazed Danish coffee table rests on a Nest Modern rug of cut and quilted cloth that has been over-dyed. And a classic George Maulhauser swivel chair is a favorite nesting spot for jazz-induced slumber. Today, this home serves as a perfect example of how a homeowner, dedicated to preserving the forward-thinking spirit of an architect, can create the sublime alchemy of inspired décor with design to wake up this midcentury gem in present-day 78209.
By JOHN BLOODSWORTH
Photography by AL RENDON