A Devastating Fire Sends Couple On Quest For New Home In Alamo Heights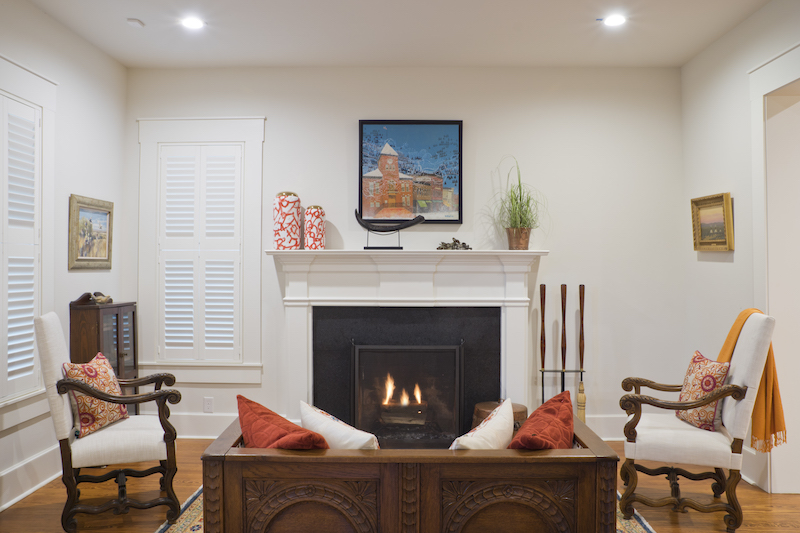 A young couple, both in medical professions, had just packed their two children off to school and were at work when a mid-morning three-alarm fire destroyed their home.
The call sent the Alamo Heights, Terrell Hills and Olmos Park firefighters to the scene. "They were all in training at the Alamo Heights Pool when they got the call and were at our house in minutes," recalled the husband.
Because of the quick action of the responders and their professionalism, many items in the home were salvaged but were damaged by intense heat, soot, and smoke. A call to Dan Block at K&K Antiques Restoration was suggested by Rob Vogt of Vogt Auction, where the couple had acquired many of their vintage pieces.
Determined to stay in Alamo Heights, the family rented in the neighborhood and began to look for a new home. They were drawn to older homes with high ceilings, fine craftsmanship, and curb appeal. "A dear friend found a house that had just come on the market that we had admired," said the wife. "And we did not waste time in making the purchase."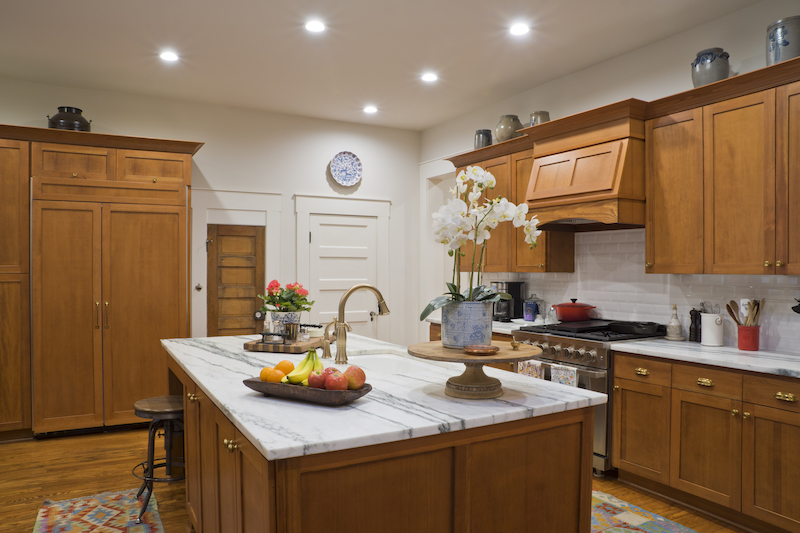 While the new home was undergoing a restoration of its own, Block was busy putting family heirlooms and vintage finds into pristine condition. A case holding arrowheads collected by the owner at his family's ranch was cleaned. An antique metal dental cabinet, A Globe Wernicke barrister's bookcase, and a Texas A&M University library table purchased at a College Station Antique store were painstakingly restored.
A collection of Ginny Garcia Art Glass "wallflowers" were covered in soot, but were not damaged by fire. They received a good cleaning and the luster was brought back to life.
After updates to the new dwelling, the family moved into their home a little over a year after the fire. "It was like Christmas when Dan's truck pulled up and his crew brought everything into our new home," exclaimed the husband.
Entertaining took precedence with a new kitchen ready for culinary creativity. Coming out of the fire unscathed, a prized Griswold cast iron skillet dating back prior to the 1940s is the husband's tool of choice when grilling up wild game including stuffed quail, elk, and Axis deer steaks and pork chops.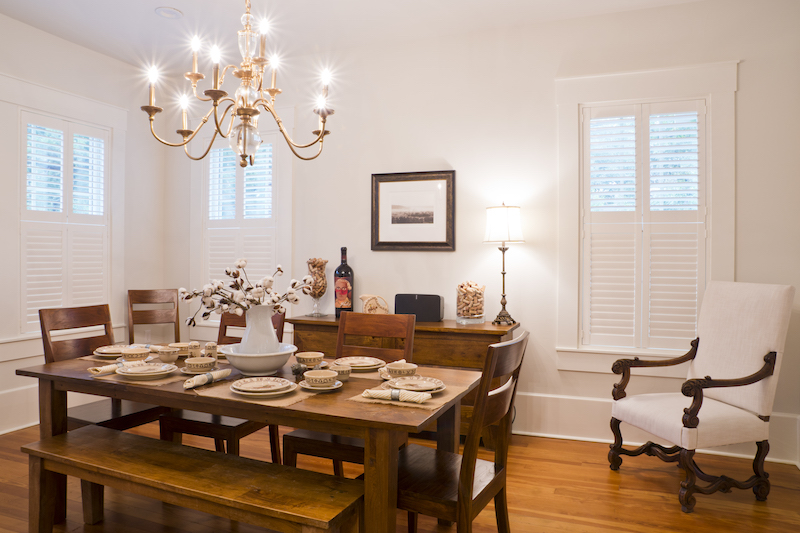 In the library, a floor to ceiling custom bookcase with cabinets for storage hold volumes of tomes, a wine bar and pieces of art and collectibles. Author Fred Gipson personally inscribed a 1956 copy of the novel, "Old Yeller" to the husband's mother. Born and raised in Mason, Texas "he was a neighbor who just lived two ranches over from my grandparent's place," said the husband. "It was my first book report in second grade."
In a home filled with vintage collections and treasured family objects saved from destruction, the family has found another Alamo Heights domicile that keeps them connected to the community they call home.
By John Bloodsworth
Photography by Al Rendon
View Slideshow: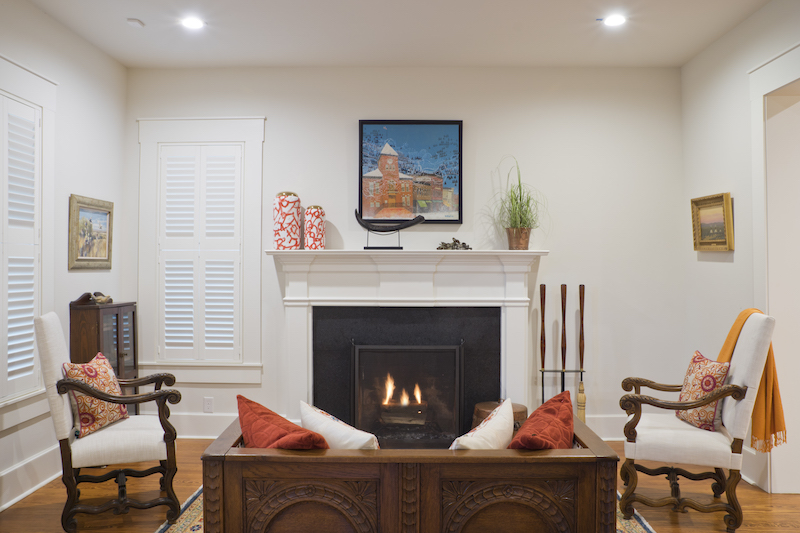 Living Room
A bishop's bench from Cottage Antiques and a pair of carved French Fauteuils reupholstered in white linen pull guests together for conversation. The husband's grandfather's spurs rest on the mantle. An Oil painting of the Telluride, Colorado courthouse sits above the mantle.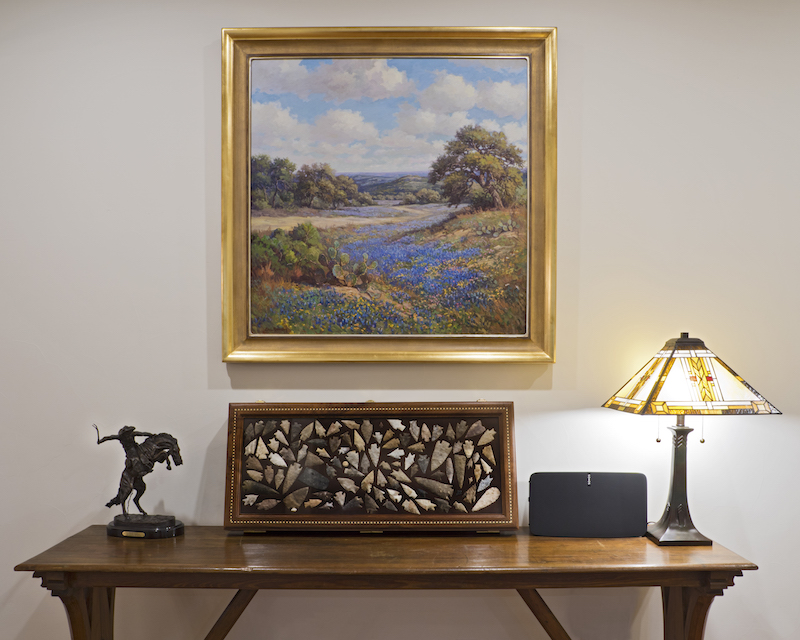 Entry
A Hill country oil by Eric Harrison dominates the entry where a Belgium offertory table from an old church holds a Remington bronze and a Mission style lamp with Tiffany shade found at Round Top. The collection of arrowheads were found at the family's ranch.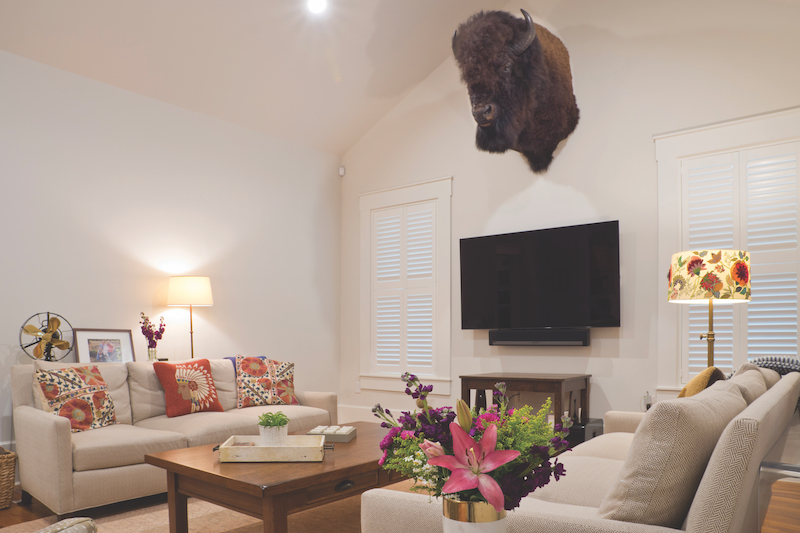 Den
The wife's father's vintage writing desk with lowered legs and added copper feet serves as coffee table between two linen covered sofas. The chair and sofa are from Lee furniture. The large bison mount is from a trophy hunt in Big Sky, Montana.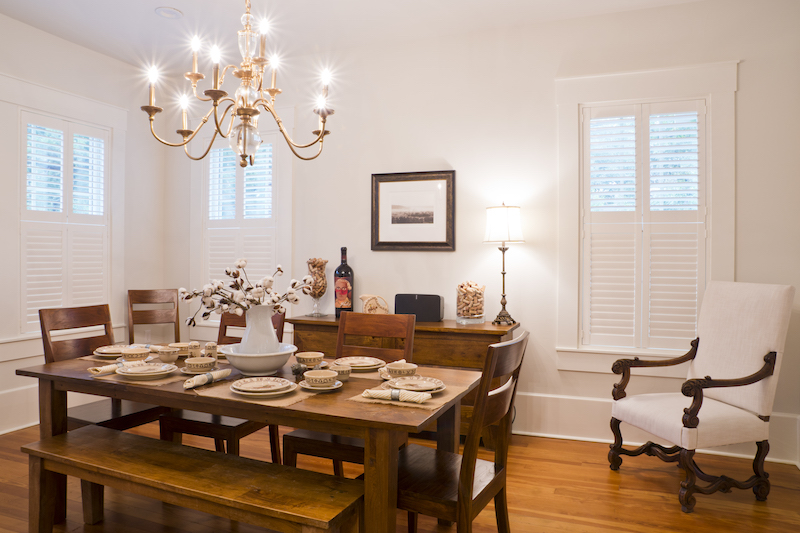 Dining Room
Wallace Company Westward Ho! Pottery sets the scene at the table that was refurbished from the fire. The tablescape also includes pewter buffalo salt and peppershakers. A brass and cut glass chandelier illuminates the setting.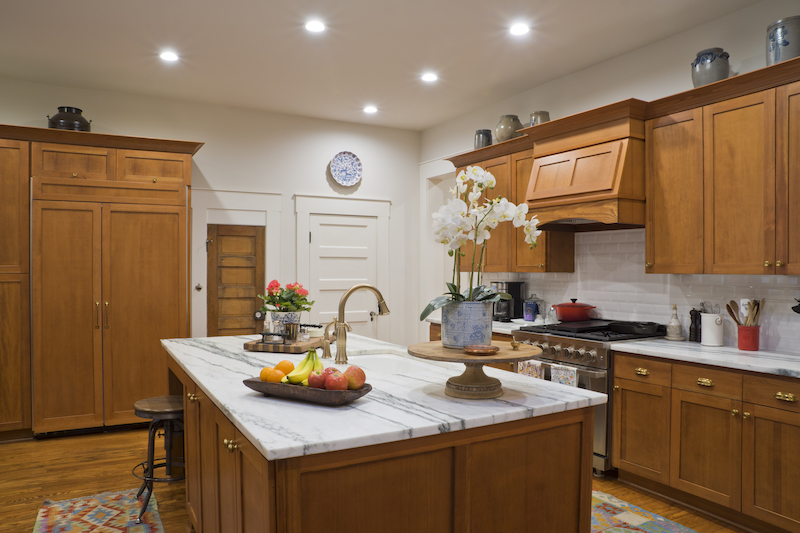 Kitchen
A Vermont Danby marble clad island centers the kitchen. Custom warm, wooden cabinetry, brass hardware and white beveled backsplash tiles add country charm. Vintage Vermont pottery collection.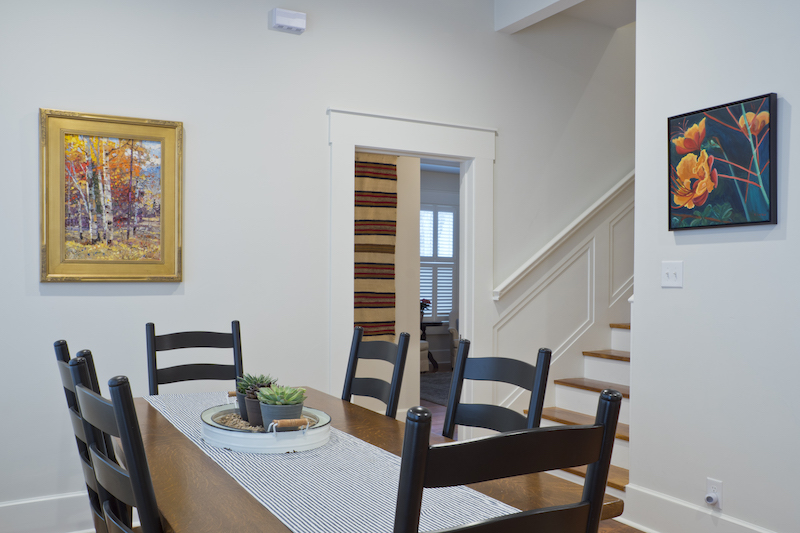 Breakfast Room
Ladder-back farmhouse chairs anchor oak ding table with pillow ticking runner. Staircase to upper floor has original well-worn wooden stairs that have been gently restored.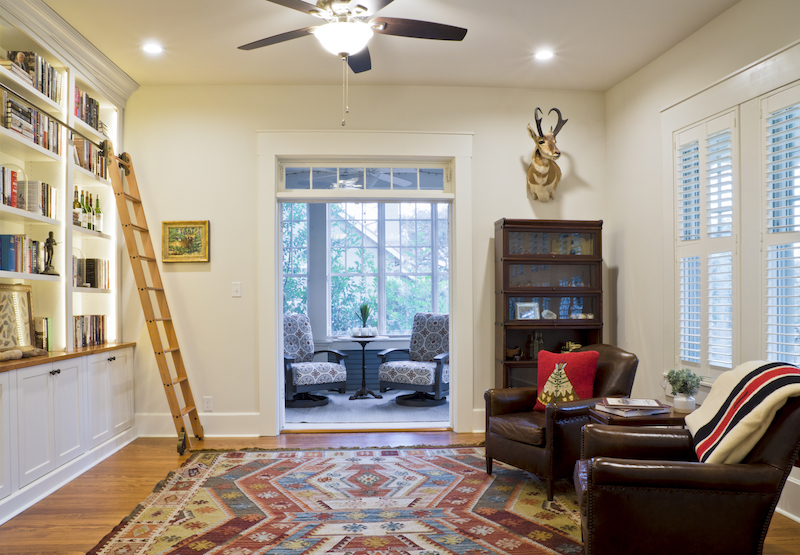 Library
A pair of Restoration Hardware leather chairs offer a retreat for ready books accessed by a rolling library ladder. A restored lawyer's bookcase sits against one wall and vintage Glacier and Yellowstone Park blankets keep readers cozy.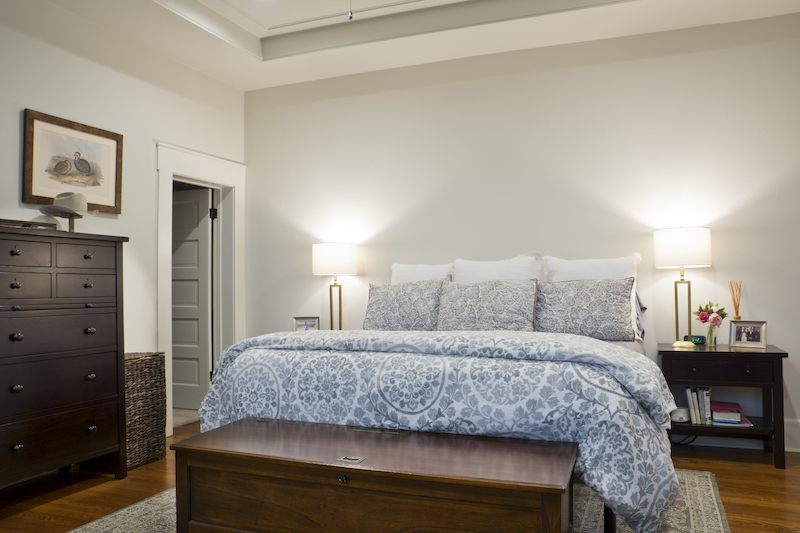 Master Bedroom
Dark furnishings are set against a neutral setting making the master a restive retreat. The bedding Farmhouse pattern linens are by Pottery Barn. An FH trunk that sits at the foot of bed was restored from the fire. James Above the dresser is an Audubon quail print.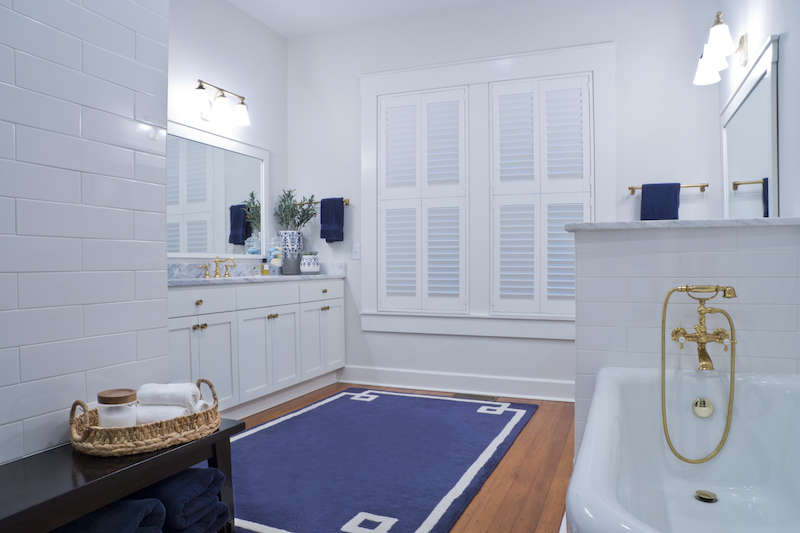 Master Bath
White plantation shades, Danby marble and white glazed tiles contrast with the original longleaf pine hardwood floor that has been refinished. An original cast iron tub was restored and fitted with brass hardware.