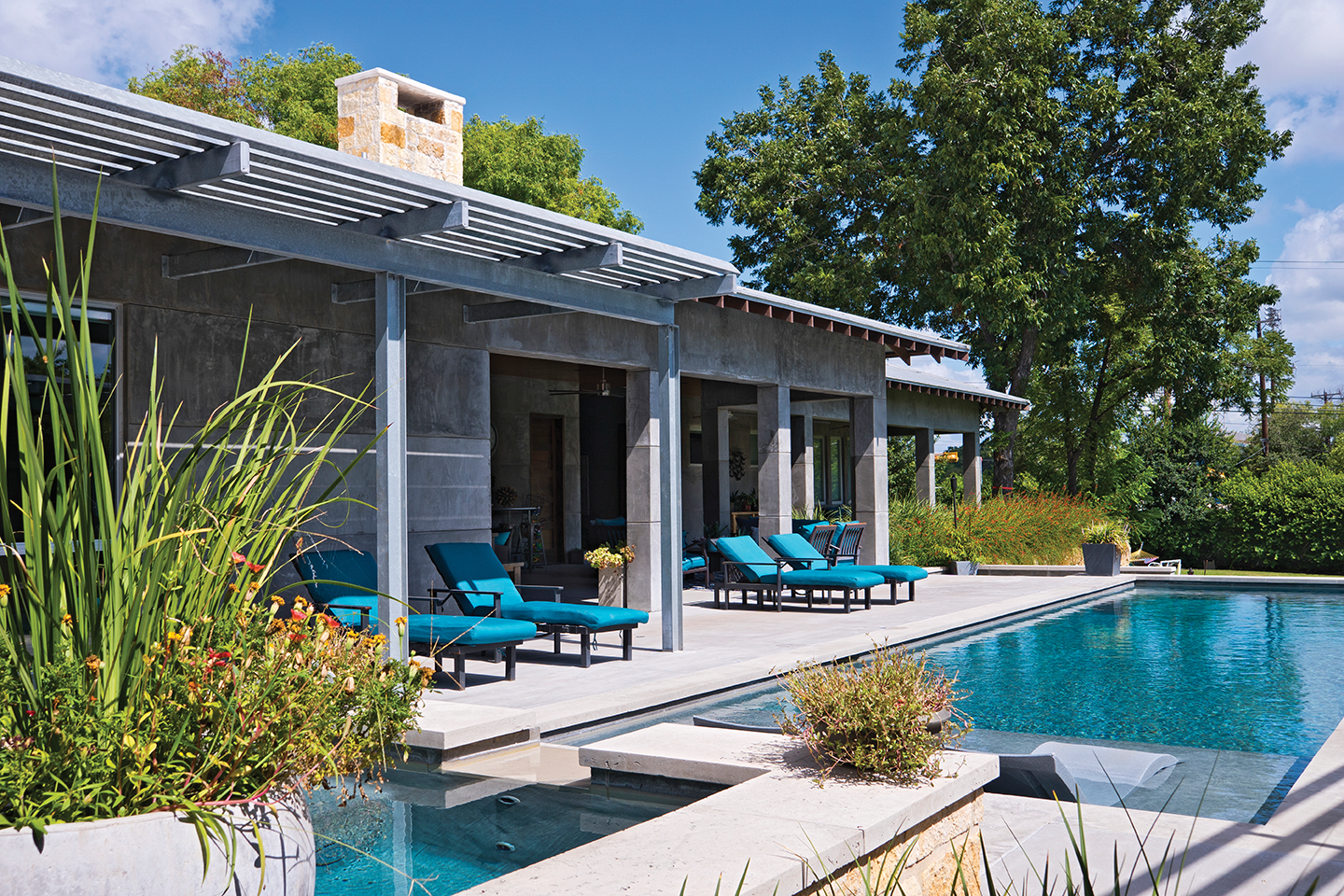 The old adage "you can take the boy out of the country, but you can't take the country out of the boy" rings true with Alamo Heights residents Julie and Justin Peeler, whose Texas ranching heritage goes back five generations. When the couple found a large-acre site in the neighborhood, they began to work with designer Carla Royder of Carla Royder Designs & Company to create a contemporary home fit for a growing family with elements that pay homage to rustic ranching life.
With deep roots in native soil, their contemporary dwelling evokes the spirit of Texas. Constructed of durable, rugged materials appropriate for ranch life, the home features poured and polished concrete floors throughout, scored and polished gray cement walls and fireplace surround, exposed wooden beams, quarried limestone and an outdoor galvanized metal pergola that wraps around the exterior of the U-shaped structure, offering a respite for outdoor entertaining by the pool, as well as an outdoor kitchen with seating for a Texas-sized barbecue supper.
The exterior palette of natural colors also adds warmth and creates a smooth transition between inside and outside. Central to the open floor plan, the great room is anchored with a floor-to-ceiling fireplace of poured and scored dark gray cement with firewood storage built into the raised hearth. Floor-to-ceiling windows bring the outside into the light-filled space.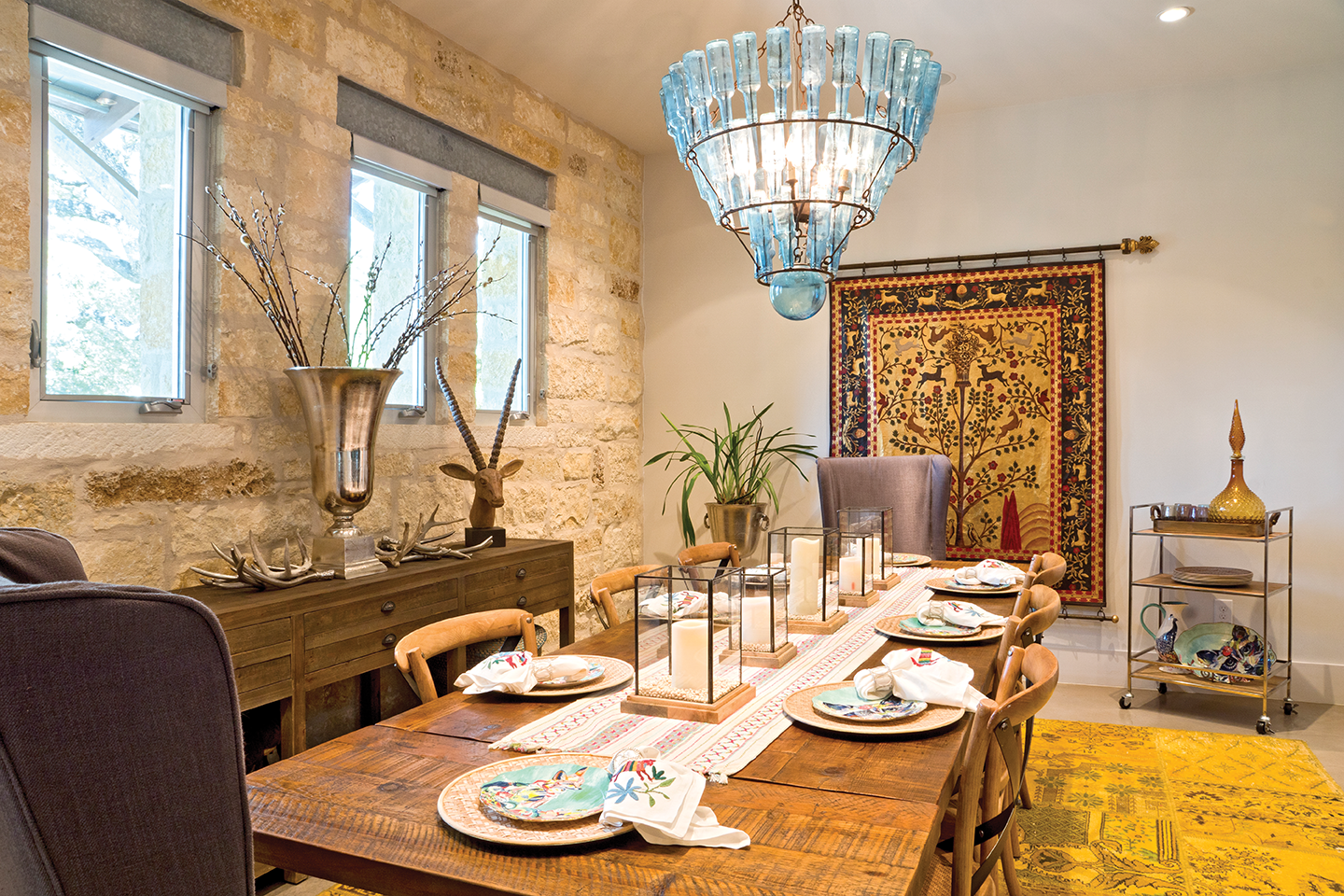 A patchwork Kilim rug brings color to the seating area, where a barrel chair is upholstered in light gray cowhide and peacock blue velvet. A distressed charcoal leather sofa and large wooden coffee table complete the setting.
That authentically distressed persona? "The dogs have chewed on it," explained Julie with a smile.
Concealed behind a pair of rustic, custom-made barn doors is a fully stocked bar ready for entertaining. The wood was salvaged from an old barn on the Peeler Ranch in Christine, Texas. Julie bagged the caribou mounted above the bar on a hunting trip to Yukon territory with her father and brother led by Tlingit native hunters. A bronze sculpture that was in her father's office and created by family friend and artist Clay Stubbs now takes a place of pride in the great room.
However, the home's heart is the well-designed kitchen and family room, where an island of polished brown, black and beige granite featuring a double stainless-steel sink brings family and friends together. A backsplash of vertical travertine and limestone tiles are juxtaposed against stainless steel Thermador range and appliances.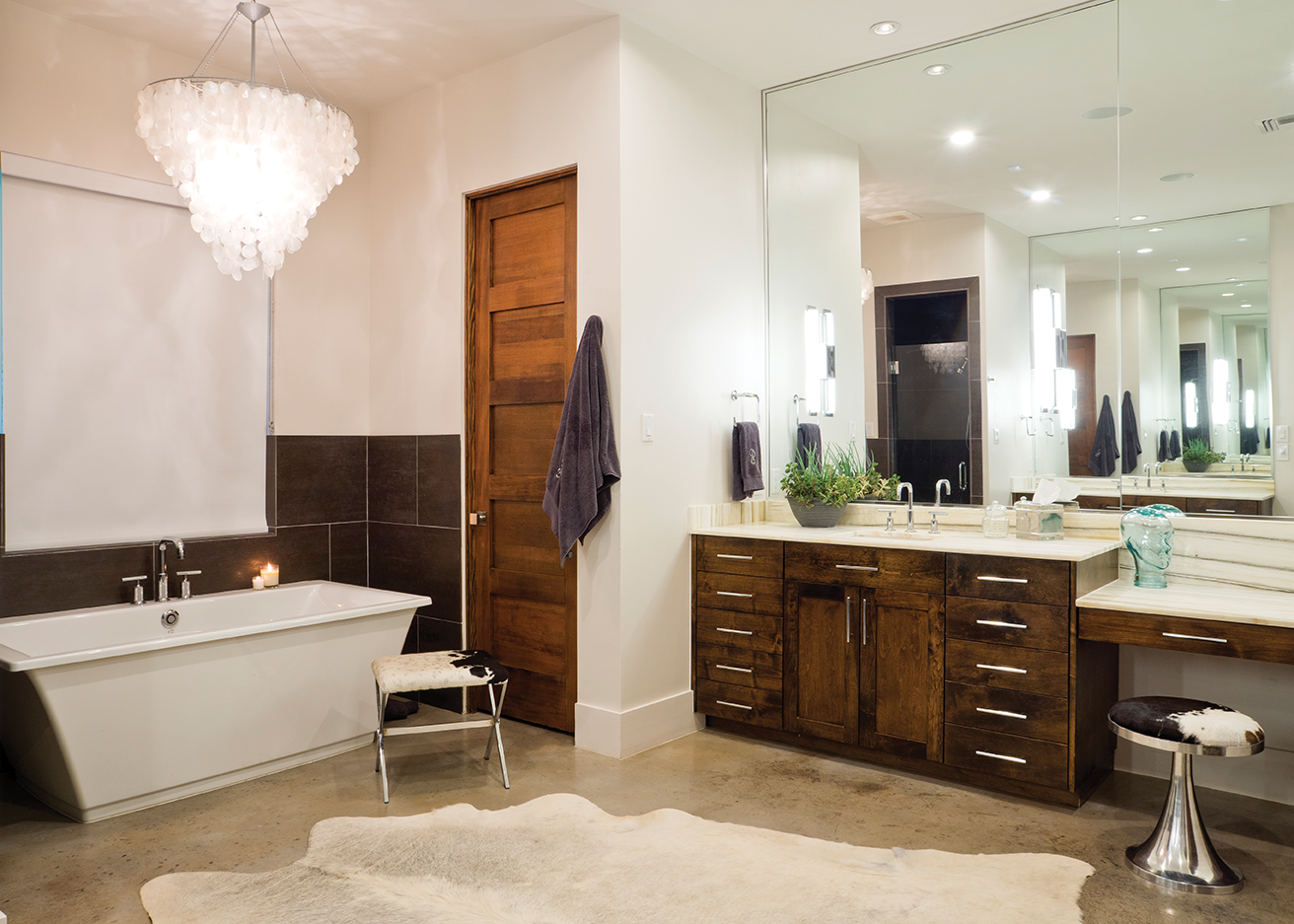 "We had pieces from our first house, and Carla is really good about working with what you have," said Julie. Comfortable pieces are placed in the family room with a plethora of pillows added for pure creature comfort. Friends always comment on the Mr. T pillow. Found in an Austin shop, Julie added, "We watched The 'A Team' all the time as kids."
Taking prominence in the family room is a colorized photograph of a longhorn herd with cowboys on horseback, featuring the Peeler herd as well as several generations of family members.
Justin's great, great uncle, Graves Peeler, was approached by J. Frank Dobie and Sid Richardson in 1932 to help them find authentic Texas Longhorn cattle to reestablish the breed before it could become extinct. Creating herds on state park land and on his ranch, he bred Texas Longhorns until his death at the age of 90. He is credited with bringing the Texas Longhorn back from the brink of extinction.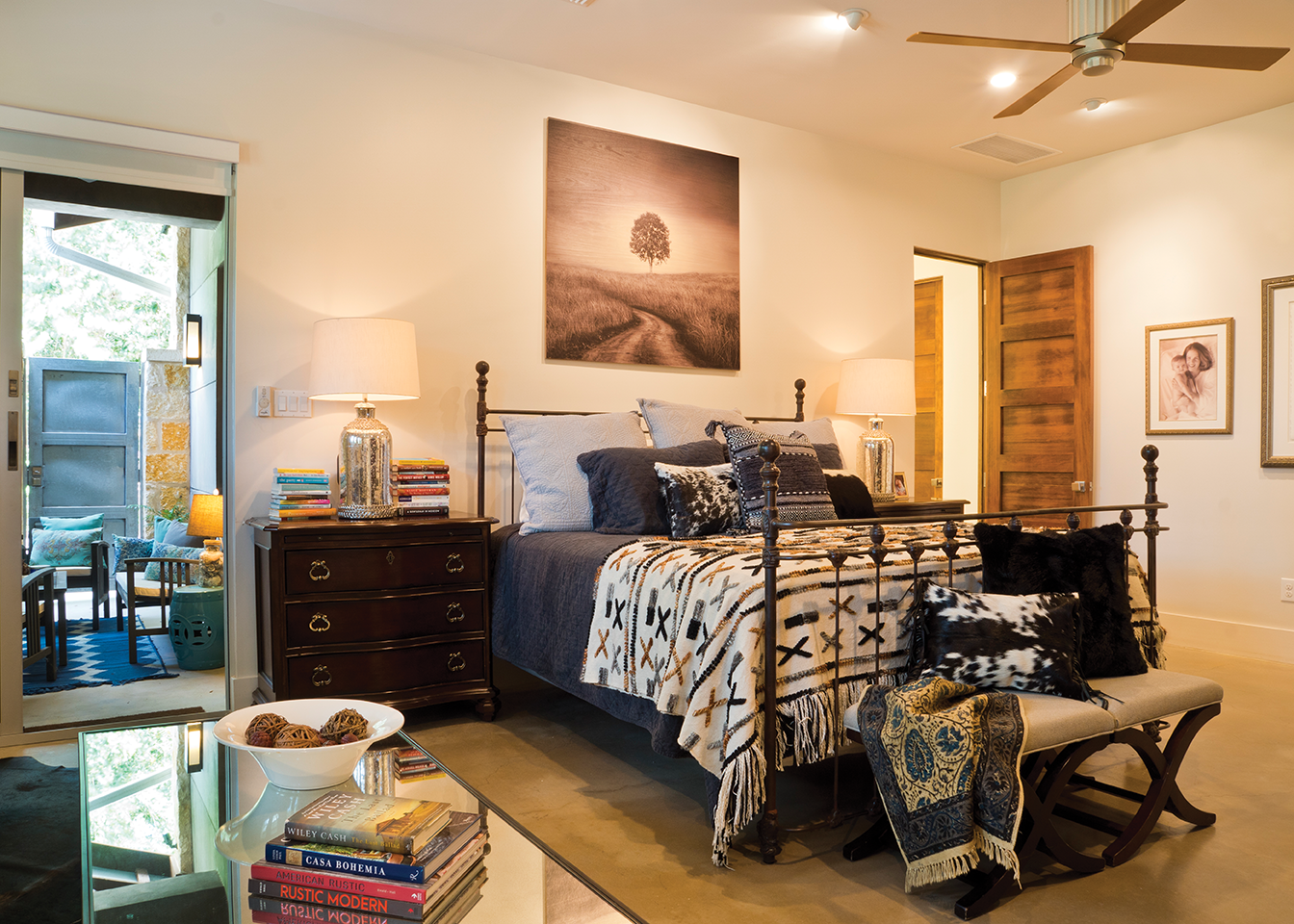 Taking ownership and control of the herd in 1994, Justin's Peeler Texas Longhorn foundation herd has remained the original, true, naturally-selected longhorns, living in sync with nature.
In an alcove just off of the family room is a group of hand-colored photographs featuring oil rigs and workers in the oilfields of southeast Texas that speak to Julie's kinship with the land. Growing up in the oil fields of Montgomery County, Julie's family on both her father's and mother's side raised Brangus cattle. Her family's brand – Seven Bar – was registered in 1870.
Naturally, the fruit does not fall very far from the tree. The Peeler children – Sadie, a sophomore at Alamo Heights High School, Alonzo, 12, and Boone, 10 are beginning to embrace a way of life that has been instilled for generations. As vice president of the San Antonio 4H Shooting Sports, Sadie also has raised pen steers with her younger brothers.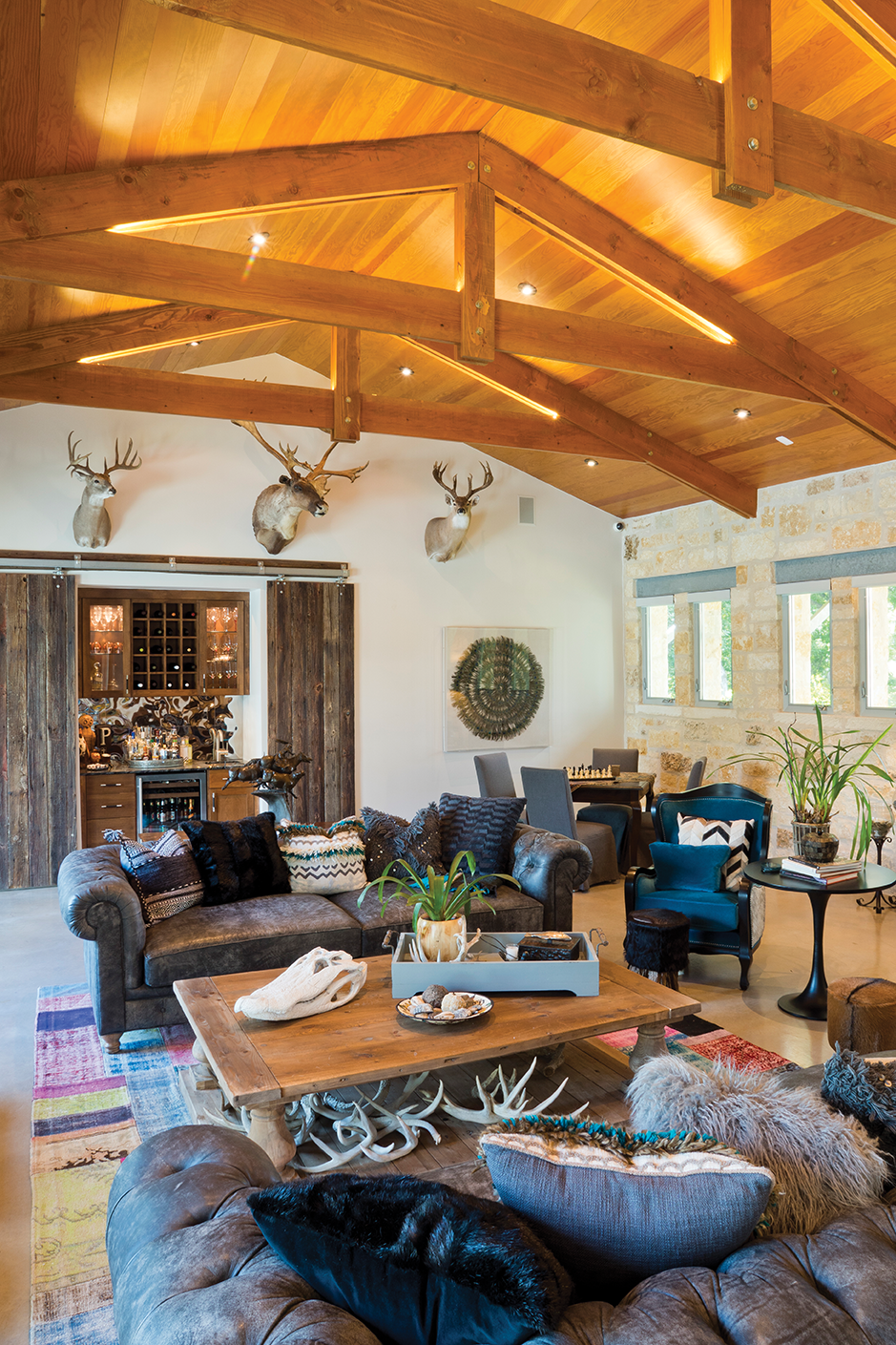 "I really like the program," said Julie. "The kids have to take a test on the cattle raising industry and speak about their projects in front of their peers."
The family's vegetable and herb garden in the corner of the expansive manicured back yard even bows to ranching tradition. The raised beds are placed in four-foot by eight-foot rectangular cement cattle troughs that were brought to the house by trailer. An in-ground "cement pond" adjacent to the garden echoes with sounds reminiscent of falls on a trickling creek where pet goldfish have grown to the size of small perch.
The children's rooms are in one wing of the horseshoe-shaped home, with the master suite occupying the other side. A wrought iron bed clothed in vintage linens and plump pillows offer a retreat with a sitting area and enclosed sitting porch beckoning adult relaxation at day's end.
A vintage iron and painted glass exit sign hangs above the front door, adding whimsy to a home filled with Texas tradition and plenty of personality.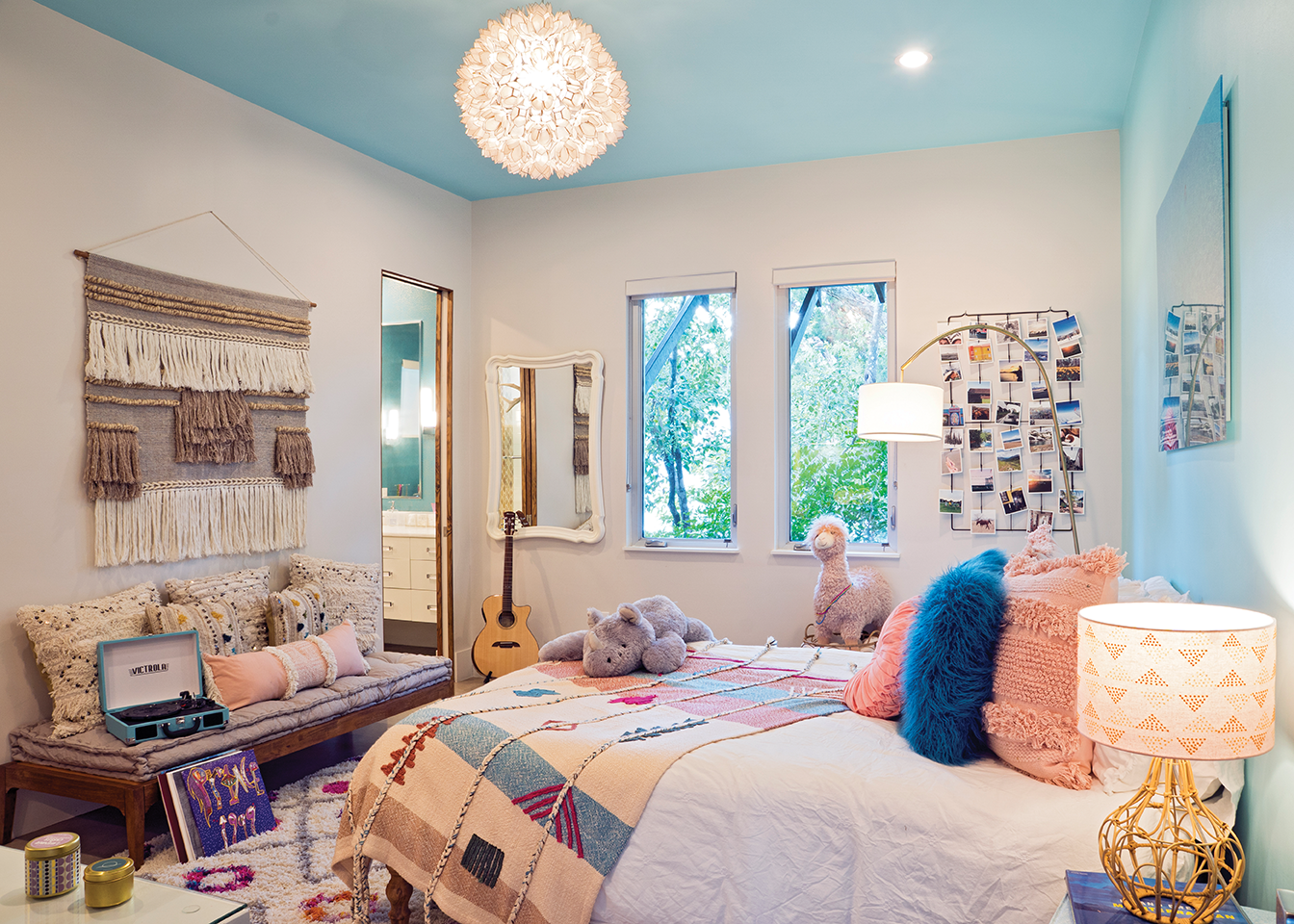 By John Bloodsworth
Photography by Al Rendon