For Kim and Rob Kacprowciz, ranch life was just what the doctor ordered. As an emergency room physician and partner with Urgent Care San Antonio, Rob wanted room to roam with mature trees and
a sizable backyard. Kim was drawn to the midcentury modern ranch style of the home they selected.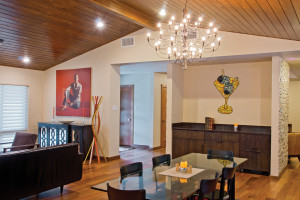 An original Alamo Heights brick ranch-style home built in 1949 stretched from end to end on a one-half-acre lot offering room to expand in the backyard areas for additional living area.  "I looked at every single home that came on the market in the Alamo Heights School District," says Kim. "We fell in love with the original 59-foot-long screened-in porch that offered wonderful views of the mature trees on the property."
Under the guidance of architect Craig McMahon, the existing home was opened up by removing most of the interior walls to create a large, inviting living room, dining and kitchen space with glass on both sides of the home. A 1,400-square-foot addition that includes the bedroom and bathroom spaces runs perpendicular to the original structure and engages the restored screen porch facing the backyard.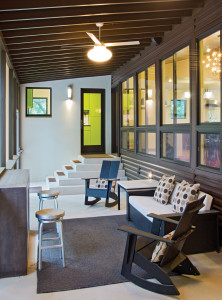 The couple have acquired impressive pieces of contemporary art that anchor rooms with colorful visual statements complementing the restrained interior's design. In the main living area, a massive Caesarstone quartz island in pure white with flecks of gray and black separates the modern working kitchen from the gathering area. Over the b
ar, a wall sculpture made of recycled metal license plates by California artist Mich
ael Kalish depicts a large martini glass garnished with green olives. "We used to drink quite a few dirty martinis," states Rob.
In the intimate family room, a massive acrylic by Fort Worth artist Daniel Blagg titled Starlight Theatre centers the room. Just off this space is the kid zone for their son, Gage, a budding artist. Kim has framed Gage's inspired artwork from classes he has taken from an early age.
The master bedroom is an airy retreat with 12-foot ceilings that bring the outdoors into the restful retreat. A diptych study in blue by San Antonio artist and good f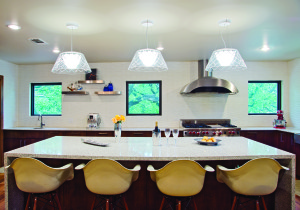 riend Marissa Starr was commissioned for the master suite and impressively dominates the space.
A contemporary fixture in the master bath by a husband-and-wife architectural team in Brooklyn, New York, consists of a profusion of transparent blown glass orbs suspended from electrical wire. Kim selected all of the fixtures and hardware for her home.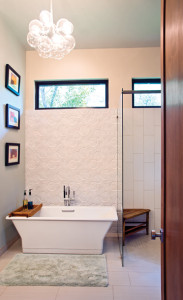 In a far corner of the lot, a stackable four-car garage designed as a "pool cabana" integrates into the landscape surrounded by an azure blue pool. Careful attention to scale by McMahon ensured that the detached structure does not overwhelm the main home and outside spaces, but resides in harmony with the modern ranch vernacular.