By Kristin Mears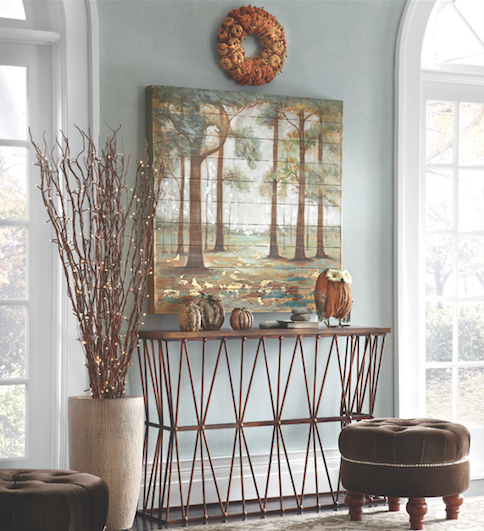 The front entry is more than just the "first impression" of your home; it can be a statement of who you are. Ensure that your home makes a memorable one by designing an entryway that features gorgeous decor, lush greenery, functional furnishings and other design-minded details to put guests in awe of your home. Get inspired this summer with entryway decorating ideas from our design experts — Nicole Nugent and Jody Cochran with Baker Tatum and Ana Montoya with AnArte Gallery.
In most homes, entryways function as a welcoming area to greet your guests. Many homeowners are turning these small spaces into a fully furnished, Pinterest-designed layout. The entryway design doesn't necessarily have to flow with the rest of the house — it can be its own artistic realm. Or on the contrary, the decor can follow the style of the other living spaces to create visual unity. Whether your design aesthetic is traditional, modern, rustic or cottage-inspired, the details will turn the space into a one-of-a-kind entrance.
BE AN ARTIST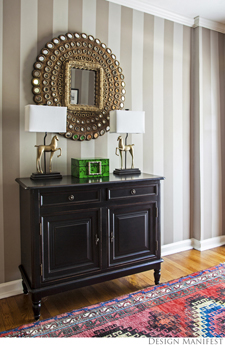 Visitors will immediately be engaged by an eye-catching wall display. Whether it's family photos, canvas art or even bulky wall decor, you are the artist, and placement is key to achieving a seamless look. "As a gallery owner, I find art defines the collector's personality and soul," says Montoya. Guests will feel a welcoming tone by following the story along your entry walls.
MIRROR, MIRROR ON THE WALL
"A mirror that reflects the home's design is always a great place to start," say Nugent and Cochran. "It could be fun and colorful, antique or a more modern gold sunburst, for example." Mirrors can be a vibrant accessory to a bare wall. If you're looking to add space and light to your decor, a mirror is a great choice. It can serve as a focal point and add immense personality to the entryway.
COLORFUL HINTS
Defining the space with a bold color like red exudes warmth and sets a very welcoming tone for visitors. "Adding chairs with a great fabric on either side can bring in more color and depth," say Nugent and Cochran. "Some colorful garden stools tucked underneath a console give a fresh look, or adding a bench draped with a colorful throw will add texture." Pops of color make the space playful and bold; it can really showcase the homeowner's personality in a small space.
CLUTTER CONTROL
An entryway is the hub of coming and going, so storage solutions are a must-have. Keeping the entryway organized can make a clutter-free space guests won't mind passing through. "You can add a console with books that reflect your interests," say Nugent and Cochran. "If you need storage in the entryway, you could use pretty baskets. And a handled basket with a fiddle leaf fig is always a winner." Too often, the entryway is where everyone piles their belongings when they come home, but storage solutions like hooks, baskets, cubbyholes and simple decor can be stylish and scream personality. Whether you add a beautiful container filled with your favorite blooms or choose to paint the entryway your favorite bright hue, you'll see how bringing in your personal decor, color and furnishings will create a look that you will love and your guests will love, too.