With the number of at-home workers on the rise, the need for a defined space to be "for work" has emerged as a very important amenity for homeowners. Whether this space is a small quaint nook, a corner in the bedroom or even a lavish retreat all to itself, design expert, Errica Williams, marketing and retail manager at California Closets, is sharing current trends in home office design that have her clients itching to revamp or create a fulfilling work space that is functional and stylish. "In 2016, we're seeing more and more clients approach us for beautiful custom millwork for their home office," says Williams. "We absolutely love designing these spaces."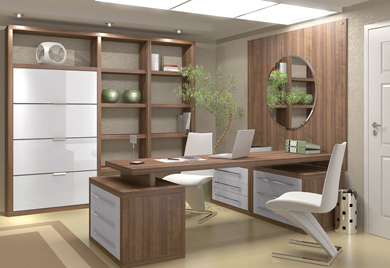 MINIMALISM
"Keeping the designs sleek and subdued is key when serenity is a priority, and the lack of clutter a focus," explains Williams. "This client is looking for everything to be enclosed and tucked away out of sight, and for the cabinetry to be as minimal and streamlined as possible." The main focus to achieve an aesthetically pleasing serene office environment is simplicity and clean lines. "Minimalism can prove to be the pinnacle of luxury," she says.
WALLPAPER
Textured wallpaper can not only add depth to your space, but add visual interest to a muted room. "Wallpaper can bring a lovely layer of texture, color, and whimsy into your space," says Williams. "Pick a design that brings you happiness, and it will add intrigue and dimension to the room." With options of designing your custom piece, making an accent wall, or even simply displaying it within a picture frame, the design choices are endless and allow for customization to meet all the needs of the space.
"Clients are becoming more bold in their selections and less afraid of adding color to their custom cabinetry," explains Williams. "It's fun, and you can evoke a certain feeling by adding particular hues to your cabinetry mix for a very personal touch." Adding pops of bright colors and geometric shapes can bring excitement to a standard neutral palette.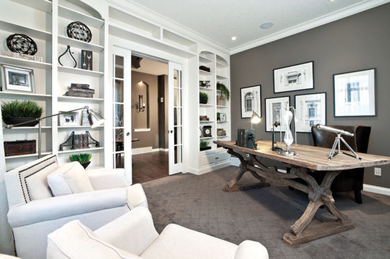 LUXURY RETREAT
Turning up the "glam factor" by combining high-end materials, finishes and custom storage solutions can create a one-of-a-kind retreat from your wildest dreams or Pinterest board. "You can dress up your home office space by combining material and finish choices such as high-gloss or super matte finishes, deeply textured woods or elegant materials such as glass and LED lighting," advises Williams. "This adds that sophisticated vibe to your space. Sometimes we reach a point in our lives where we want to make our dreams come true, and that means creating that personal space we have always wanted."
MULTI-FUNCTIONAL OFFICE
"When clients come to us, they often desire to maximize their space to its fullest potential and have it serve more than just one purpose," explains Williams. "Often, families wish to create an office space that everybody can benefit from with a place for them to accomplish their tasks or hobbies." Whether it's adding a wall bed to your office system, or incorporating custom solutions for quilting or crafting, offices of all sizes have the capacity to house more than just a laptop and chair.
BY KRISTIN MEARS