NEW TERRELL HILLS HOME PAYS HOMAGE TO NEIGHBORHOOD'S STATELY PAST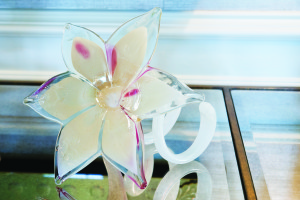 Curb appeal exudes from the elegant home of Claire and Peter Hennessey IV, giving the impression that it has resided in the community for decades.
"I wanted guests to walk into our new home and feel like it was an old home," says Claire of the custom-built home that she and Peter share with rambunctious daughter Julianne, 7, and son John, who will turn 4 in October.
Deep crown moldings, tall baseboards, coffered ceilings and hardwood floors that run from entry to kitchen – and all rooms in between – evoke the best of homes built in the neighborhood during the 1920s and '30s.
With a penchant for interior design, Claire let the older home sensibility be the canvas to create a family refuge that brilliantly balances tradition and contemporary living in pitch-perfect harmony.
Claire was raised in a designing family. Her grandparents owned a venerable furniture store, Castleberry Furniture, in her hometown of Lufkin. The family business expanded under the direction of her parents, Julie and Cooper Castleberry. The showroom became a center for design, where Claire learned about color, style, texture and proportion at an early age from her designing mother.
"When we built this house, you better believe I called my mama," Claire exclaims. A passion for collecting Murano glass came from childhood visits to her cousin Jan Showers, a nationally recognized Dallas decorator. "When I was little, I spent summers in Hillsboro at her country home," explains Claire. "I was fascinated by her glass collection."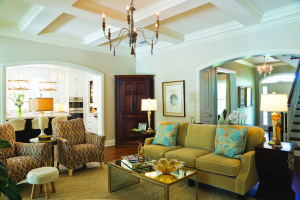 Sofas, occasional tables, upholstered chairs, table lamps and accessories were ordered from the family furniture showroom, making their way to San Antonio. Her mother "has a way with lighting," says Claire, pointing out a pair of striking onyx table lamps that Mrs. Castleberry chose for the family room.
Aware of Claire's well-trained eye for selecting pieces for the home, a friend asked where she had her custom pillows for the family room sofa made. Claire let her in on a little secret — that they came from a bargain store, adding, "Are you kidding? I'd rather spend money on something besides pillows!"
Understated glamour and the ability to mix styles and periods to create a comfortable setting for family and friends was a labor of love for both Claire and Peter. Claire stated, "This is the home we plan to live in for the rest of our lives."
BY JOHN BLOODSWORTH
PHOTOGRAPHY AL RENDON