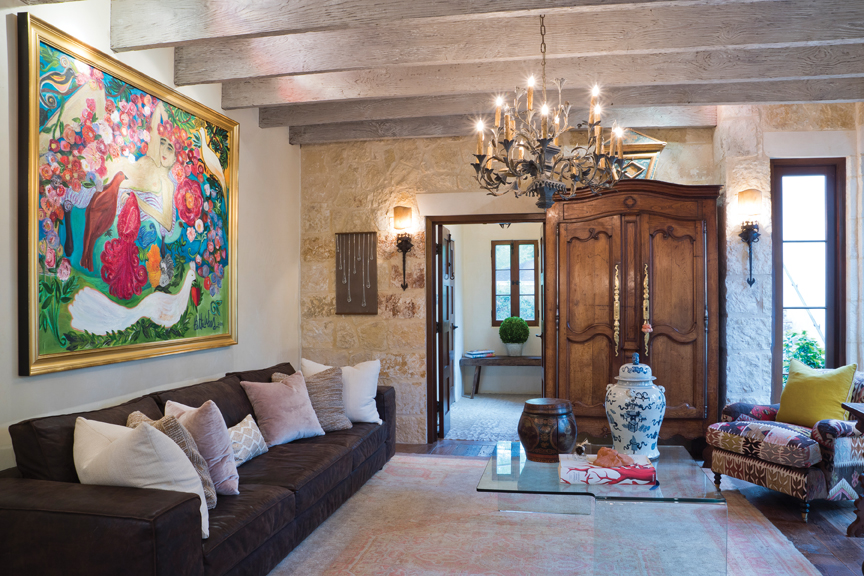 By Robyn Barnes
Photography By Al Rendon
David and Kate Lillback's Spanish-style home sits high above the sidewalk on a quiet Alamo Heights street. Little of their landscaping can be seen. Climb the steps, though, and perfect little boxwoods line up around a small enchanting yard. And in a season of drought, the grass is a startling green. "I know it looks fake." exclaims Kate. "That's because it is. But it's soft underfoot, and we never have to mow. I love it!" That's just the first of many surprises at the Lillback home.
"This house was built in 1927," Kate says. "The previous owners loved this house and took great care of it. The builder incorporated many special details that just don't exist in today's houses."
As a decorator, Kate is a great believer in recycling. "Use what you have, and don't be afraid to express yourself," she says. "I like tactile things and lots of color, and it shows in our eclectic collections. I've mixed things from high-end furniture stores and tag sales in this house, and we feel at home with the results."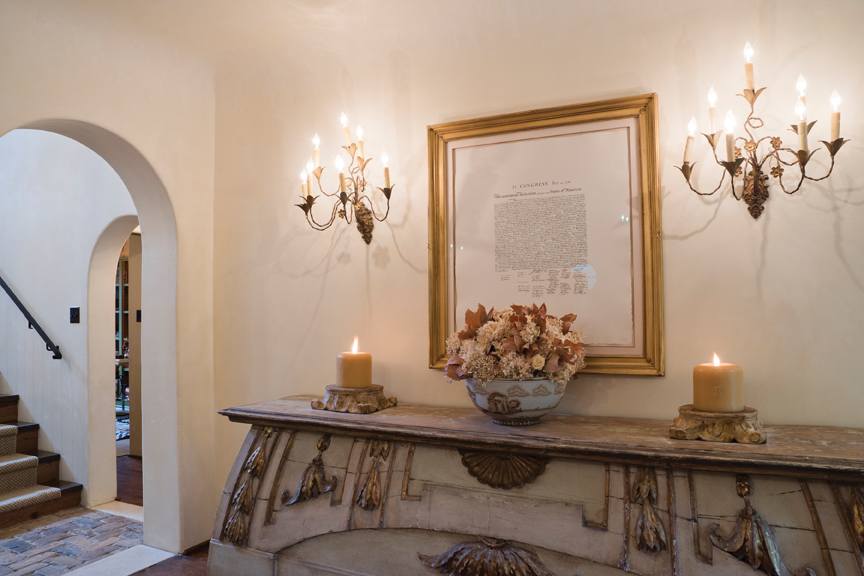 The Portuguese altar in the formal living room is one of these "tag sale" items. "An antique dealer from Little Rock rented temporary space for a warehouse sale," Kate says. "It was imported from Portugal when the country was having hard economic times; it came from an old church. I have one half of the altar, probably the side that faced the congregation. It serves as an entry table for us."
Over the altar, shown at left, hangs a limited edition engraving of the United States Declaration of Independence, the work of well-known Spanish painter and sculptor Jose-Maria Cundin. He designed, directed and produced the work in 1991. It is engraved on a brass plate and printed on hand-made paper and was the first of its kind in more than 150 years.
"This house has a lot of quirks," Kate says. "The plaster walls mean we have lots of dust. The French roof tiles are thin and break easily. But we love the archways throughout the house, the recycled barn wood floors, and the old San Antonio street bricks that make the stairs. It is just a great place to live."