FAMILY SANCTUARY
COUPLE SEEKS COMFORT AND REFUGE IN THEIR QUIET TERRELL HILLS HOME
BY KELI DAVIDSON
PHOTOGRAPHY BY AL RENDON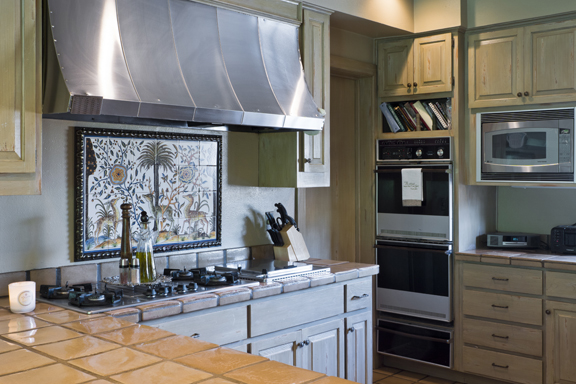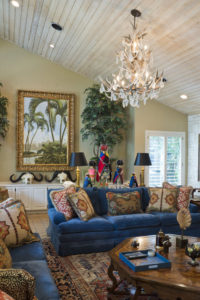 This family sanctuary in Terrell Hills could pass as an upscale, eloquent ranch house, but it is the full-time residence of a family that loves traveling, ranching and big game hunting. Ironically, when the homeowners first married, they lived directly across the street from this house, in the husband's "ultimate bachelor pad," the wife says, laughing. As they started a family, they moved away from the quiet hidden street in Terrell Hills, but kept a soft spot in their hearts for its location.
When this house came on the market, at the exact time that their children began playing outdoors and riding bikes, they snatched up the house, planning to stay there only while their children were little. Twenty years later, it is now the ideal empty nesters' house, and when their children left for college, they hired interior designer Cheri Stith, from Feather, Fluff & Flings, to give the house a big fluff. The upgrades have beautifully extended the house's life beyond a place for kids and dogs to play to the couple's "quiet place."
Big-scale family entertaining happens at the ranch, but this house serves as a place of comfort and refuge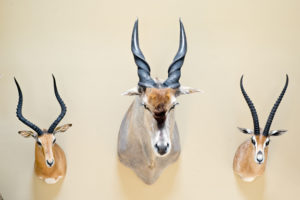 for the couple and for their young adult children on returns from studying. The wife calls the house their "lock and go" place, which allows them to rotate between the ease of the house and their South Texas ranch. Growing up in the Southeast, she never imagined that she would be living in a house full of trophy mounts from African hunts, but "you never know in life," she says, and adds that she wouldn't have it any other way now. This beautiful, comfortable house strikes a true balance between the Southern belle wife's love of jewel tones and her husband's South Texan style. A true Texas gem hidden away in Terrell Hills, the house they bought for a few years has now obtained a well-earned permanent status.