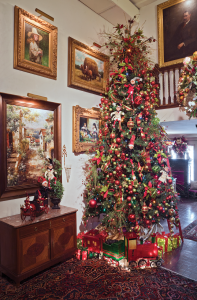 Nature's Abundance Adds to the Appeal
A white wooden-clad two-story cottage tucked onto a quiet-tree shaded corner in Alamo Heights welcomes guests with holiday panache. The alluring home of Grace Allen is a personification of her lifelong penchant for perfection. In 1950, Mrs. Allen and her late husband, Charles H. Allen, began a floral business that has now grown into Allen's Flowers & Gifts, a second-generation family-owned and operated company. Daughter Lisa Allen is now president of the floral company. With unbridled energy and an innate ability to articulate color and form, Mrs. Allen has been creating Christmas magic for generations of delighted clients. "All of my life I was cognizant of the nuances of color," says Mrs. Allen. "While attending the Hockaday School, I was an art student of Maggie Hogue, wife of artist Alexander Hogue and good friend of Diego Rivera." Mrs. Hogue taught her everything about light, shade, color and proportion. "When I did not go into professional painting, Mrs. Hogue was done with me," Mrs. Allen exclaimed with a laugh. Nature's abundance of beauty became Mrs. Allen's personal palate of choice. Specializing in all aspects of floral design, Mrs. Allen and her team of professional designers selected flowers from all over the world, creating works of beauty and style. Set for a holiday dinner party, a Chinese export cloisonné bowl holds a plethora of fresh-cut flowers and greenery centering a satinwood dining table flanked by dining chairs done in deep forest green with gold chinoiserie. A hand-applied and specially treated wallpaper covers the dining room walls and extends into the foyer and living room. "The French had wallpaper that lasted for over 200 years," says Mrs. Allen. "I had all of my paper treated so that it will not fade.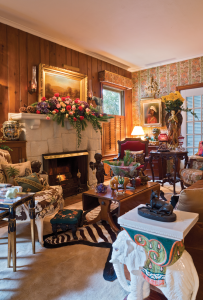 My home is decorated for low maintenance and comfort." The living room mantel is laden with garlands of pinecones, peonies and hydrangeas. A solid jade horse head rises majestically from the fresh greenery. Nearby a massive bouquet of freshly cut yellow roses graces an antique angel. The family room buffet holds a beautiful fresh floral arrangement of coral peonies from New Zealand, antique blue hydrangeas, Norwich fir, Princess Pine boughs and pinecones in an antique Chinese container flanked by two large cloisonné horses. The room is anchored with a massive contemporary polished brass and glass coffee table and rich leather armchairs resting on a vintage Oriental carpet. A small sofa table holds a holiday arrangement, but can expand to accommodate six dinner guests at a holiday buffet dinner. A polished wooden desk holding treasured mementos is positioned to take advantage of an expanse of windows bringing the manicured backyard with flowering shrubs, potted ficus trees and statuary into the comfortable setting. A harvest table holds a floral wonder of branches, pinecones and holiday color ready for buffet diners to raise a glass of cheer in celebration of the season.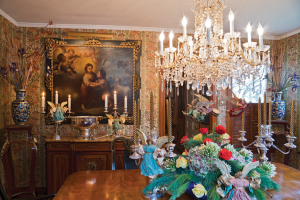 By JOHN BLOODSWORTH Photography by AL RENDON