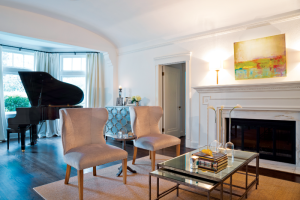 Built in the 1930s by architect Atlee B. Ayres, an Alamo Heights home featured new additions when the current owner's parents — Vickie and Harry Flavin — purchased the stylish residence in 1989. When Amy and Frank Wagner moved in and began to update the family home four years ago, consideration was given to the active lifestyles of their three children.
Partners in marriage and business, the talented team owns Allegiance Floors, a commercial flooring company, which includes carpet, vinyl, ceramic, and engineered wood floors.
An accomplished interior designer prior to starting their flooring business, Amy created tranquil, contemporary respites for modern living. For the return to her family residence, she created pristine living areas that are soothing and functional on the main level of the home with a central gathering kitchen and family room.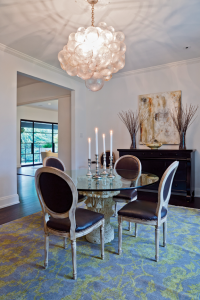 "I love the kitchen," exclaims Amy. "And I love to listen to music throughout the house." Designer Christi Palmer of Palmer Todd envisioned a row of upper custom kitchen cabinets fabricated of polished chrome with recessed glass. A massive island of white HanStone anchors the gathering area with Arteriors pendant lighting of suspended clear glass globes housed in stainless steel that illuminate the space. A smaller working kitchen is concealed in a nook where Amy prepares breakfast with coffee pot, steam oven, microwave, icemaker, a small refrigerator and freezer drawers at the waiting. "They are concealed from the larger kitchen so that I can always keep the space clean," she mused.
Anchoring the dining room is a chandelier of hand blown glass bubbles that Amy found at market. A Masland area rug in soft yellow and gray floral is a selection from Allegiance Flooring. A refuge of soft matte gray walls appointed with white furnishings including a bergére and ottoman updated in creamy linen fabric, Amy's study offers a workspace and private retreat. Silk chartreuse draperies add a pop of color to the decor.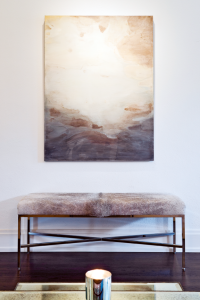 In the den, four upholstered swivel chairs create a conversation area and allow the family to swing into position for viewing sports and favorite shows on the wall-mounted flat TV screen. Amy has taken a traditional sofa that belonged to her parents from midcentury to urbane with a charcoal velvet fabric that updates its classic lines. Chairs custom-made in Houston are from a design shop frequented during her years as a decorator. Keeping the setting swank, a chrome-legged bench is upholstered in cream and gray cowhide. A large bay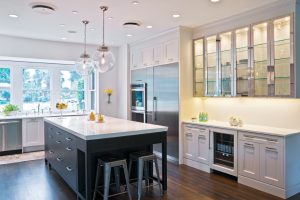 window holds a baby grand piano that had also been a family heirloom. Over the original living room mantel hangs an abstract landscape painting by California artist Johnny Apodaca. On a trip to Carmel, the couple spotted the work while it was still drying and purchased it on the spot. Unbeknownst to them, Apodaca studied abstract painting at the McNay Art Institute in his youth. He moved to Monterey, where the mountains, valleys, cliffs and ocean inspired him to paint in the plein-air style.
During renovation, the former basement was transformed into living and sleeping quarters for sons John and Michael. Daughter Alexandra retreats to her bedroom and private bath on the main level just down a hallway leading to the basement stairway. With music playing overhead, Amy admits, "I do have the music on all the time, except when my husband is watching golf – or Shark Tank."
By JOHN BLOODSWORTH