Every Detail Designed For Living Gracefully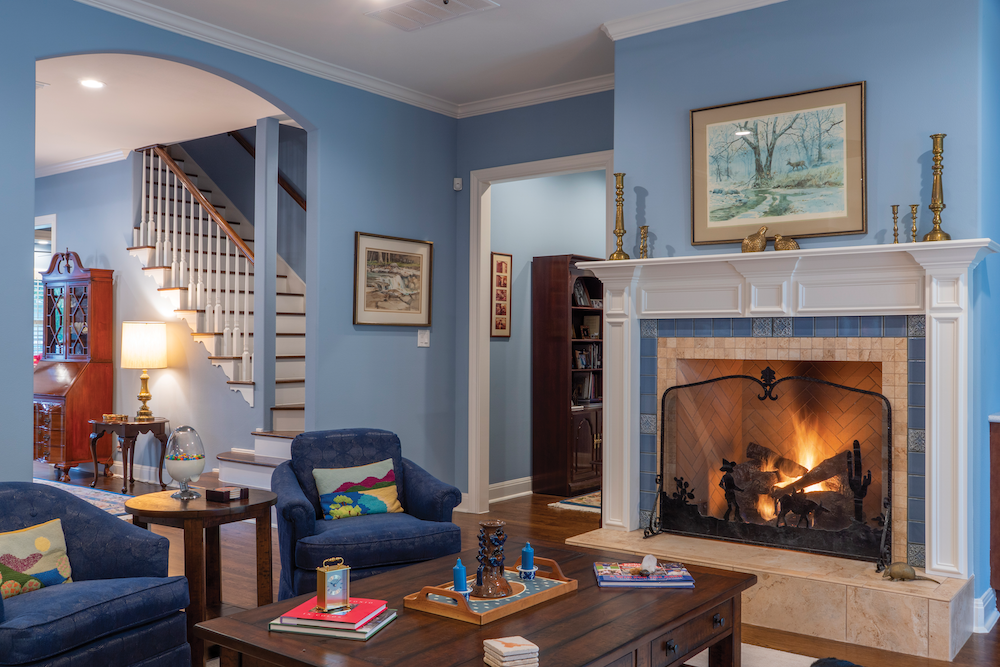 When Marilyn Church clipped a copy of her dream home from Southern Living Magazine more than 30 years ago, she had little idea that her plans would come to fruition on a lot wide enough to build that dream home in Alamo Heights.
It was custom builder, Collier Bashara of Collier Custom Homes, who put Marilyn and Walter Church's plans to work, adapting and modifying from a paper clipping of a house to a solidly constructed home built with Marilyn's every wish coming true. Through a creative process and collaboration with Renee Wright with RKW Designs, they took Marilyn's ideas and incorporated them into the home's design.
"I work for the homeowner on the project," stated Renee. From selecting fabric to chandeliers, Renee put Marilyn's ideas to work from conception to completion of the project.
"We first thought to have each room in a different color," said Marilyn, "but because of my love of the color blue, we went with the same shade throughout our home." Renee selected Sherwin Williams Faded Flaxflower in flat latex finish complemented with a trim color of Sherwin Williams Alabaster in semi-gloss finish. Ceilings are also Alabaster in flat latex finish.
The heart of any home is the kitchen where memories were made with home-cooked meals served around the kitchen table. Today's contemporary designs have replaced the old wooden table with clean, stone-clad islands that function as dining, serving, and entertaining centers. However, Walter and Marilyn wanted to recreate their favorite kitchen from the home they lived in Alamo Heights in the 1970s. Renee and Marilyn searched high and low for similar backsplash tile colors that would set the tone for the modern makeover. "We were able to find what we were looking for at Crossville Tile Studio with a velvet pink subway tile in a half offset pattern," explained Renee.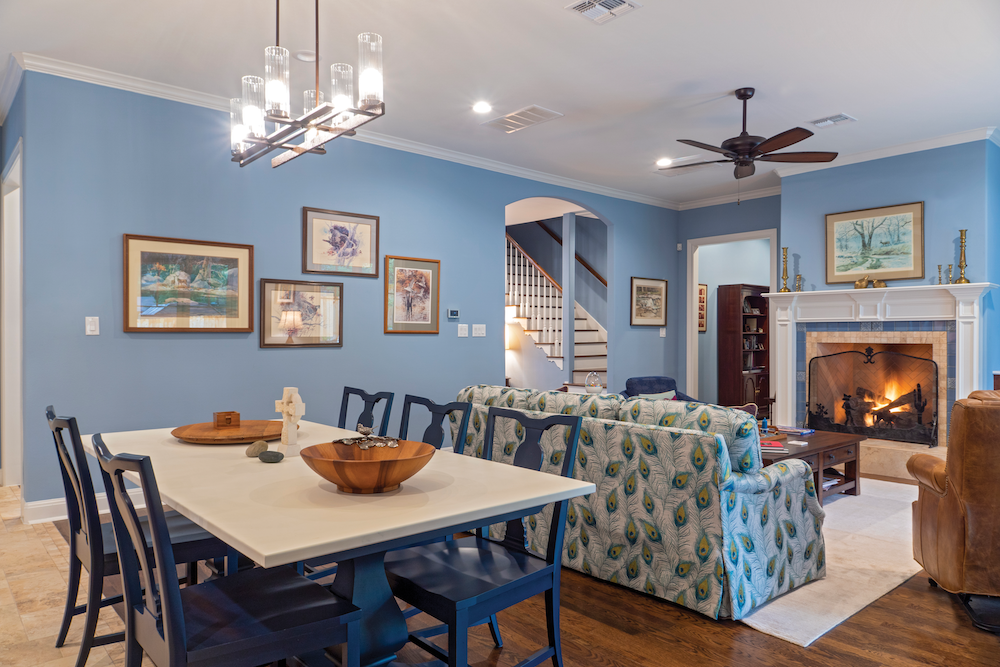 The accent tile is also from the Crossville border series, and it incorporates a floral pattern in blue tones composed of glass. For an added custom touch, Renee incorporated a rectangular frame in the glass accent tile above the cooktop with a herringbone pattern of the velvet pink tiles inside. The kitchen cabinets are maple and were manufactured by Decora in their Avignon style with a sepia coffee stain.
The island was created especially for Marilyn at a perfect height for her to comfortably prepare and bake. The island includes a one door base cabinet with a heavy-duty mixer lift for additional ease with baking. Marilyn was also able to find her dream ovens, and she chose a Bosch Benchmark 30″ Euro Convection Double Oven in a stainless finish with dual side swing doors, which is also much more comfortable for Marilyn to access.
Marilyn confesses to a love of nature, with strong partiality to peacocks and owls. Reflecting that "call of the wild," a custom-designed sofa at KBK to the Trade was manufactured by Sherrill Furniture with an English front rolled arm and a square front dressmaker base in a Plume Turquoise fabric that incorporates a peacock feather pattern. Collier's trim carpenter – based on Renee's design drawn to scale – built a custom wood fireplace surround with a mantel. The wood surround was painted Alabaster in a semi-gloss finish to match the trim in the house. The tile surround incorporates Marilyn's favorite blue color along with the same tile used on their kitchen floor.
The hearth is covered in Crossville tile, and the surround is finished with small mosaic tiles, both by Monethyum, in a straight stack pattern with an outer band of Ashbury still water field tile with DuBois decorative tiles included as well.
Walter and Marilyn were able to use two existing small club chairs by having them reupholstered with Fabricut Art Deco fabric in dark blue with gold accents. Wildlife paintings by San Antonio artist Clay McGaughy were also arranged in various groups and professionally hung on the walls of the family room.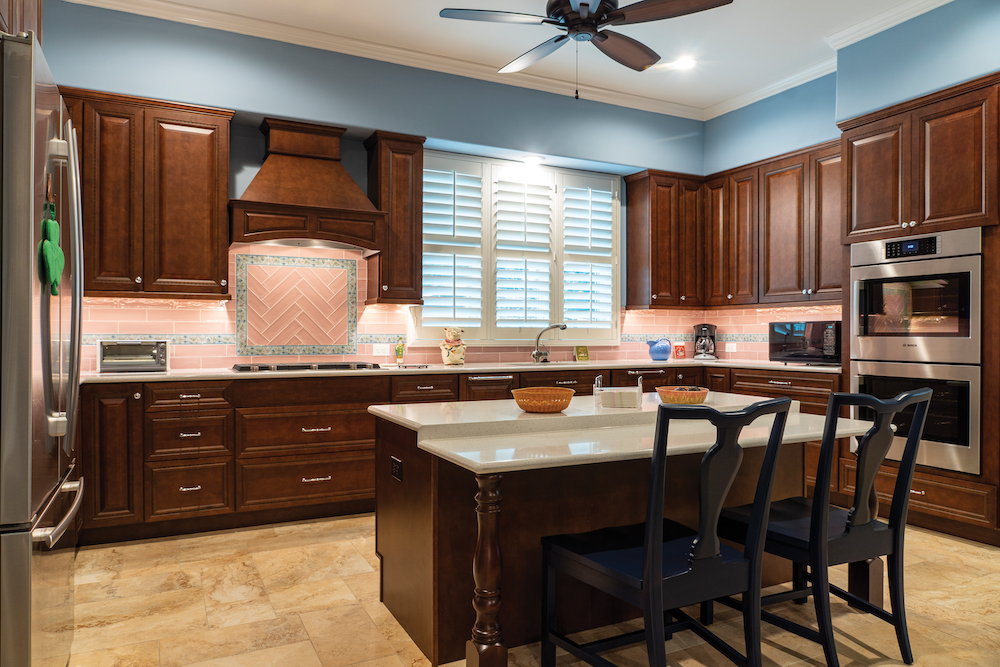 Keeping watch in the formal dining room, a parliament of owls peer from twisting vines in a wallpaper pattern in Kravet Owlish Black wallpaper. A crystal and polished chrome chandelier illuminates the setting with a vine motif to match the pattern in the wallpaper. The Church's were able to showcase their existing cherry wood traditional dining room furniture with the seats recovered with a hard-wearing polyester velvet fabric by Wind in Chili, which also coordinates with the blue tones in the wallpaper.
One of Walter and Marilyn's main goals was to have a downstairs master bedroom and bath designed for comfort. The floor tile was chosen at Crossville with a heated membrane beneath for comfort during the colder months. "Frances, the cat we adopted from my sister-in-law, loves the heated floor in the bathroom," Marilyn said with a smile.
The shower and tub wall tiles are predominantly done in SoHo white subway tiles in a half offset pattern. "For a custom addition and to incorporate their love of blue, I added an accent rail in with Ashbury Malibu Cornice tiles along with Ashbury Malibu Stillwater accent tiles along with the wall of the tub and shower," explained Renee.
With color playing an important role in the design, the master bedroom's custom made king size coverlet with colorful peacocks included (again touching on Marilyn's love of birds and wildlife) fits the bill. Custom made pillow shams in solid color fabric by Designers Guild in gold and raspberry tones add elegance.
Of all the custom features showcased in this home, one stands out that pays homage to Marilyn's Irish heritage. "Walter is from a strong German family that settled early in Texas, so I bake Irish sugar cookies each year to declare my independence," said Marilyn.
And husband, Walter, duly notes it. In the garage, a sign is prominently display reading, "Parking For The Irish Only – All Others Will Be Towed."
View Full Slideshow: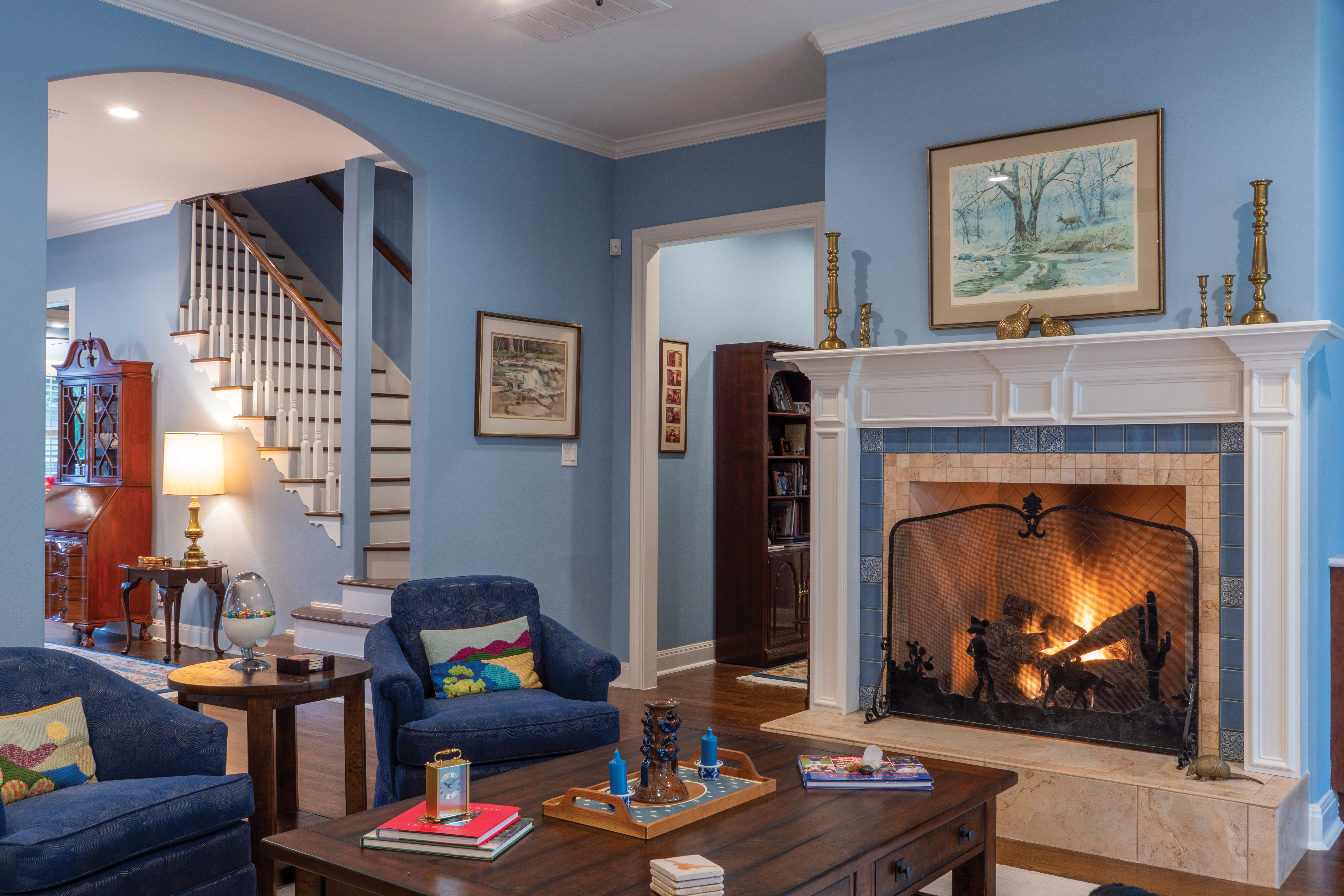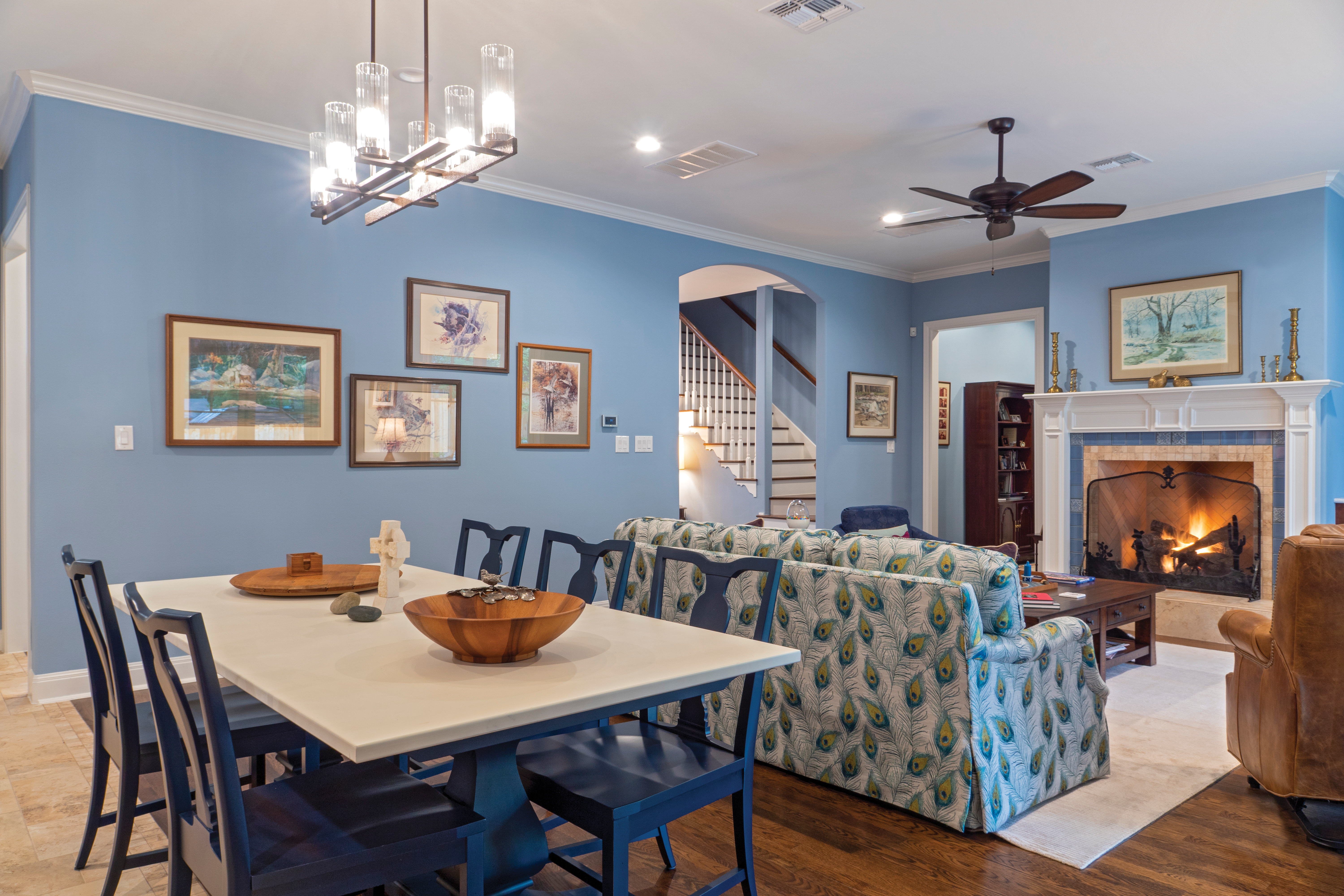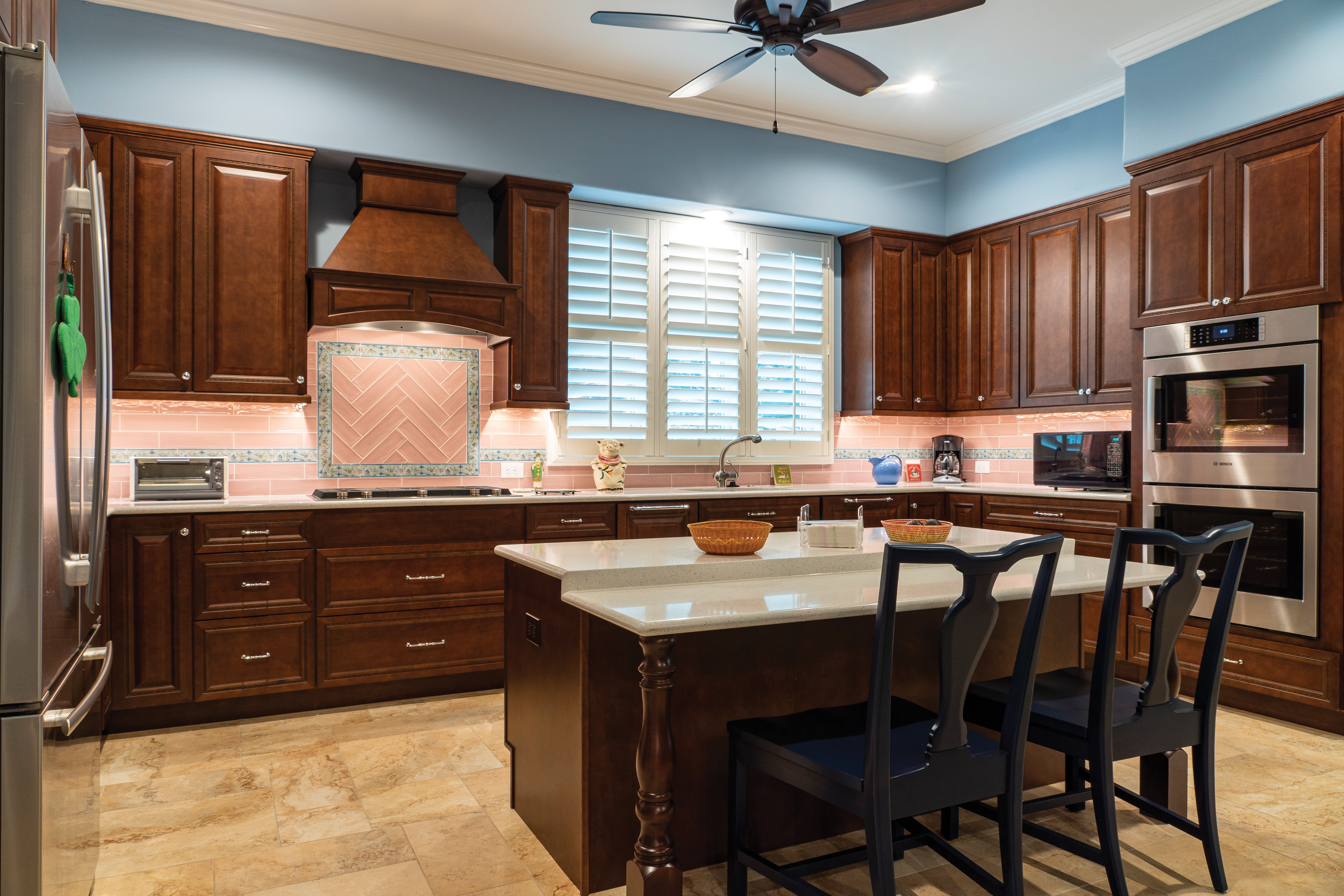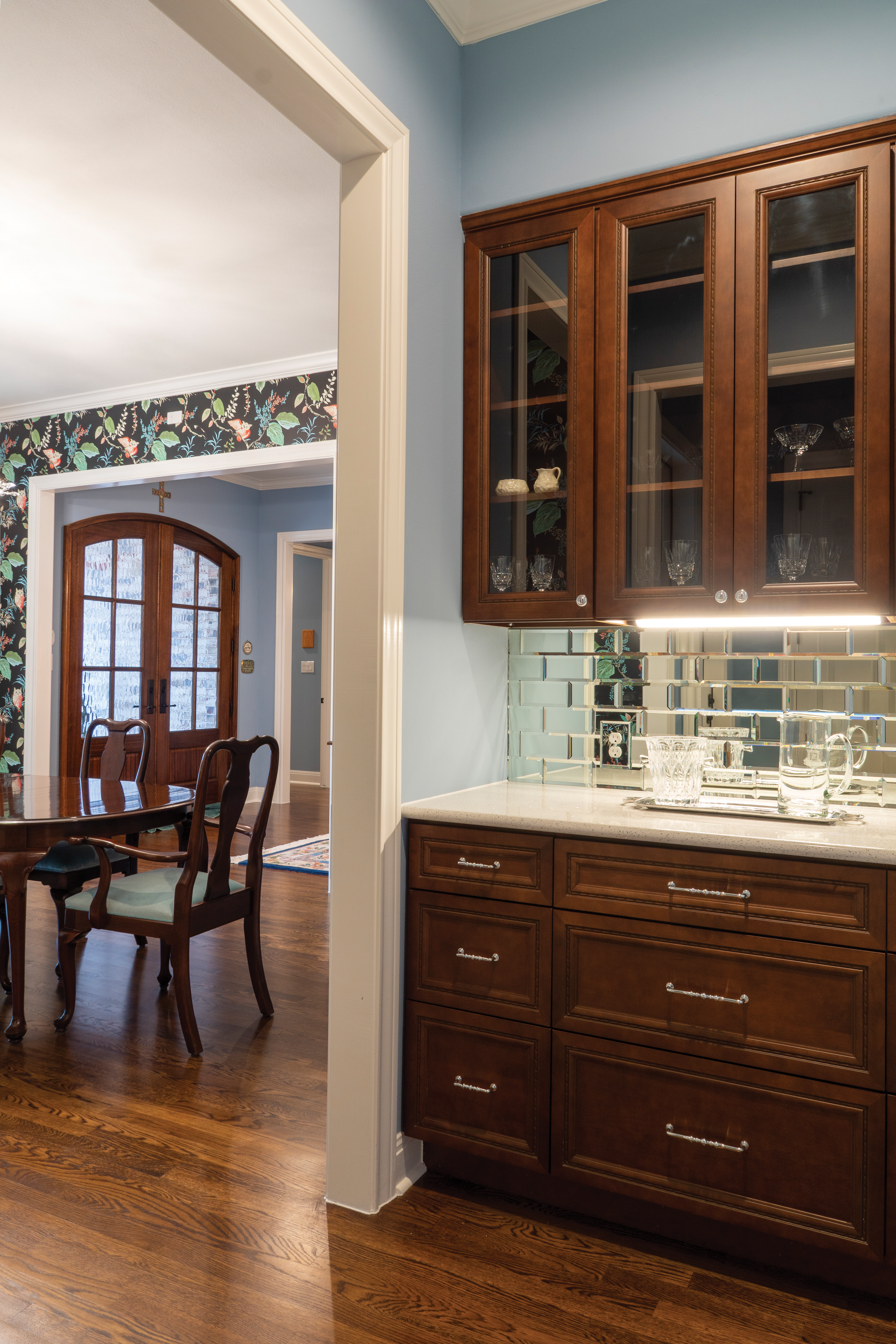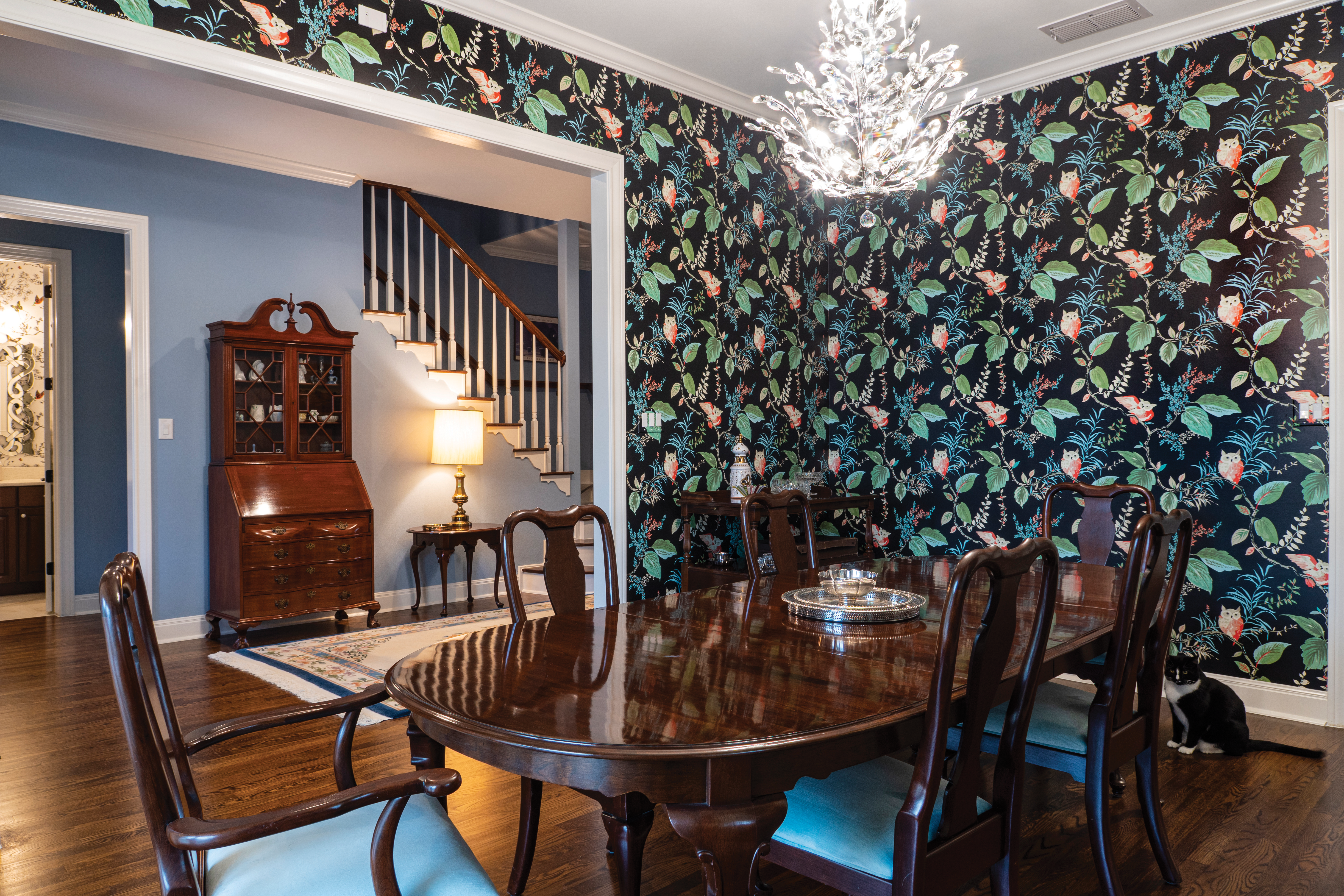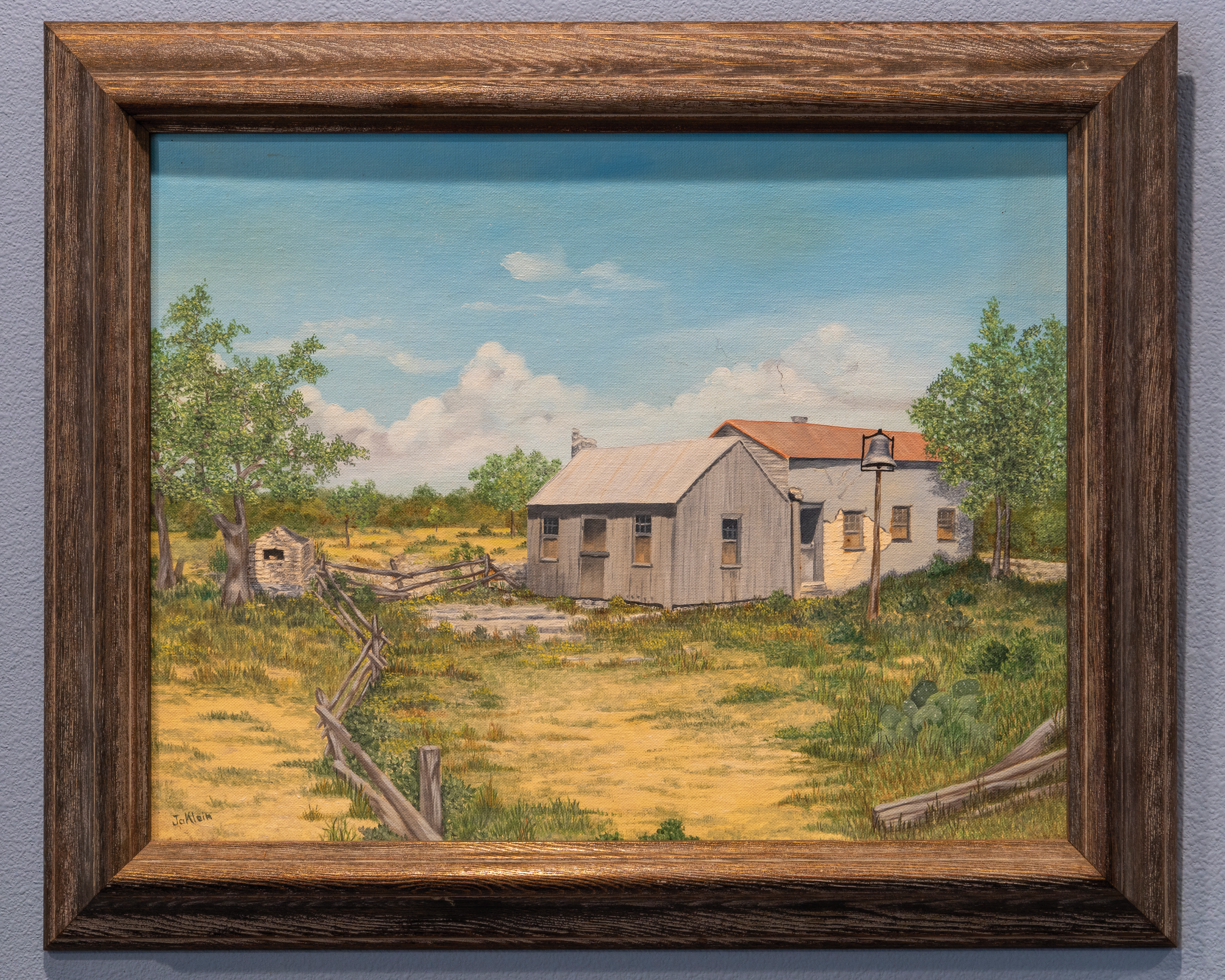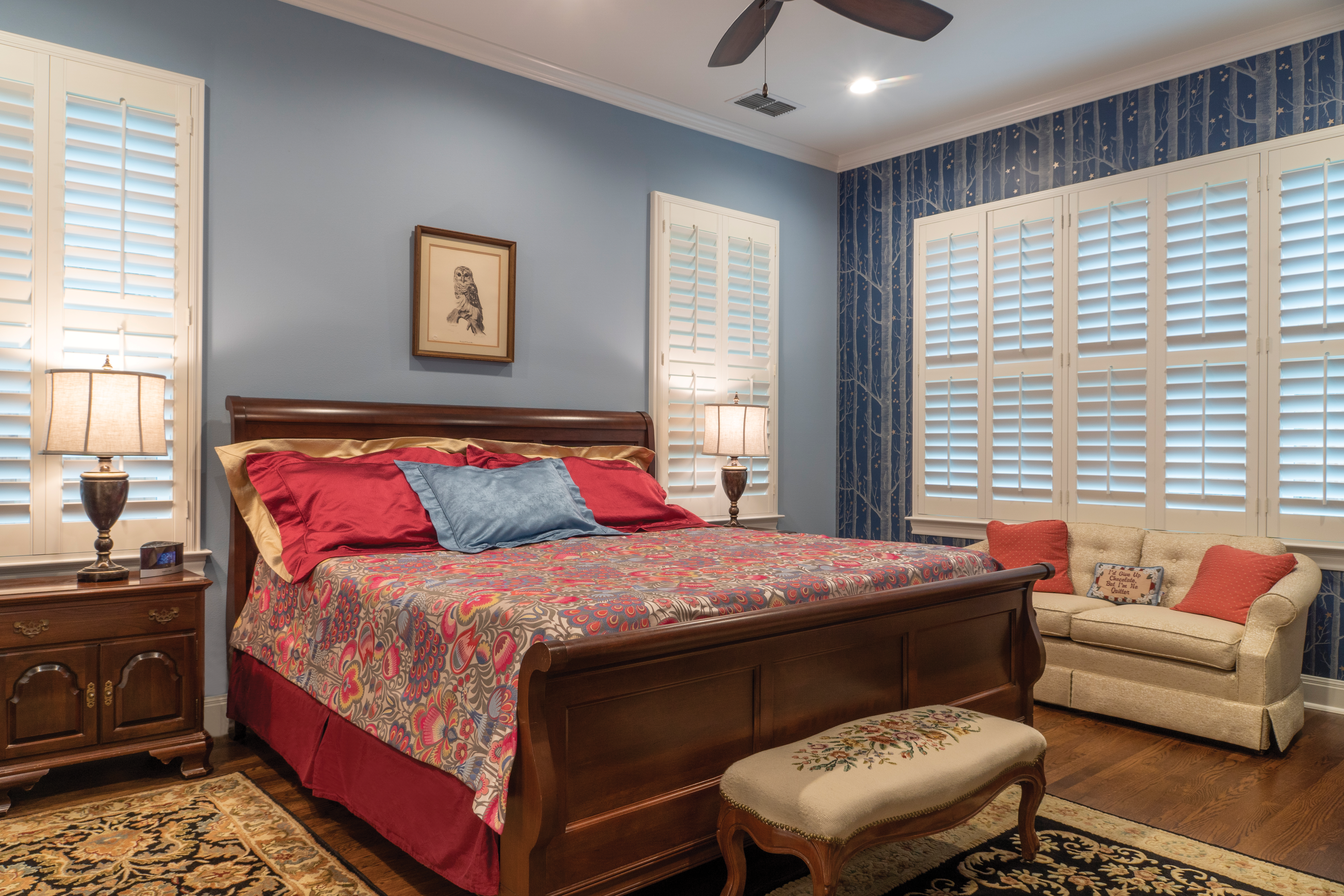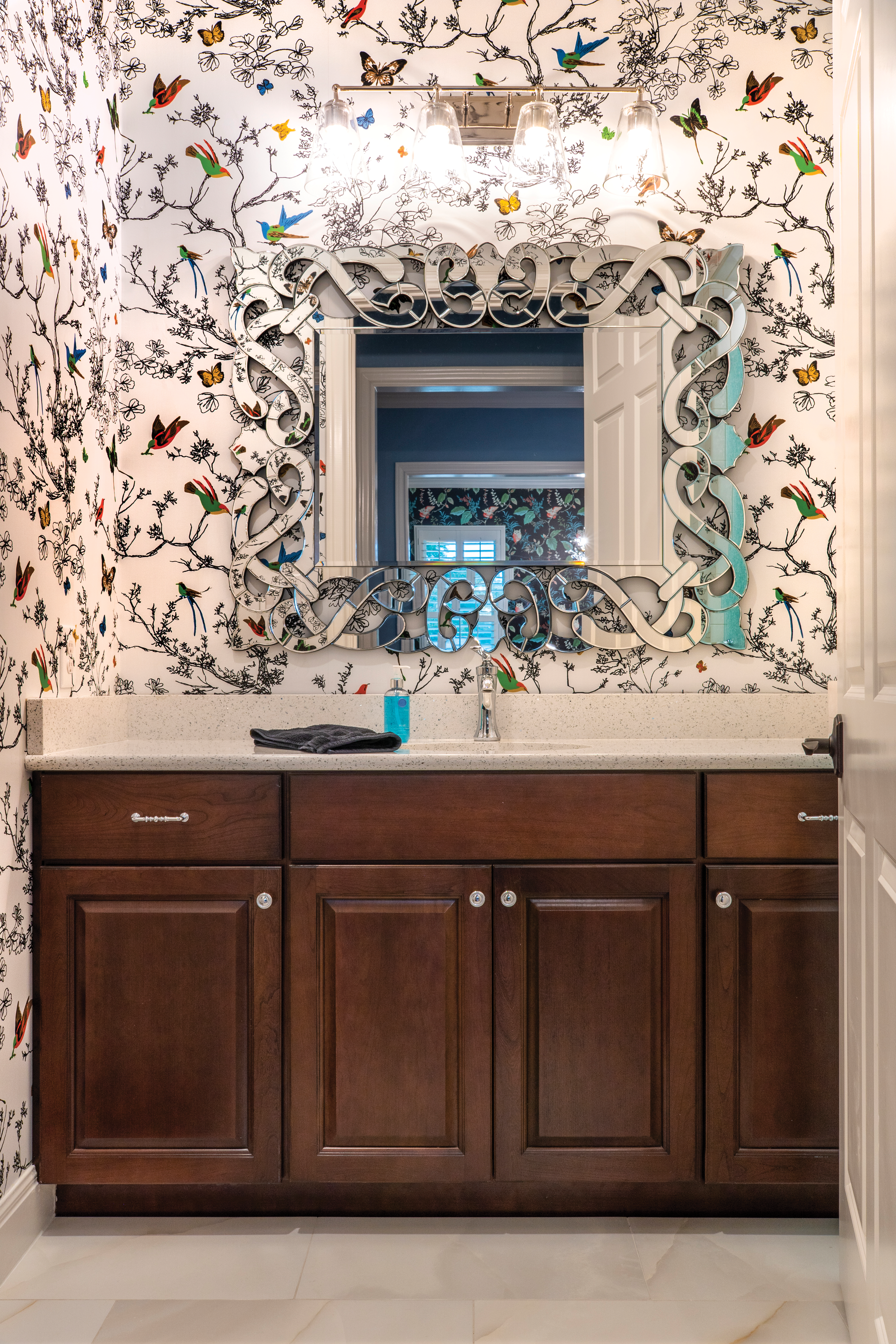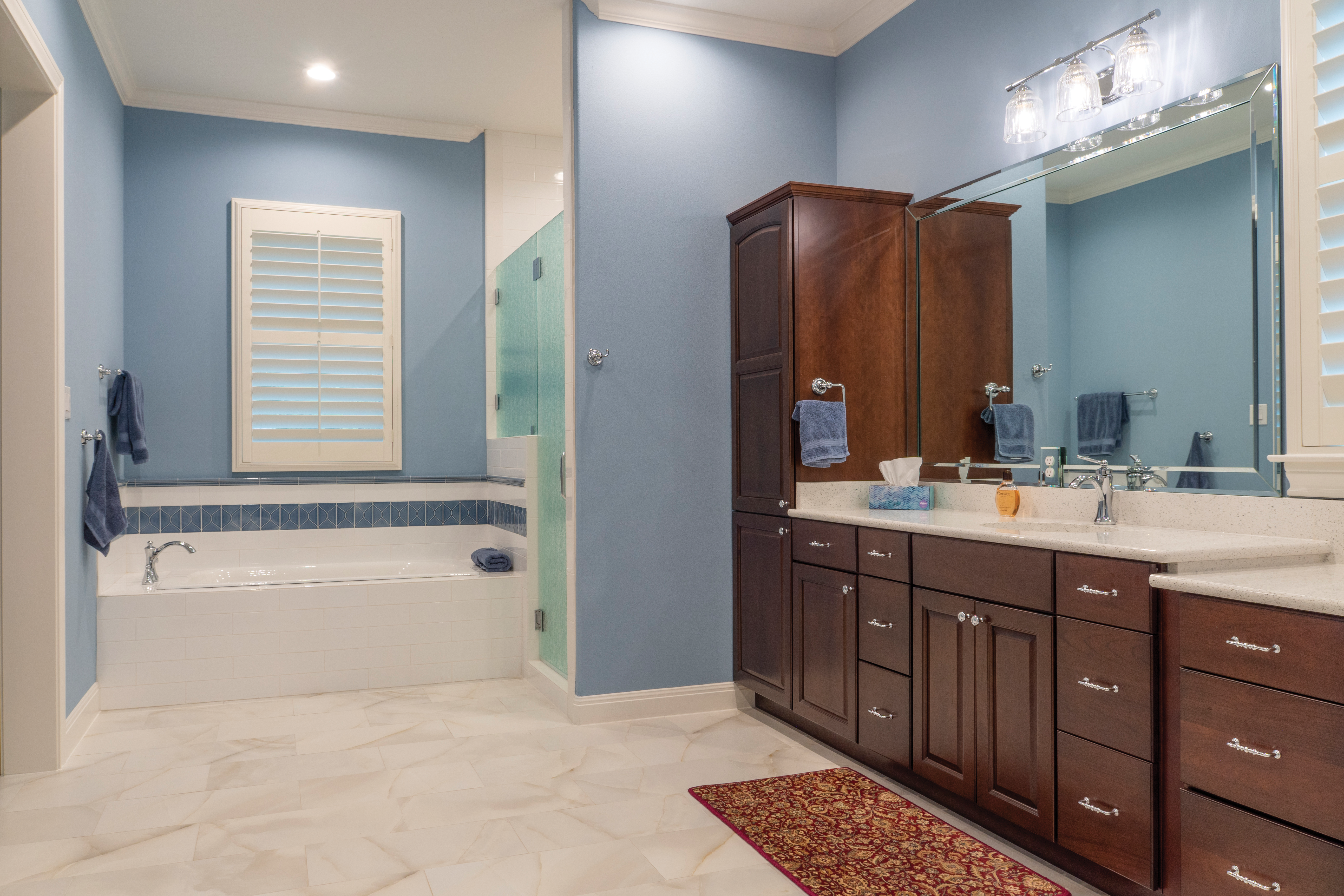 BY JOHN BLOODSWORTH
PHOTOGRAPHY BY AL RENDON