A Charming Cottage in Alamo Heights Inspires Creative Couple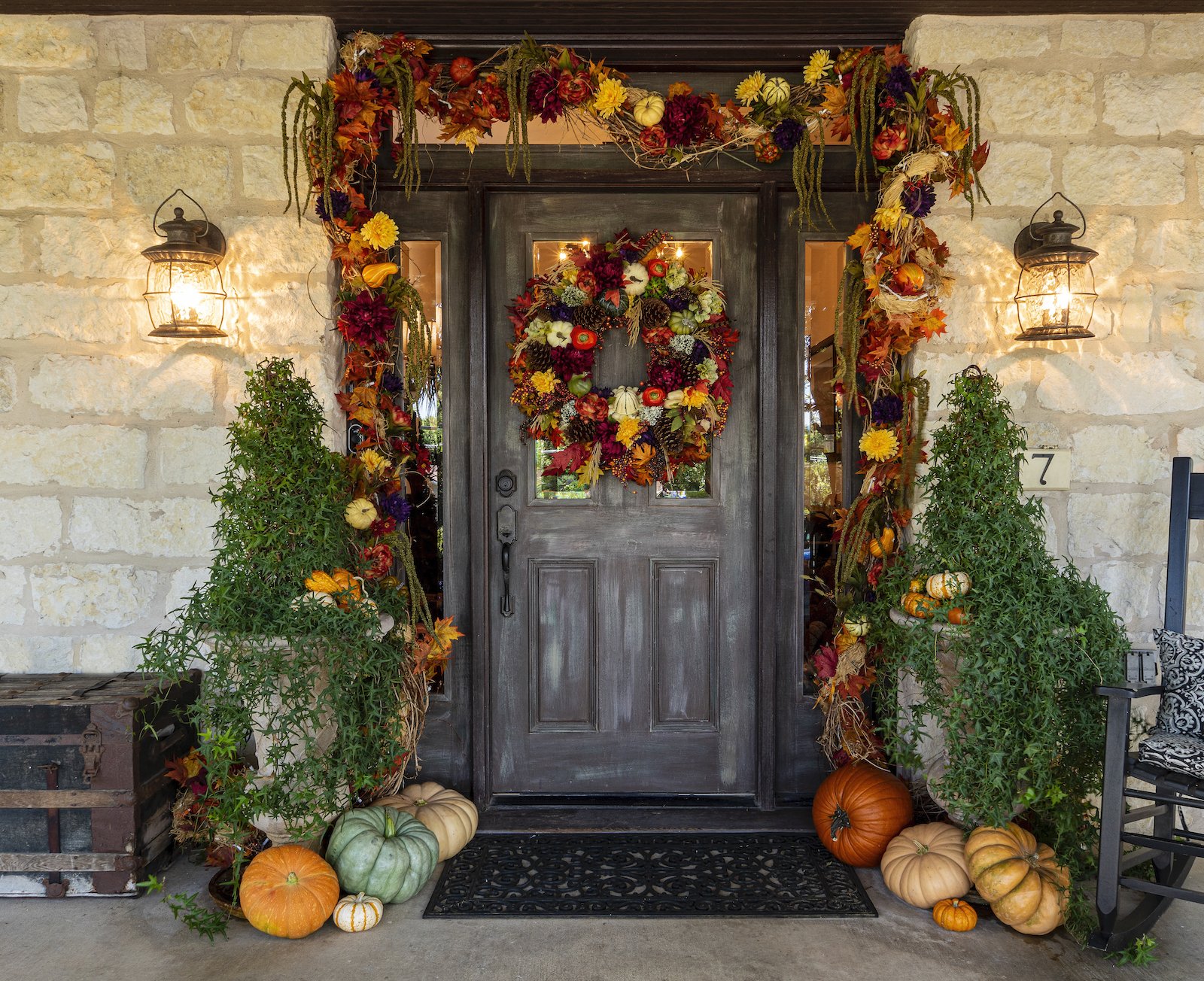 Sweltering temperatures aside, fall has found its way to Alamo Heights and has taken residence in the charming cottage home of designer Chelsea Cox, husband Brian and son Cannon.
Chelsea's artistic endeavors began at an early age. "I have been decorating all of my life," she mused. As a child, she would accompany her parents to the homes of friends and relatives for dinner parties. "I'd redecorate the rooms and rearrange the dinner table in my mind," Chelsea admitted with a laugh.
Living in Spokane, Washington where there were distinct seasons, she had an adjustment, when she met and married her Texas bred husband, moving to Austin. "I had to change my traditional way of decorating with each season, as I had done in the Pacific Northwest," she recalled. "I'd buy a fresh wreath and hang it for the entire holiday season on my front door. I tried that when I came to Texas and it was brown within a week!"
Chelsea began to collect elements found in nature – wooden branches covered with moss, native grasses, and antlers that she incorporated into floral arrangements inspired by Central Texas. After moving to San Antonio, she worked for a local designer for four years, before giving birth to her younger son. Shortly after that, Chelsea started her own business – by word of mouth – and ran it from her home, which she and her husband purchased in 2010.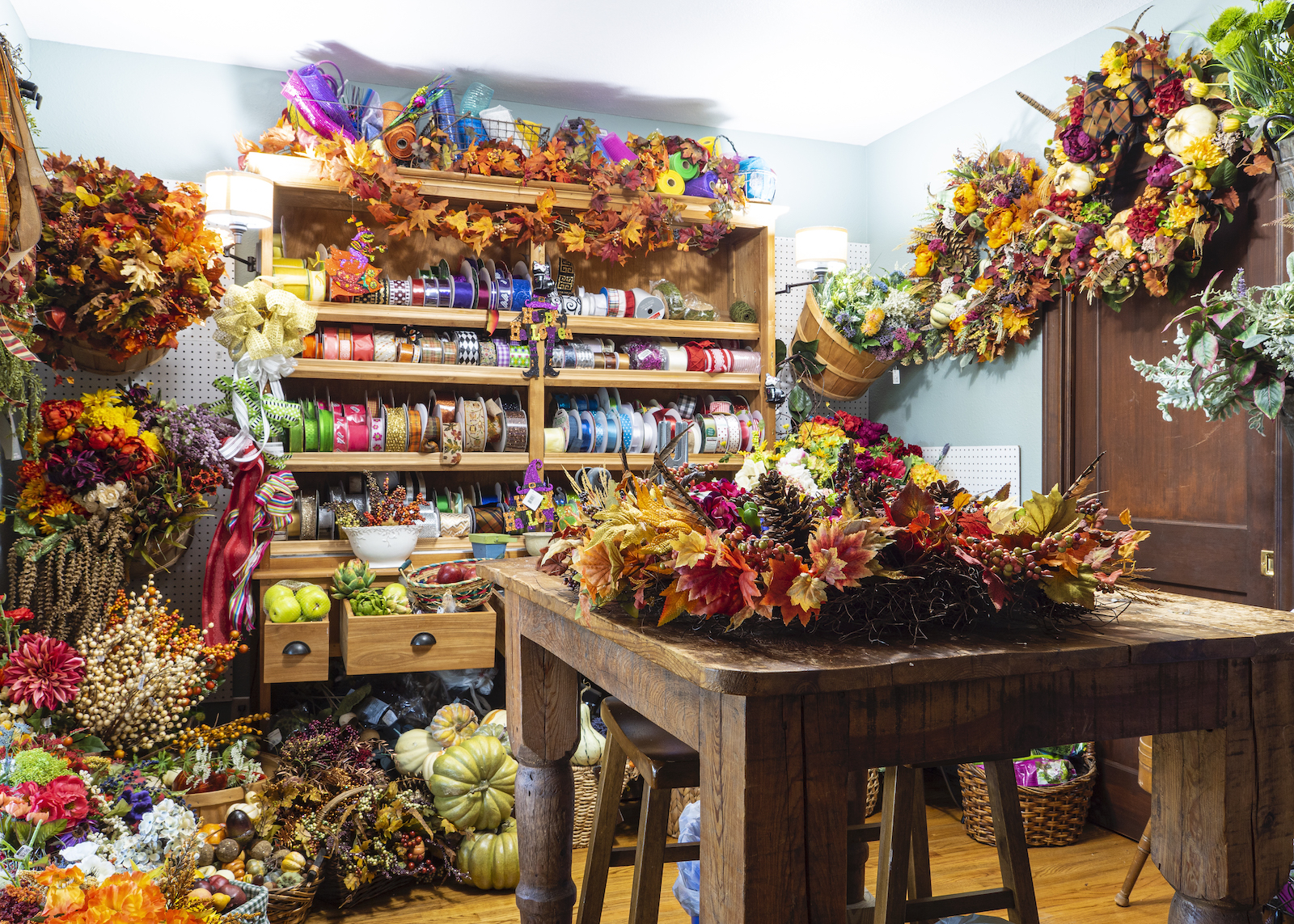 The previous homeowner made additions to the back, front and above the original cottage structure. "He had encapsulated the original house," Chelsea said. "It was a kind of Louisiana shotgun-style."
Owned by a single man, the kitchen was extremely small with a massive bar extended into the living room where a giant pool table, poker table and refrigerator occupied the space.
Opening up walls and reconfiguring work and living spaces, the couple enlarged the kitchen centered around an island work space with granite top, installed new appliances and gained storage space with custom cabinetry. Subway tiles of Urban Putty and a pair of pendant light fixtures added transitional style.
The "man cave" components of the family room gave way to a restive setting for entertaining and conversation bringing in elements of both Brian's and Chelsea's heritage. The existing stone hearth and wood burning stove reminded her of the Pacific Northwest where winters can be blustery. "And it really puts out the heat," Chelsea stated.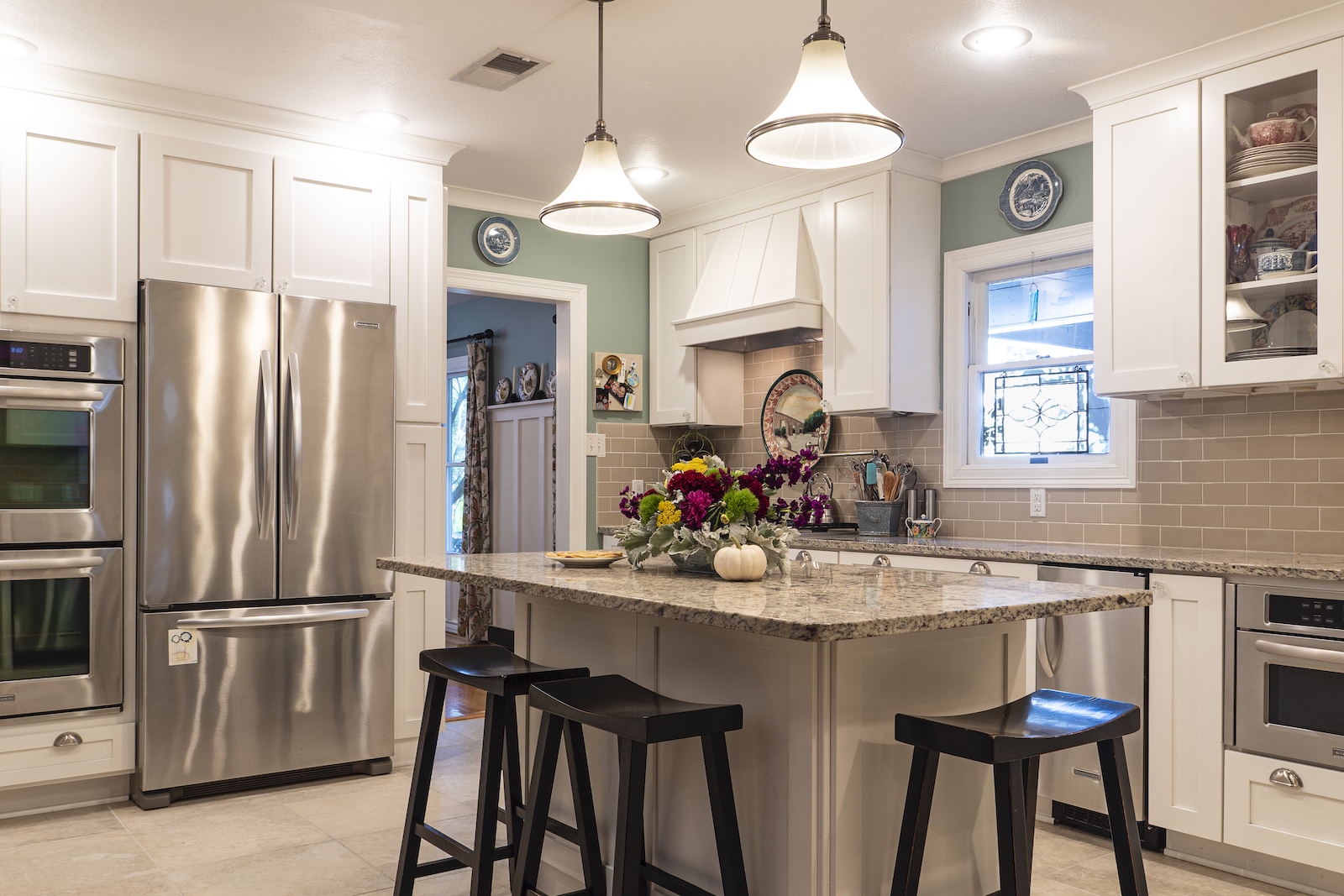 Mounted trophies that adorn the walls are a nod to Brian's roots, recalling South Texas hunting trips. Arrangements of native dried grasses and flowers rest in rustic containers accented with deer antlers.
In the dining room, the DIY duo installed wainscoting as a home project. "Brian is very creative," Chelsea said. "He inspires me." The plate rail above the paneling holds a collection of Spode Woodland China.
The Arts and Crafts inspired dining room is centered with a dining table in the same style, a bookcase that has been repurposed to hold china and a six-light, hand wrought brass chandelier. Adding an autumn air to the room, a three tier fresh pumpkin centerpiece is adorned with herbs, grasses and flowers including dusty miller, yarrow, ligustrum beans and passion vines plucked from a neighbor's fence.
A set of Mexican folk art furniture came to settle in San Antonio by way of Michigan. In the 50's, Chelsea's grandmother furnished her northern lake house with the colorful pieces that her granddaughter coveted since she was seven. They went with Chelsea on her move to Spokane and now to Texas. They now are proudly placed in the entry.
Just off the entry, what had been her oldest son's bedroom became the workroom for all of Chelsea's creative endeavors. "As soon as he moved out, I moved in," she stated. "He was so happy that I was able to use it."
Overflowing with everything imaginable, the designer's lair is a hub of activity this fall season, transforming her home for the holidays with autumn's allure.
View Full Slideshow: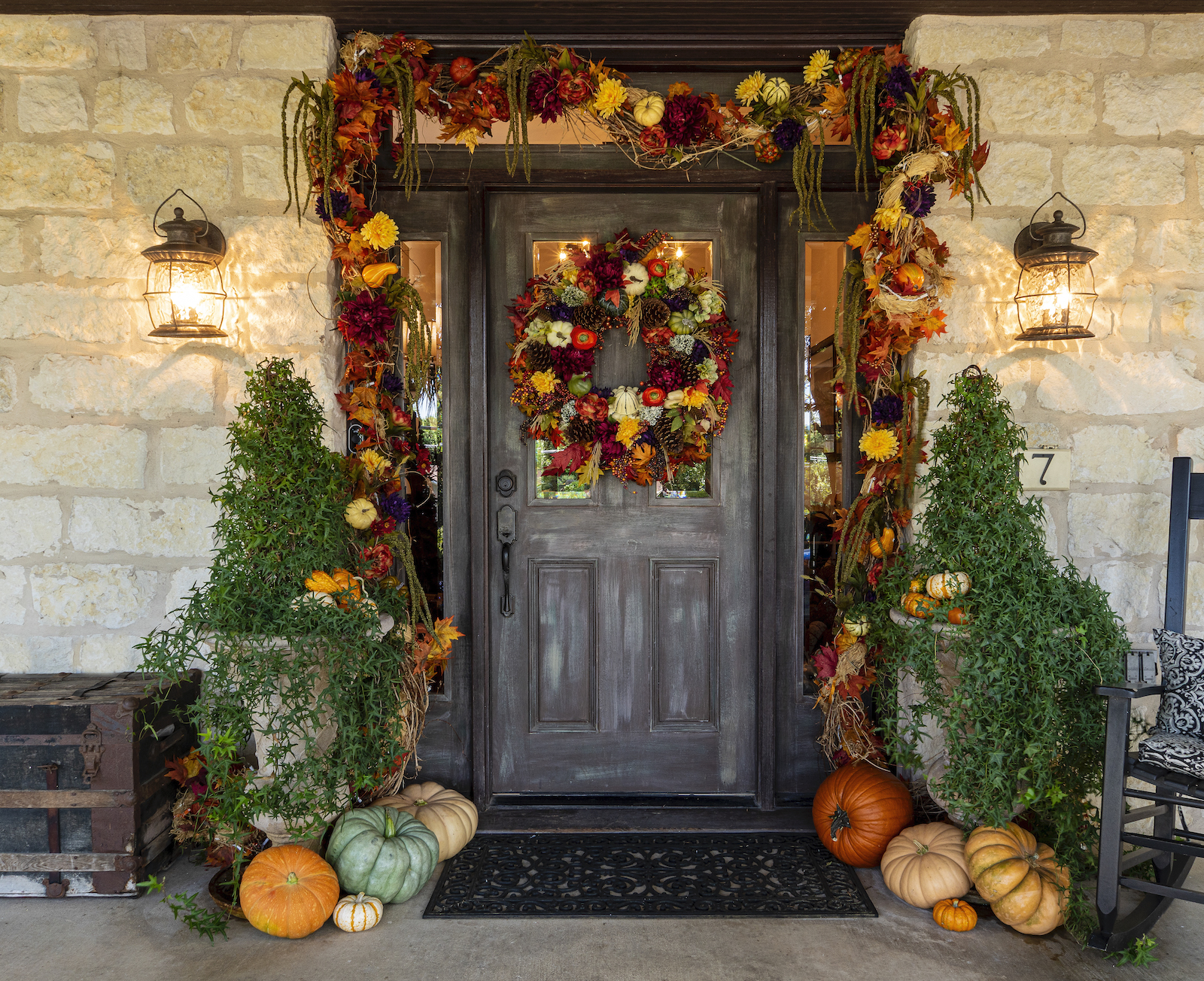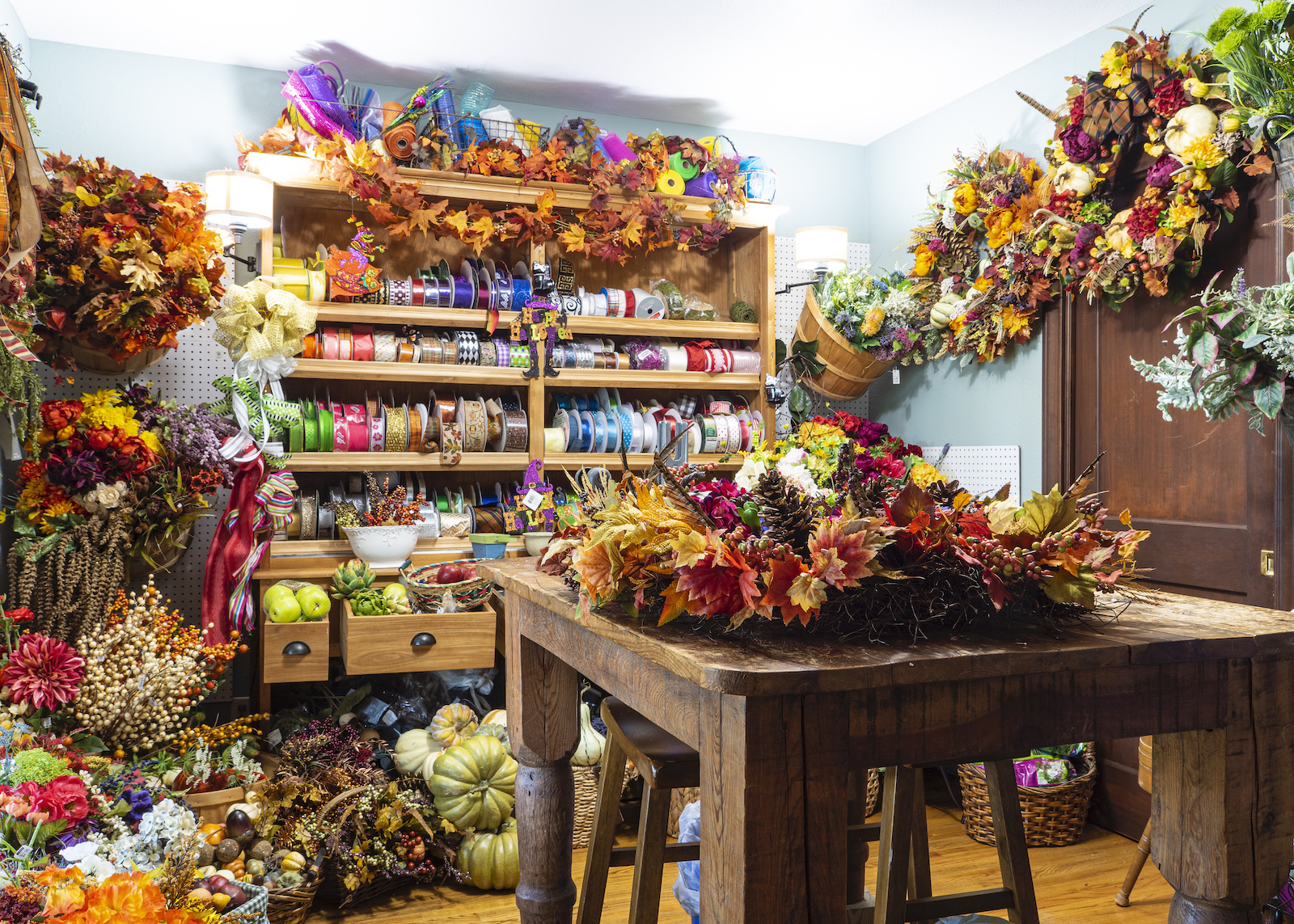 Work Room/ Studio
Vintage worktable holds a wreath in the making while ribbons galore overflow from floor to ceiling oak cabinet in Chelsea's in-home design studio. Wooden baskets hold faux greenery and dried grasses at the ready.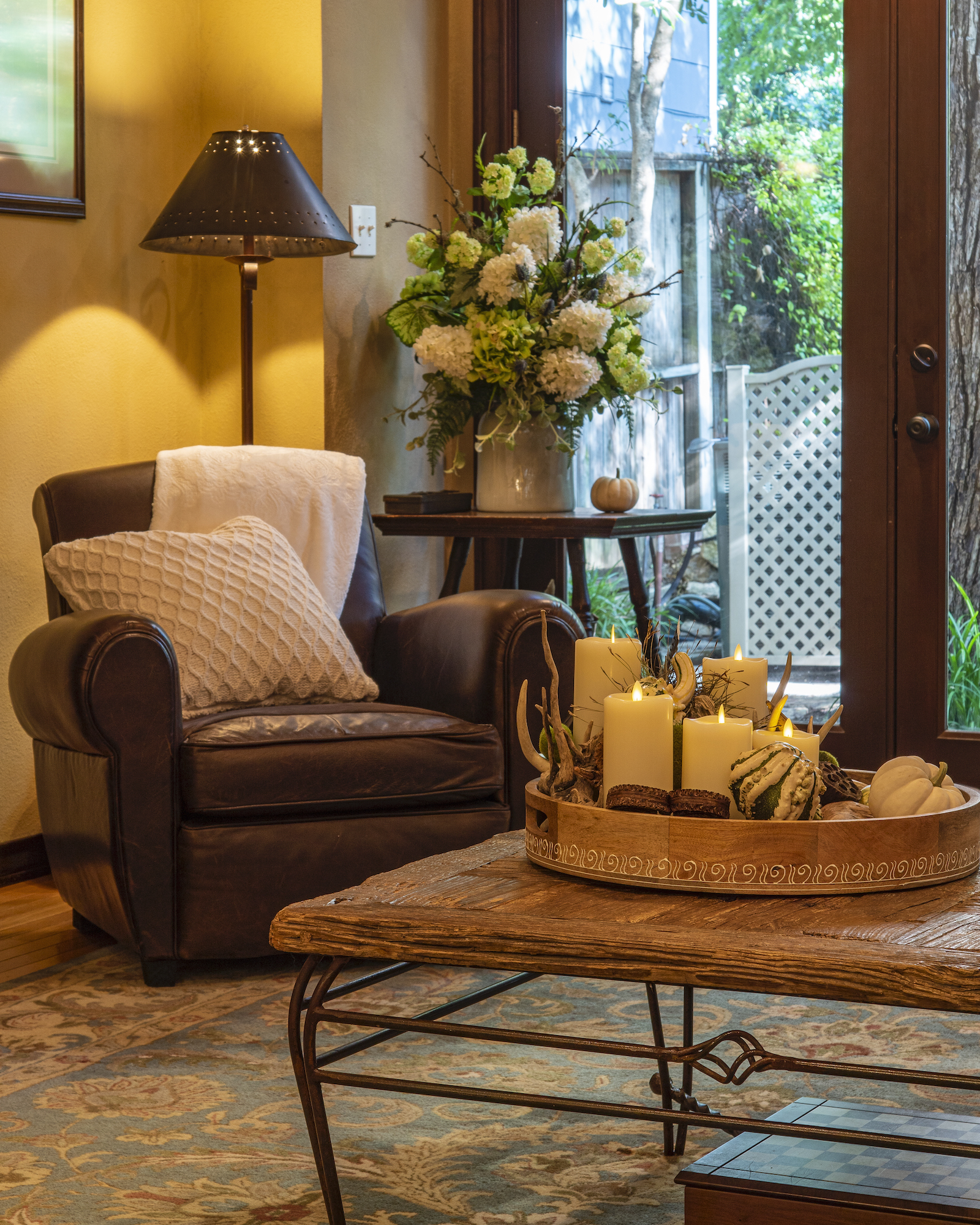 Family Room
An over-stuffed leather lounge chair personifies comfort in the family room where rustic charm abounds. Faux floral arrangement and tabletop centerpiece feature elements from nature. Moss and branches taken from trees in the couple's back yard mix with gourds and deer antlers.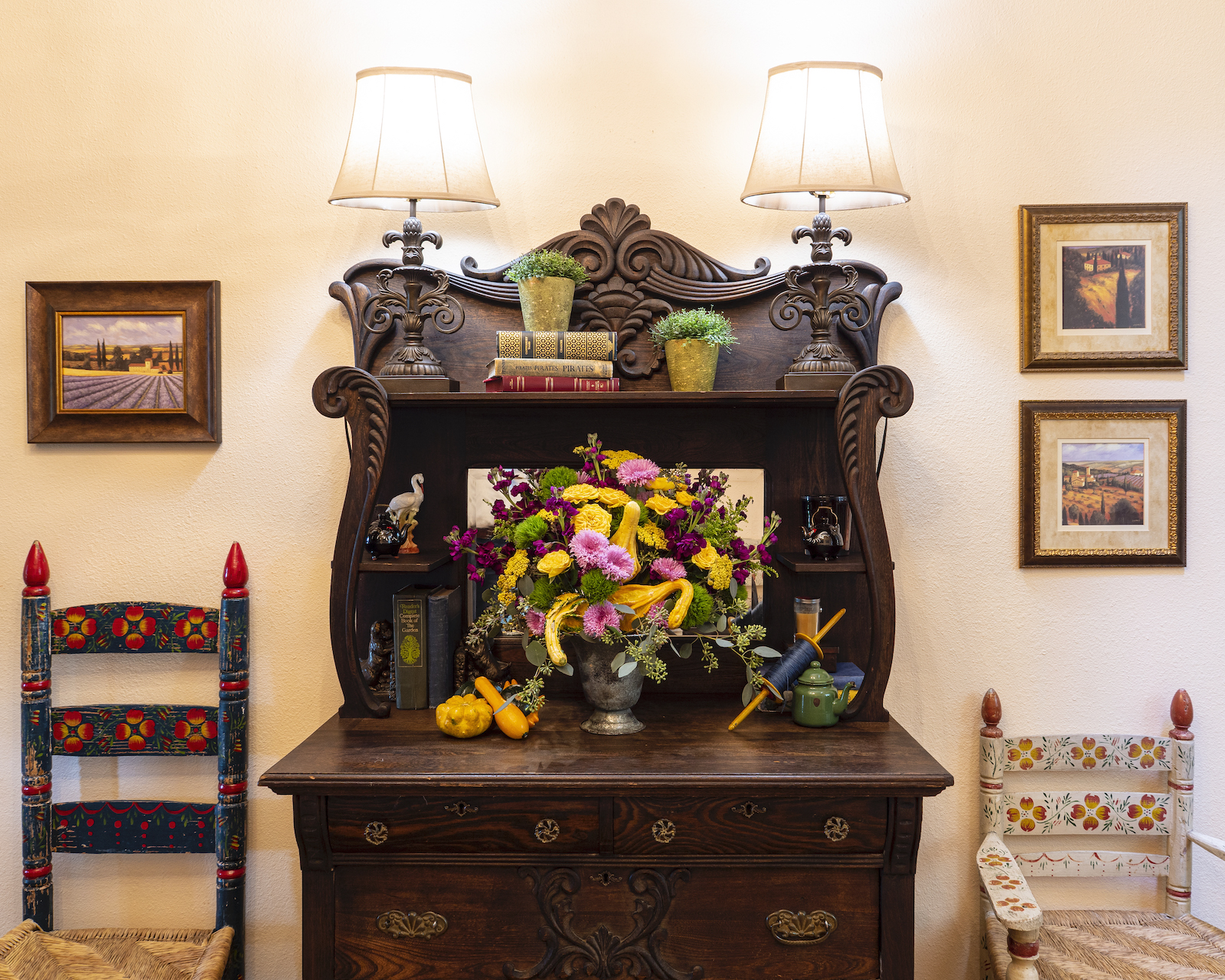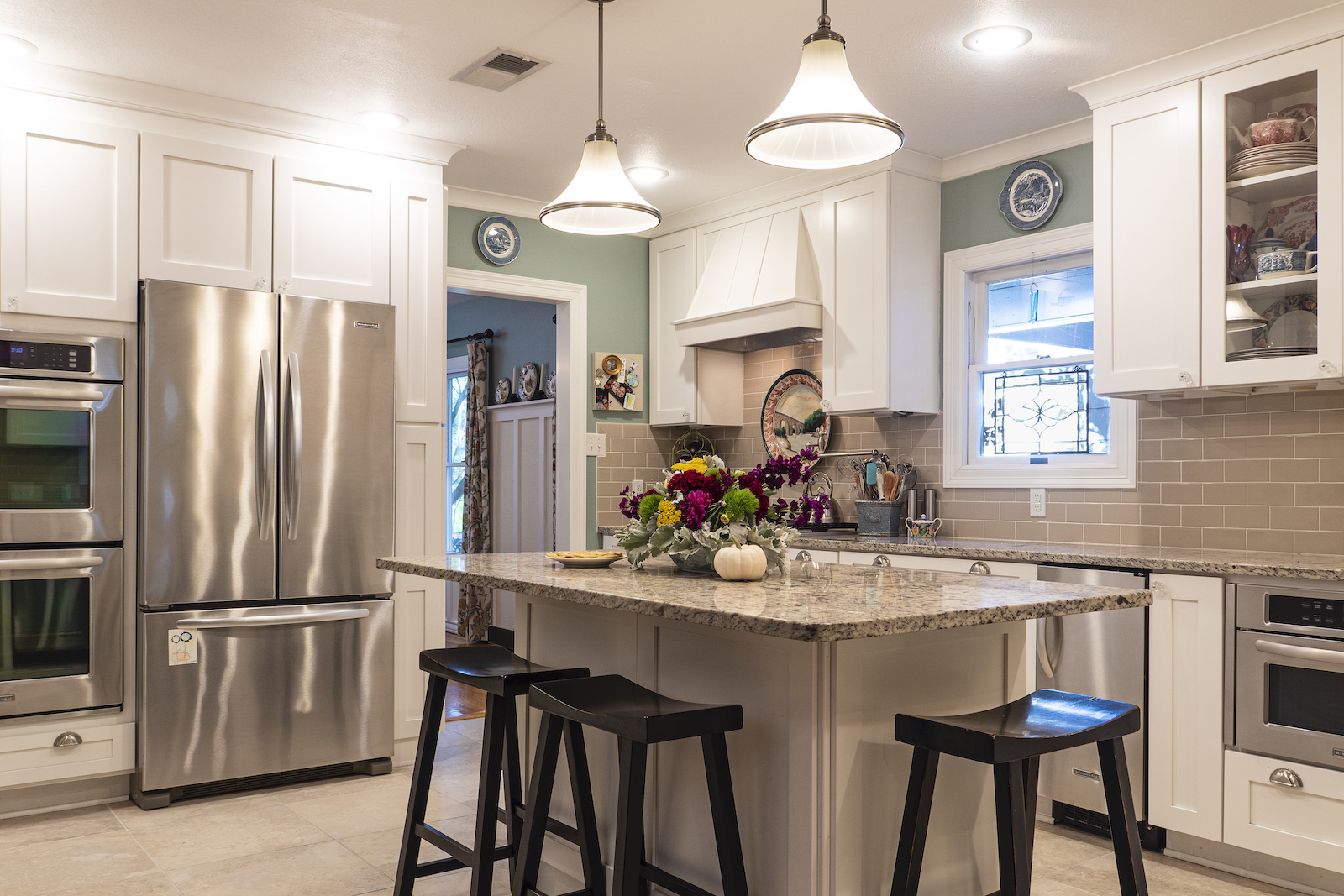 Kitchen
Fresh fall flowers and diminutive pumpkins bring autumn's color to the renovated kitchen of earth tones. Garden Twilight by Behr accents the walls and the color extends into the dining room. Glass front cabinets hold collections of Johnson Brothers' British Castles ironstone pottery.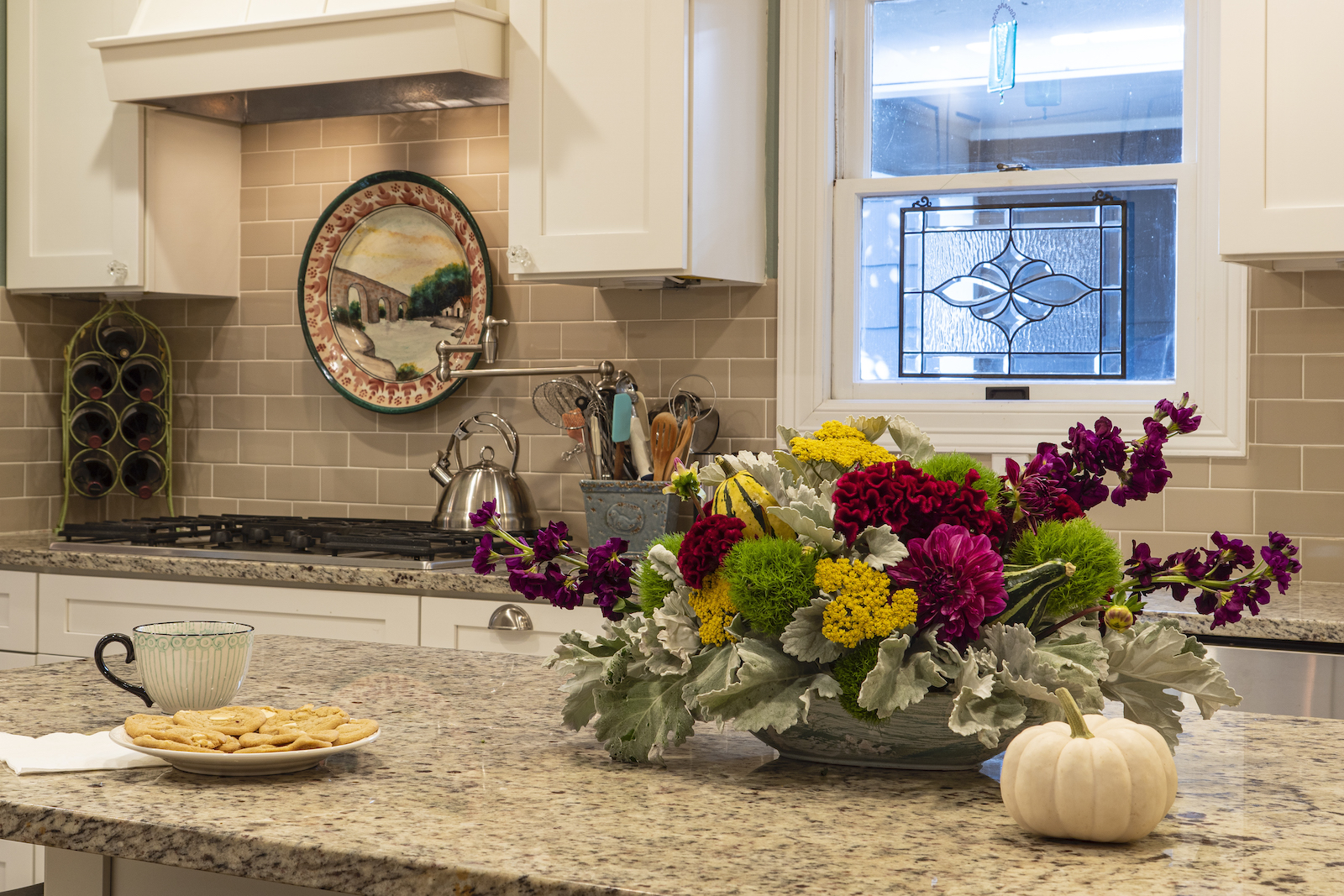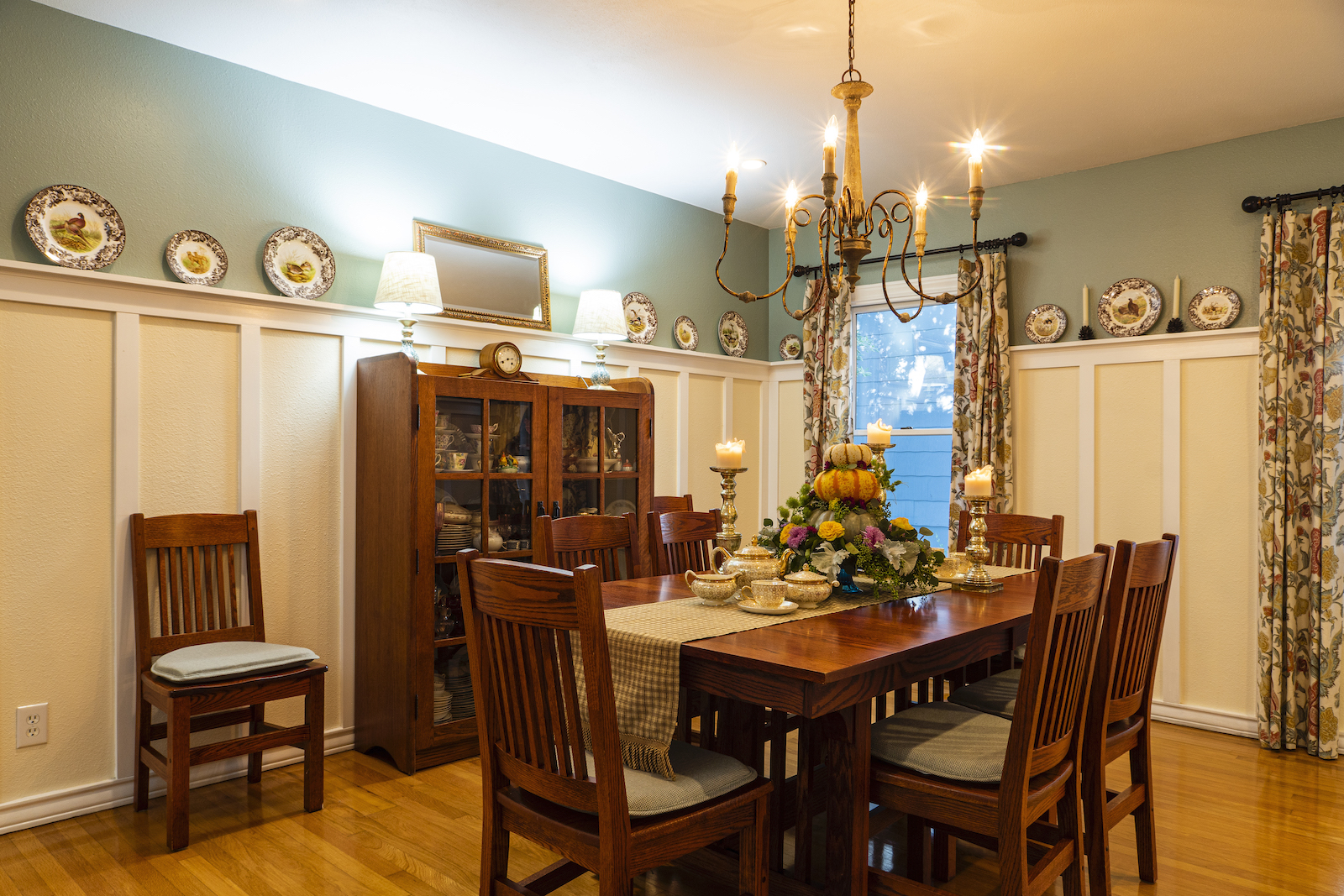 Dining Room 
Inspired by the Arts And Crafts style of her native Pacific Northwest upbringing, simple straight lines and rich, dark wood evokes the feeling of home. On the dining table, a tea set of Eggshell Nautilus holds a special place. The set was a wedding gift given to Chelsea's grandmother by her great grandfather on the eve of his daughter's matrimony.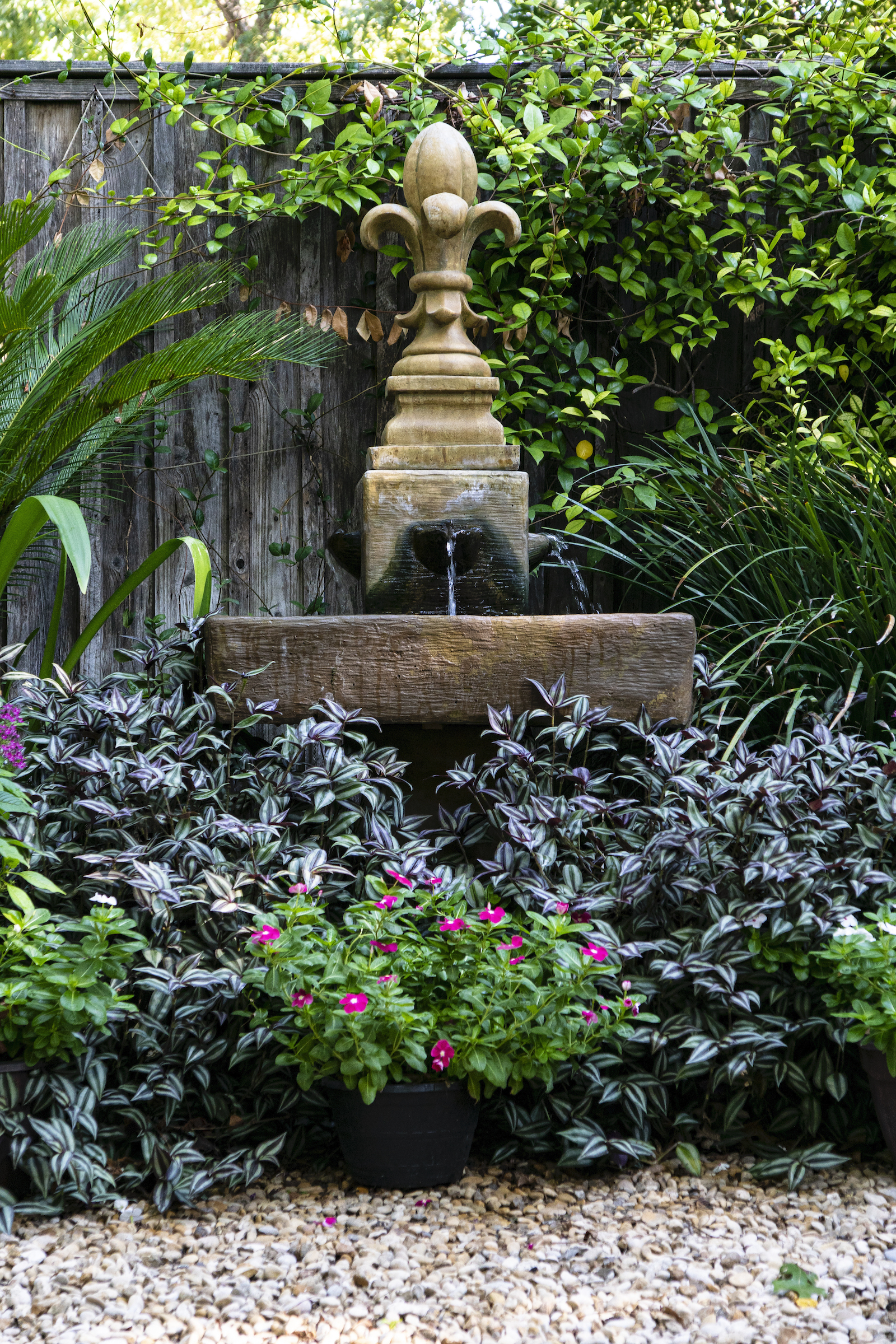 Garden
A stone fountain topped with a massive fleur de lis brings the sound of falling water to the back garden. Formally the site of a large hot tub, Chelsea and Brian transformed the site into a lush garden of native plants and flowers.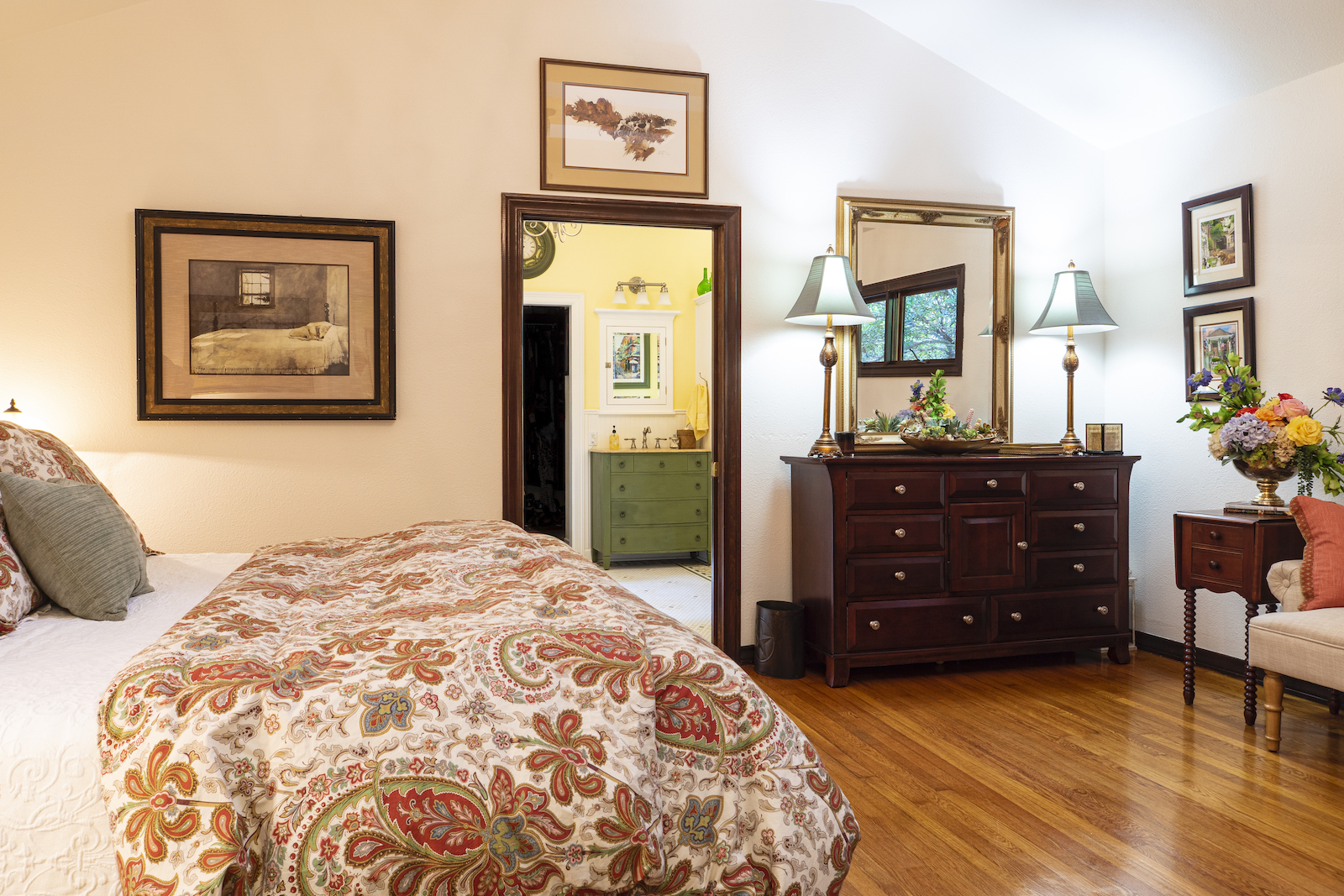 Master Bedroom
Hardwood floors gleam in the master bedroom where art works featuring dogs dominate the space. Matelassé linens top the king sized bed, mimicking the style of hand-stitched Marseilles type quilts made in France. The bed covers are changed with each season, allowing the couple to relish fall's arrival.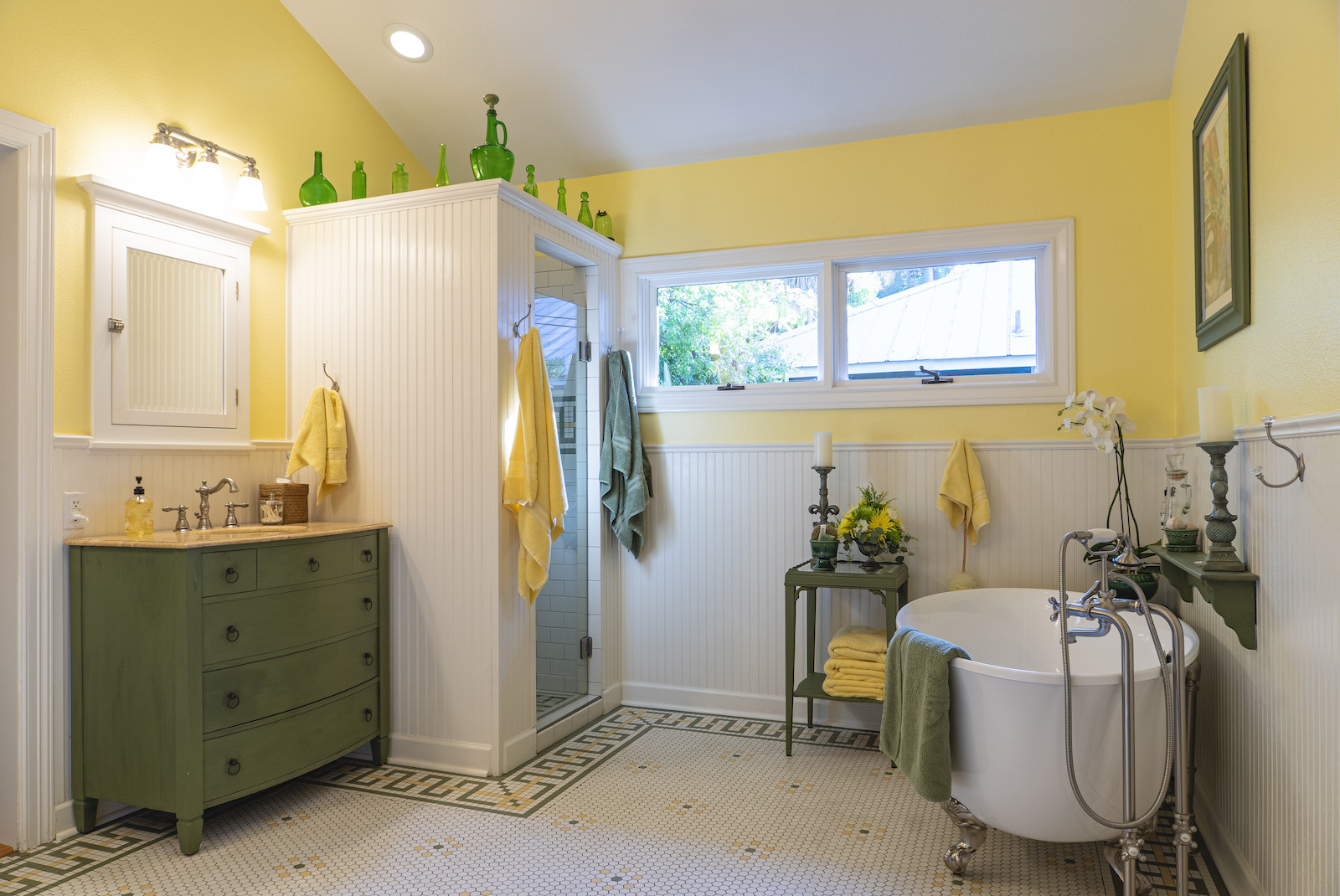 Master Bath
Green and yellow palate of custom mixed colors gives the master bath a "New Orleans feel." Hex tile in a Greek pattern, free standing tub and exposed chrome fixtures add to the throwback charm. Wainscoting treated to a milk paint bath of crème color contrast with the chest painted in moss green repurposed to hold a sink with granite top.

BY JOHN BLOODSWORTH
PHOTOGRAPHY BY AL RENDON