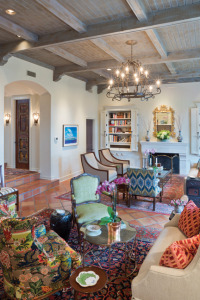 Casual sophistication in a home meant for family is personified in every detail of the Mediterranean-style residence of Betty and Michael Venson. The impeccable order of the interior belies the fact that the couple settled in just four months ago.
Moving from a traditional brick home in Alamo Heights, the Vensons found a meandering stucco abode that good friend and architect Pat Chumney had built in Terrell Hills for a former owner. The architect agreed to work on the redo, and the project began.
Walls were removed to open up the kitchen to the expansive living room, giving access to all of the action of an expanding family, including their son and two daughters, two sons-in-law and three grandchildren, including a new four-week-old arrival.
A kitchen island was created with a sink for food preparation, allowing visual lines to the breakfast room. A playroom just off the kitchen is a gathering place for the "guys to watch football games," Betty says. A teepee was one of the first purchases for the new room where grandchildren explore, just as Betty had done as a child in her own teepee.
Moving to the new home gave the Vensons the opportunity to showcase the immense talent of their son, George Venson. A young, emerging success in the New York and Paris interior design business, George founded Voutsa, a New York-based lifestyle and interiors brand that specializes in signature hand-illustrated and digitally reworked wallpapers, custom murals and wall installations designed for modern living.
In the couple's formal dining room, one-of-a-kind hand-painted wallpaper depicts a verdant jungle of flowering trees and bamboo, where exotic birds with vibrant plumage preen while white-faced monkeys play. "I wanted chinoiserie, and this is his take on it," Betty explains. "I did not want to put any furniture on the walls to cover it up."
Hand painting each of the panels took about a month in his New York studio. The works were carried to San Antonio, and George began to install the wallpaper in his parents' home. He spent another week on site connecting the panels with in filling and detail. In his father's study, koi swim with abandon across the walls and even onto an upholstered chair in matching fabric.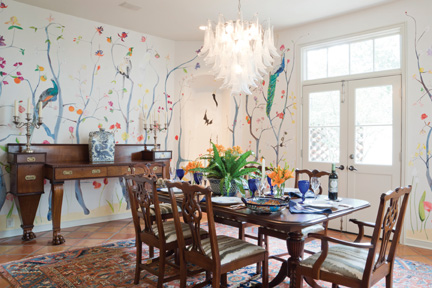 Voutsa's watercolored themes are all hand-painted before being placed in contrast to adventurous colors. George explains, "The real target for me are people that want to explore new bold options – like, if you want to paint your wall pink, maybe you should wallpaper it pink – but with fish on it."
In the wine room, luscious lips in shades of deep brown, purple and caramel tempt guests to imbibe. The lips were are all hand-drawn from various ethnicities and painted, then produced as a digital image.
Working with Julie Bradshaw and Jackie Kennedy of Bradshaw Designs, all the cabinets and wood trim were painted an aubergine to match the wallpaper. Dining chairs from Betty's parents' lake house were covered in complementary fabric.
"Every time I walk into the room, it makes me smile," says Betty.
By JOHN BLOODSWORTH | Photography by AL RENDON