They now live in Rasbach-designed home in Northwood Estates
Thanks to the Alamo Kiwanis Club, it was love at first sight. When Ann Smith stepped through the carved mesquite entry doors into the home of a fellow Ki-Ann, she knew this was a home she would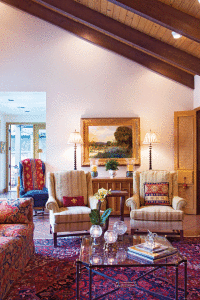 love to call her own.
As the wife of Alamo Kiwanian Charles Smith, Ann belonged to a group called the Ki-Anns, who hosted a number of festivities throughout the year. Ann attended a coffee at the home of one of the members and fell in love with it. "I went home and told Charles, 'I love that house.'"
That was in the 1970s, and life went on with the raising of children, work and daily duties. Their big two-story home in Castle Hills suited their lifestyle at that time.
One afternoon in 1986, after conducting business at a nearby office, Charles — on a whim — drove by and saw a "For Sale" sign in the yard of the home his wife had adored many years earlier. Another couple had moved in and was selling it. He went home and told Ann. Not more than five minutes passed and they were back over looking at the home.
"It was difficult to negotiate for it because the owners wanted the moon, so we did not get the house," says Charles. "Then, six months later, the Realtor called and asked if we still wanted the property."
"It was ours!" exclaims Ann.
They moved into the contemporary Roger Rasbach-designed home on a quiet Northwood cul-de-sac and did not change a thing except for replacing an indoor ht tub with a Jacuzzi bath in the hand-painted tiled master bath with its floral themeWindow walls, tile floors and high ceilings give the open-concept living area with its massive native rock fireplace an indoor-outdoor feel. And a solarium, just off the entry, with its native stone fireplace became a welcomed respite for the couple.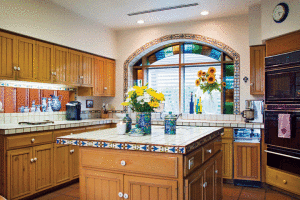 Rooms that utilize cross ventilation and glass openings that face east and south allow the outdoors to speak to every room in their home. A rectangular swimming pool that nestles into the U-shaped backyard exterior offers tranquil views from the living room, solarium and master bedroom. The peaceful outdoor living spaces include a wisteria-covered arbor, shaded terrace and al fresco dining poolside.
The comfortable kitchen, with its hand-painted tiles, service island and Rasbach's signature custom cabinetry, overlooks the serene natural setting.
Regional art adorns walls in every room of their home. "Helen Hunter was the first painting that we ever purchased, at the Alamo Kiwanis Western & Heritage Art Show in 1968," says Charles. "That is where we first developed an appreciation of art."
And love of art and home makes a most harmonious combination for serene living in 78209.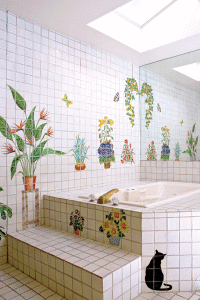 By JOHN G. BLOODSWORTH   
Photography By  AL RENDON