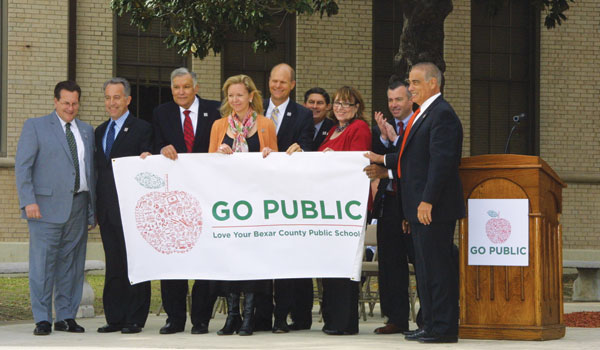 Bexar County's 15 independent school districts have teamed up to launch Go Public, a campaign to inspire support for local public schools and highlight the sustained, positive impact they make on students and communities every day.
With backing from trustees and business leaders, the three-year campaign will include television and radio ads plus digital and social media integration. Co-chairs are Maj. Gen. Joe Robles, CEO of USAA; Chris Nielsen, president of Toyota Motor Manufacturing Texas; and Kim Bowers, CEO of CST Brands.
"The concept of educating all people regardless of race, class or socioeconomic status is the engine that has made America a great nation and an economic power," says Robles. "Society has asked public schools to carry a heavier load, to cut back their budgets, to pass all the tests, to feed the hungry, to minister to the sick, to be all things to all people. And you know what? They are doing a pretty amazing job. And they not only deserve our support – San Antonio's future depends on them."
The ads will focus on the core strengths of traditional public schools: A highly trained and experienced teaching corps, a wide variety of extracurricular activities and clubs, diversity in learning experiences and social interactions and a strong sense of community. The first television and radio ads are expected to run in January.
The website, WeGoPublic.com, features the many reasons why people should be proud of Bexar County Independent Schools. It includes "brag sheets" for all 15 districts, videos of award-winning teachers and ways people can take action and contribute to the movement. Fans can "like" the campaign on Facebook at www.facebook.com/WeGoPublic or follow on Twitter @WeGoPublic.
Collectively, the county's school districts have a graduation rate of 90 percent, and nearly 100 percent of its teachers are "highly qualified" according to federal standards. Those teachers have an average of 12 years of experience, and 33 percent have a master's degree or above.
"My children have had some amazing teachers who have helped inspire them, shape them and open their eyes to a larger world," says Bowers, whose three children are currently attending or have graduated from public schools. "With Go Public, we aim to give these teachers the love and respect they deserve."
The campaign also stresses the importance of sports and other extracurricular activities as well as learning experiences for building a student's skill set. In 2012-13, almost 6,000 Bexar County students earned a career or technical certification. Many others attended magnet schools focused on law, theater, business and other fields. "Learning to work as a team and being part of something larger than oneself is crucial for success in life," says Nielsen. "With learning, doing is almost always better than watching or listening. From building electric cars to marching in the school band, the variety of opportunities offered in today's public schools is truly staggering."
Bobby Blount, president of the Northside ISD Board of Trustees and president of the Bexar County School Board Coalition, said the collaborative effort among 15 districts is the first of its kind: "By pooling our resources and seeking private support, we will be able to do things that one district could never do on its own. We are excited about the possibility of creating a sustained campaign to champion our public schools."
For more information, visit WeGoPublic.com.