TRANSFORM TRADITIONAL HOME IN ALAMO HEIGHTS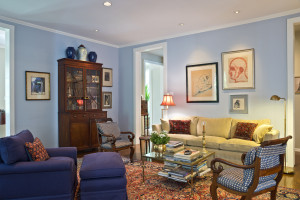 Collecting runs in the veins of Sally Ann Smith with an aunt, two uncles and paternal grandmother nurturing her aptitude for acquiring prized possessions. It began when she was a young girl on trips to Mexico, where her family had a Ford dealership and an uncle worked for a tobacco company. As a child, she would purchase brass candlesticks on family trips to Mexico. It became a passion. Years later, she would accompany her husband, Doug Smith, on annual golfing excursions to Guadalajara. Sally Ann would go antiquing and pick up several pairs of brass candlesticks. "They were so reasonable, I probably have 100 or more in all sizes and shapes," she said. In the early '70s, the couple and their two young children, Douglas ("Tres") and Martita, moved from Terrell Hills to a two-story Georgian-style home in old Alamo Heights built in 1900. "It was just a shell of a house when we moved into the rambling structure with full basement and large attic," recalled Sally Ann.
The porch was falling down, and the small windows did not provide the sun-drenched rooms that the family desired. They enclosed the front porch, creating a formal entry that now welcomes friends and family to rooms redone with floor-to-ceiling windows and French doors that connect the living areas to a spacious raised deck sheltered by a grove of bamboo. The back porch was also enclosed to create an intimate space known as the "santos room." The den holds a collection of hand-carved saints, retablos and religious pieces purchased in Guadalajara, Puebla and San Antonio. "Everywhere we travel I look for santos," explained Sally Ann. "My mother once took us on a girl's trip to Morelia, where I bought my first santo at Las Mañanitas."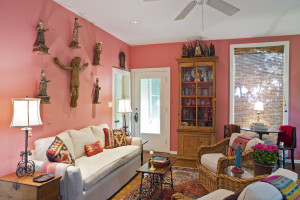 Vintage furnishings inherited from an uncle's estate in Mexico mix well with family pieces and furnishings purchased at auction and from area antique dealers. "When Martita and her husband, Colin, were married, I told her to just take whatever she wanted for their new home," said Sally Ann. "It was a good reason for me to get new things!"
As passionate about collecting as she is about Alamo Heights, Sally Ann has been instrumental in the development of the Hondondo Creek Trail that runs along the Olmos Basin area. Spearheading the project that began five years ago with fellow trailblazer Susan Farrimond, Sally Ann and the Friends of Hondondo Creek Trail have installed 230 feet of stabilized natural aggregate on the trail with the goal of adding 4,800 feet more so that others may meander beneath heritage tree canopies and discover the more than 130-plus species of birds that inhabit the nature area. Sally Ann began to volunteer on the Hodondo project after visits with her son, Tres, in Dallas, where he was involved with the Katy Trail, which follows the old MKT Railroad Line in the Uptown and Oak Lawn neighborhoods. An accomplished photographer, Tres loved to walk the trail, and Sally Ann came to love the walks with her son on his good days as he battled lymphoma. A collection of his black and white photography adorns the walls of the family's foyer, a testament to his amazing artistic ability.
The trails, like her commitment to community, are a legacy that Sally Ann leaves to future generations that call Alamo Heights home.
BY JOHN BLOODSWORTH
PHOTOGRAPHY BY AL RENDON