CURATED COLLECTIONS
CAPTURING CHRISTMAS SPIRIT IN A TERRELL HILLS HOME
BY JOHN BLOODSWORTH
PHOTOGRAPHY BY AL RENDON
Home for the holidays holds special meaning for Raven and Fred Labatt. They were fortunate enough to move into Fred's childhood home some 15 years ago when it became available. In the stately Tudor style manse, they have raised their two children, continuing to create holiday memories for family and friends.
After careful renovation, including the addition of an impressive family room anchored by a massive fireplace with a carved walnut mantel and deep green marble surround, the approaching holidays are celebrated in the great gathering room. A beautifully decorated Christmas tree trimmed in Raven's prized collection of new and vintage Christopher Radko ornaments reflects the talented decorator's discriminating taste.
"When we first married, we only had bells and bows on the tree," Raven muses.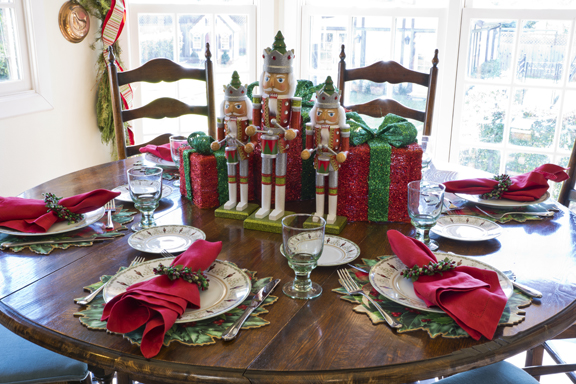 Each Christmas, The Labatts host 22 guests to a sumptuous holiday meal with radiant tables set in the family room, breakfast room and formal dining room. Each table is set with nutcrackers of every size and description, part of Raven's collection that includes treasures given to her children each year. Cowboy themed nutcrackers are presents given to their son.
"I love to present each guest with a little something for the holidays," said the consummate host. At each table setting, Raven has placed a brightly foil covered Ghirardelli chocolate toy nutcracker as a sweet treat.
The tables are set with her collection of Bernardaud Limoges plates, "Happy Holidays," paired with Waterford stemmed goblets and Burgundy sterling silver flatware.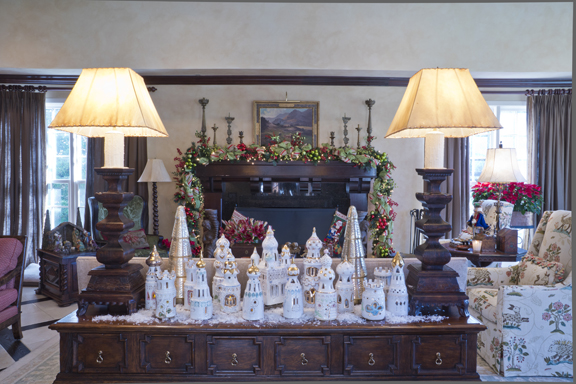 Treasured amongst the Labatt's holiday collections is a set of handmade glazed ceramic castles created by San Antonio artist Nancy Pawel. More than 40 years ago, the prolific ceramicist began creating wondrous enchanted castles adorned with metallic gold domes. They were sought after pieces each holiday season.
"I would arrive at Sol Del Rio Gallery early on the day after Thanksgiving and line up for the doors to open," remembered Raven. "People would be standing in line waiting to purchase a Pawel castle."
On a small table in an airy passageway leading into the kitchen, a collection of exquisite Limoges boxes depict The Nativity, each box intricately adorned with the Holy Family, three wise men and animals gathered at the birth of the baby Jesus. "These have been given to me each Christmas by a dear friend," Raven explained as she held one in her hand.
And there is no doubt that this ardent host cherishes each holiday, where it is evident that she opens her home graciously during the season of giving.