Peaceful & Artful
Ranch-style homes of the 1950s conquered many suburbs across America, and Northwood is no exception. These homes ushered in an era of informal living that echoes in the open floorplans in new local construction. Kati Warman's ranch house is similar to others on the outside, but its interior is what makes it special.
"I was looking for a home in this area, but everything I saw needed so much work," Kati says. "I was telling my friend about my search. She knew the people who lived in this house and that it was going up for sale. I saw the house before it was listed and bought it the next day.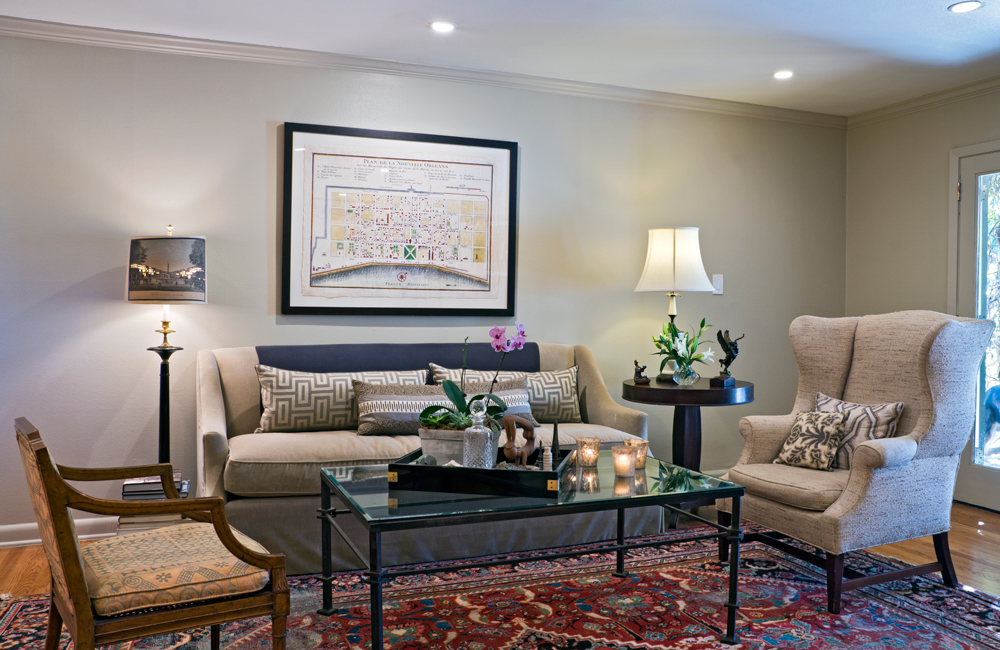 "I love this house because it's so cute," she exclaims. "The previous owner's father was an architect, and he did the renovation. The house was nearly perfect; all I added was the recessed lighting throughout the home."
The house is painted in one neutral color throughout; even the trim is painted the same color. "I think this gives the rooms a feeling of spaciousness because there's not much to break up the flow. The neutral color made it easy to decorate the rooms, too," says Kati.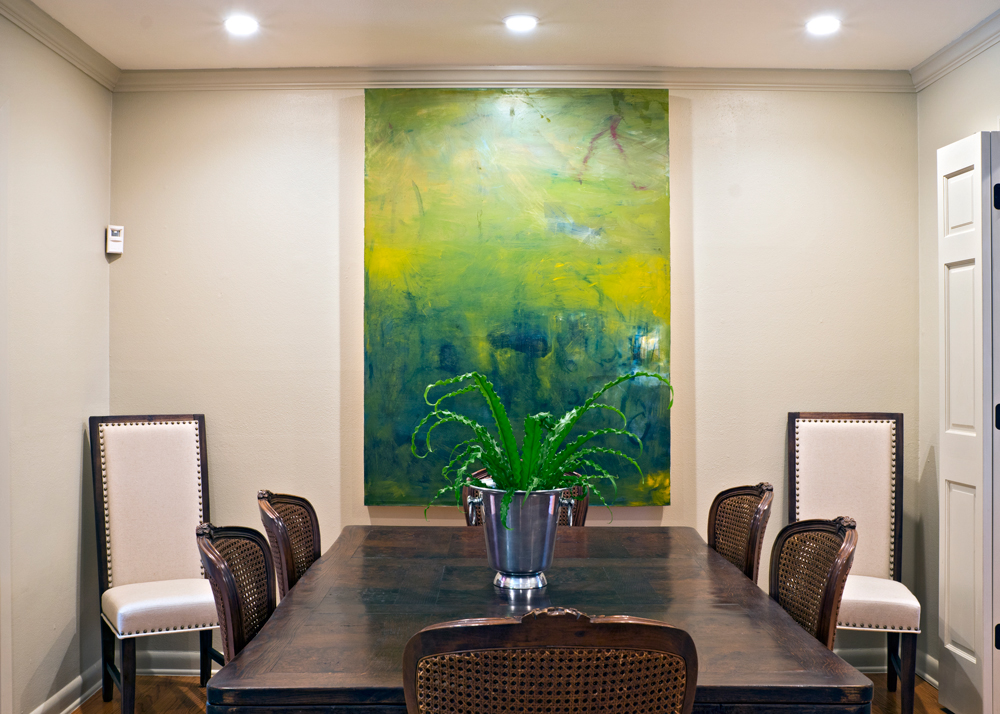 ART SPACE
Kati enjoys art and over the years has gathered a number of pieces from local artists. "My artistic influences came from years spent in Paris as an exchange student, living in New Orleans as a young professional and now here, where art is becoming such a part of San Antonio's culture. Everything I have was purchased for another home, but the pieces transitioned well to this one," she says.
For instance, Kati points out the large antique map of New Orleans that hangs over the living room sofa. It's a black and white print matted on a white background with a black frame; the ornate drawing style makes it look more like a picture than a working city map. Combined with the simple upholstery and wooden floor, the room looks like a portrait of comfort.
The dining room has a wall-sized modern art piece in greens and blues painted by Ben Mata, a friend of Kati's. "I find it very soothing to look at," she says. "That's the vibe I want for this house: peace and happiness."
Katie also owns two paintings by local artist Jesse Amado. One is a large modular piece in her family room. "When I moved here, I asked Jesse to hang it because the available space was different from where the painting used to be," she explains. "I really like the way he hung it here."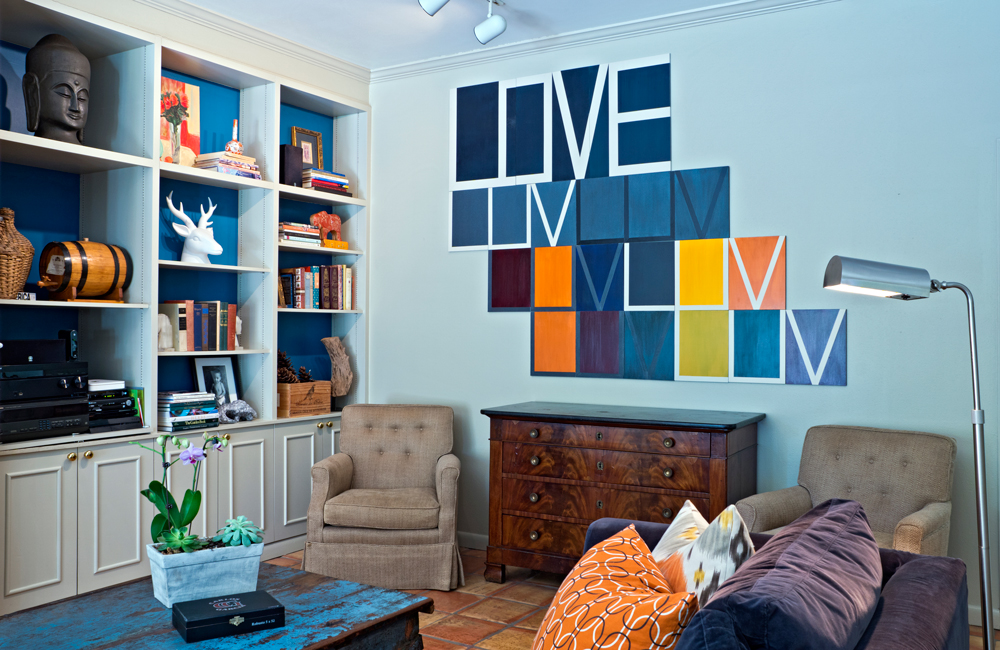 FAMILY ROOM IS PEER PERFECTION
The family room wasn't in the original plans; the previous owner added it. It's a large room with two sets of French doors and a wall of windows offering a wonderful view of the patio and pool. Built-in shelves hold an eclectic collection of cookbooks, pottery, a Buddha and a cow skull. There's a red Napoleon hat from an estate sale.
"I'm not the person who goes to the furniture store to buy an accessory," Kati says. "I like estate sales and flea markets. I like to find something, love it and display it for a reason," she says. A large L-shaped sofa dominates the room. "It's a comfortable place for us to flop at the end of the day and watch TV," Kati says. "My son and his friends love to hang out in here."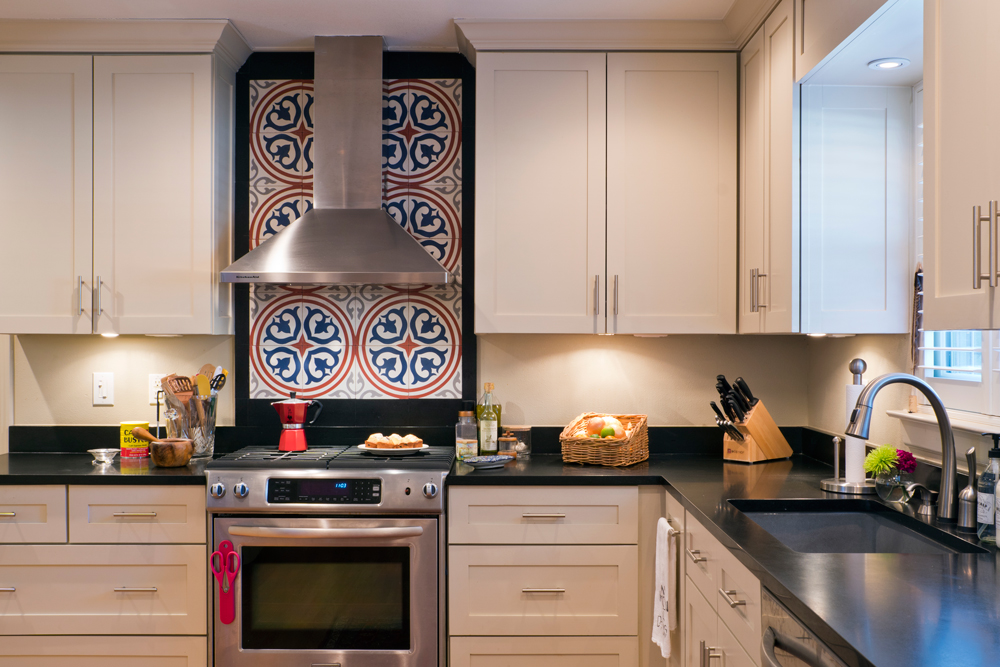 COOKING RIGHT
"I've never walked into any kitchen and thought it perfect — but this one was," Kati says. "All the appliances were new when I moved in. The black granite countertops are wonderful to work on, and I love the Redondo tile over the gas oven. The pine floors are easy on my feet and knees, and that's important because I cook a lot. And the amount of storage in here was a huge draw for me. Have you ever seen so many cabinets?
"I like the way the room is arranged, with the L-shaped counters so guests can hang out while I cook. Because there is standing room on three sides, they can even help."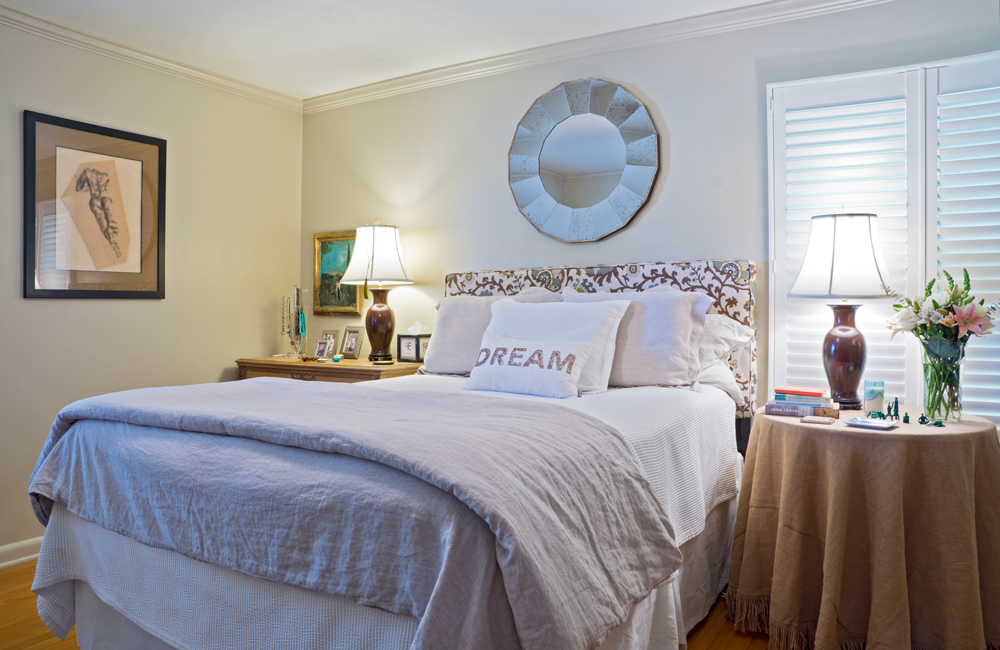 MASTER PEACE
Kati's bedroom is a corner room that takes advantage of great windows to let in natural light. Her upholstered headboard from One King's Lane is a favorite piece of furniture. Over the bureau beside the bed is a small painting by local favorite Franco Mondini Ruiz.
The large louvered-door closet is Kati's favorite space in the room. She recently had the Container Store reorganize the space and now has no trouble finding clothes, shoes or purses in a hurry. "This is one of the best things I've ever done," she says. "I like it so much that I had the Container Store rework my daughter's closet, too."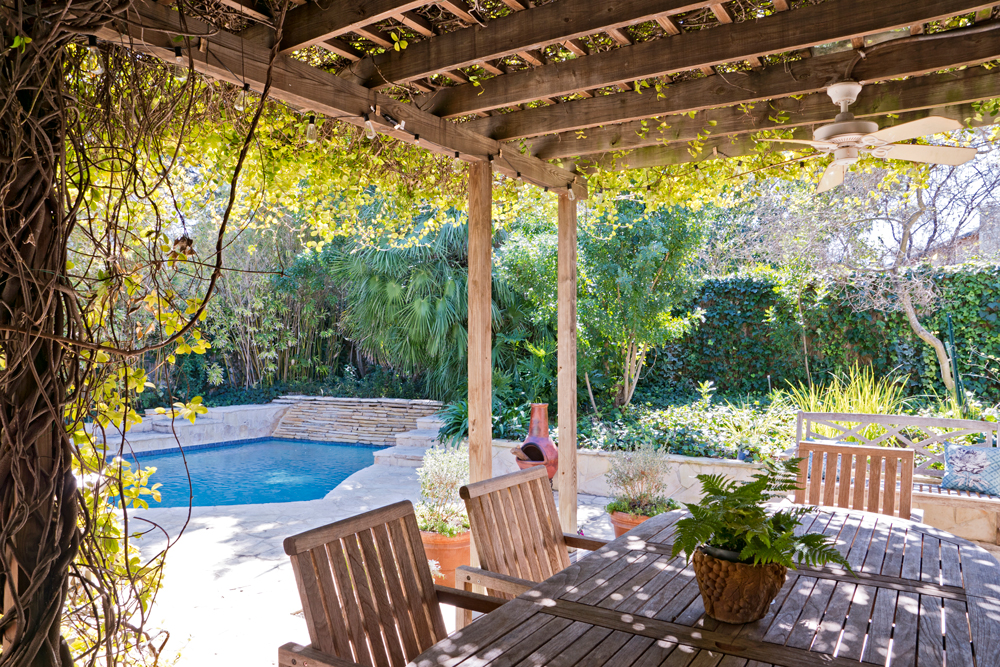 BACKYARD NIRVANA
Kati frequently leaves the door to the backyard wide open so she can hear the fountain burble and the breeze rustle through the bamboo stalks. The back porch, covered in an arbor overgrown with Carolina jessamine, has a large rustic dining table with seating for six. The porch overlooks the pool area.
"I love the landscaping back here, but I can take no credit for it," Kati says. "The previous owner created this private oasis. Judicious use of ground cover means I have nothing to mow back here. The trees and the bamboo are so tall that this is all very private. When my daughter and her friends were home from college, they spent all their time back here. It's the perfect hangoutfor them!
"I feel very fortunate to have found the perfect house at the perfect time," Kati says. "It's been a great home for family living and for entertaining my friends. I know now that bliss can happen because I find it here every day."
BY ROBYN BARNES
PHOTOGRAPHY BY AL RENDON