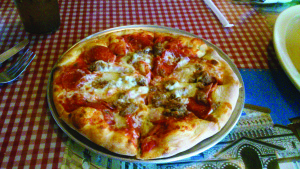 Volare Gourmet Pizza has become over the years an institution of sorts in Alamo Heights. Located at 5054 Broadway, in the heart of the city's commercial corridor, Volare is a small restaurant by many standards and could be easy to miss if you're not familiar with the area.
But once you've spotted the eatery's green roof and scored a parking spot, the Old World charm inside the place is hard to beat. Volare prides itself in serving authentic Naples cuisine. The main event, of course, is the New York-style thin crust pizza.
There are no less than 16 kinds of specialty pizzas on the menu, each available in 10-inch personal size, 14 inches for two or three diners, and 16 inches for three to four people. Some of the pizzas sport amusing names. There's the Maui Wowee, with pineapple, Canadian bacon and mozzarella cheese and the Don Corleone with pepperoni, Italian sausage, black olives, mushrooms and mozzarella.
The Riverwalk features Canadian bacon, Italian sausage, mushrooms, tomato slices, onions, pepperoni, peppers and mozzarella. Then there's the '09-er, complete with a pesto base, chicken, artichoke hearts, mushrooms, baby spinach and mozzarella.
There's plenty more where that came from. Volare offers a variety of classic dishes that can be found at most comprehensive Italian restaurants.
One could start with an appetizer such as Volare chicken wings, which come as a 10-piece set, spicy or lemon pepper, with a side of creamy Italian or ranch dressing. There's also homemade garlic bread or cheese bread.
Want something light to begin your culinary adventure at Volare? There are six salads: antipasto, Caesar, garden, Greek, spinach and caprese.
Chicken-centric dishes range from cacciatore and Marsala to piccata and parmigiana. Each chicken meal comes with fresh bread.
The pasta dishes range from fettuccine alfredo, gnocchi sorrentina and eggplant parmigiana to ziti and lasagna, each with fresh bread. Volare also has paninos, which come with meatballs or with ham and cheese.
On this visit, I went with the meat lover's personal pizza, which has pepperoni, Canadian bacon, beef and mozzarella. I also chose a small calzone, which actually fills up a plate. It's big. I'm curious to see the medium and large calzones. Each comes filled with ricotta, mozzarella, ham and pepperoni with a side of light marinara.
As mentioned, Volare's interior is small. Even so, when all four tables are filled, you don't feel terribly crowded. Each table is draped with a red checkerboard cover. There is an outdoor covered patio with a few more tables.
Don't feel like dining in? Delivery is also available within ZIP codes 78209 and 78212 and around Joint Base San Antonio-Fort Sam Houston. A minimum $15 purchase is required for deliveries. As such, this family-owned and operated restaurant has a small staff; most times it's the cook and two wait staffers, as was the case in this particular instance. The kitchen lies immediately to the right of the entrance and is open, so you can easily see the cook at work.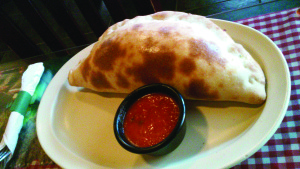 During a Friday rush hour dinner period, the cook moves fast and effectively, as do the servers – one of whom is able to depart at a moment's notice to deliver a meal. It may not be the fastest service in a pizzeria, but given the tiny staff, it's solid for a neighborhood eatery. Meal orders come in fast during dinner and lunch, and while I'm sure each server could be a bit more personable with customers, he/she is helpful in allowing enough time to order or to offer a suggestion. The food arrives at your table relatively quickly. The pizza is good. The tastes complement each other, and greasiness isn't a factor. The calzone is rich with flavor and quite flaky.
What Volare lacks in physical space and well-rounded service, it makes up for in ambiance in addition to the cuisine. Classic pop music, from Sinatra to Bing Crosby and Italian standards, is played. Small curtains over the windows facing Broadway help to cut down on the amount of natural light entering the interior, but it's enough to offer an intimate, family-friendly atmosphere day or night. Paintings of Italian landmarks and countrysides and culinary-themed tin signs line the interior walls. Together, they help to further the Old World charm and beauty of the restaurant.
Back to the menu — there's coffee, cappuccino and espresso to enjoy, as well as desserts such as cheesecake, cannoli and tiramisu. Even children have offerings from which to pick: a slice or a whole 10-inch cheese or pepperoni pizza is on the menu. The price of a child's item includes a drink.
Volare's website states it's open 11 a.m.-9 p.m. Mondays-Thursdays, 11 a.m.-10 p.m. Fridays, noon-10 p.m. Saturdays, and noon-9 p.m. Sundays. It is closed 2:30-4:30 p.m. on weekdays.Take note of this: I've tried visiting Volare on a few other occasions, not too much before the stated closing time, and found the employees already wrapping up operations for the day, so call ahead.
For more information, call 210-828-3354 or visit www.volarepizza.com.
BY EDMOND ORTIZ