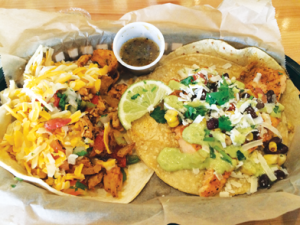 There are a few things in Texas you just don't mess with — a man's woman, his dog and his food. Our great state is known for its culinary bragging rights around all things grilled, spicy and authentic. Deep in the heart of Texas, executive chef Michael Rypka heeded the call of his ambitions to venture out on his own. After acquiring a food truck and much debt, the result was the 2006 evolution of Torchy's Tacos. With their 30th location having just opened in Plano this month, the Texas-owned-and -operated eateries pride themselves on the finest, freshest ingredients for their traditional and not-so-traditional taco-centric cuisine. San Antonio celebrated its own Torchy's opening this past December with much fanfare. Lines around the corner of the Lincoln Heights location alluded to the excitement of Alamo Heights residents for their newest taco haunt. Feeling especially gluttonous a few weeks ago, I took on the challenge of reviewing as many Torchy's Tacos as I could consume in good conscience. Let's cover my favorite four. Of course, no taco is complete without some tequila, so the Skinny100 margarita was my beverage of choice this particular afternoon. Hands down, this Skinny is my favorite in town.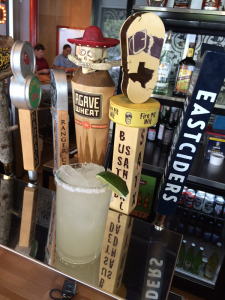 They take it back to basics with a house-made simple syrup, hand-squeezed lime juice and your choice of one of their nine premium tequilas. Less is more with this beautifully crafted cocktail. Eagerly searching their extensive tacos menu was a daunting task, but with the help of Adriana, the bartender, I settled on The Matador, Mad Cow, Mr. Orange and Chicken Fajita. First up was the taste bud-searing Matador. This little gem is not for the faint of heart with its proliferation of freshly diced jalapeños mixed throughout the topping of cream sauces, pickled onion and avocado. Served in a crisp corn tortilla inside a soft flour tortilla, the chopped brisket is a slowly cooked labor of love. If you're not a jalapeño fan, then still try this creative combo. Next up was the Mad Cow. Served on a fresh flour tortilla, the taco's meat stands alone. Clearly a high-quality grilled beef, this taco is complemented by a beautiful marinade of spicy zest. Simple and fresh, this taco is a little higher in price but worth the extra. After two tacos I felt the need to lighten up a bit. Skinny100 #2 was accompanied by a Mr. Orange taco. Some of the freshest blackened salmon I've had lately was served on a handmade corn tortilla and adorned by kernels of grilled corn, pico and a light drizzle of cilantro cream sauce. With a fresh light zest, this taco is a balanced combination, with the corn adding a nice texture. A perfect post-workout snack.
Last but not least was my Chicken Fajita taco. Served on a flour tortilla, this taco was a beginner's classic with its solid balance of flavor and fresh, light marinade. A slight finish of nutmeg lingers after each savory bite. This one is a classic and not to be overlooked. Torchy's offers indoor and al fresco dining along with a full bar of over 20 beer varietals, nine tequilas and cane syrup-crafted soft drinks. It's not a spot to be overlooked. San Antonio is one step closer to being a culinary venue with the addition of Torchy's Tacos' simple goodness. For more information (especially Happy Hour specials), visit www.torchystacos.com.
By KELLY HAMILTON