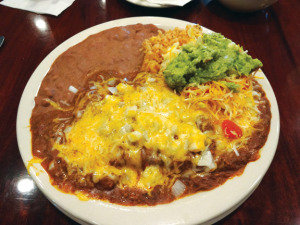 Very few local establishments survive long enough to become neighborhood icons in today's fast-paced world. People seem to be unimpressed with longevity and history, opting to focus instead on the latest trends and the flashiest fads. However, there is one San Antonio restaurant and bar that has bucked the trends and withstood the test of time in an industry that is incredibly fickle.
Raffles Restaurant and Bar, located off Loop 410, between Nacogdoches and Broadway, began serving locals in 1979. For 35 years it has been a neighborhood favorite for lunch, as well as drinks after work and into the night. The service at Raffles is friendly and efficient, and you will find a traditional South Texas menu featuring everything from their popular enchiladas to sandwiches and burgers.
On a recent visit for lunch, our server talked me into trying the enchiladas, and my friend ordered the chalupas. I was a little reluctant to order Tex-Mex food in an establishment that I considered to be "just a well-worn bar," but I was pleasantly surprised when I took my first bite and discovered that the enchiladas were, in fact, wonderful. Raffles makes all of their food fresh, right down to the salsa and chile con carne with diced onions. The guacamole was fresh and flavorful as well, and even the corn tortillas on the chalupa plate were fried perfectly and piled high with refried beans, seasoned grilled chicken and fresh lettuce and tomatoes.
Raffles features several signature lunch dishes, like the Crestway sandwich, with bacon, tomato, avocado and melted Swiss cheese served on a toasted croissant, and the tried and true chicken-fried steak, served with traditional cream gravy and Texas toast. You'll find something for every appetite at Raffles, and the prices are reasonable for lunch. It's the perfect place to grab a hearty meal, like the 10-ounce ribeye steak plate, or a light lunch of soup and salad.
Late afternoon brings in a diverse crowd for Happy Hour, with drink specials from 3 to 8 p.m. The old school decor makes a comfortable environment for unwinding with friends or co-workers while sipping a cocktail and enjoying one of their appetizers. The restaurant is closed on Sundays and Mondays, and although Raffles is open for lunch at 11 a.m., the menu is available until 9 p.m.
By MEREDITH KAY