Texas Meets Bavaria at the Quarry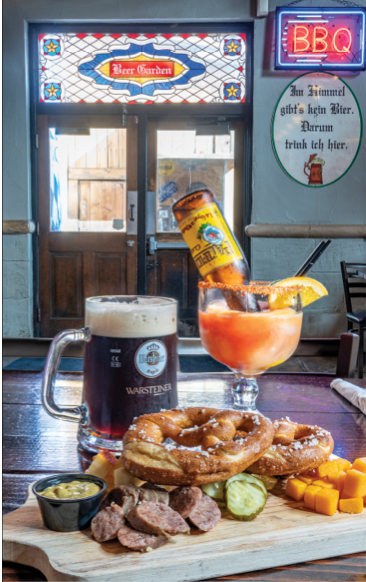 The sign outside in the beer garden reads, "Im Himmel gibt's kein Bier. Darum trink ich heir."
This translates to, "In heaven, there is no beer. That's why we drink it here."
The Quarry Hofbräu is heaven for beer lovers, as well as for anyone looking for a little bit of Germany in our corner of Texas. The restaurant opened in 2010 and features a very large outdoor beer garden with a dedicated patio bar, big-screen TVs throughout, live music on the weekends, ice house games for everyone, and a separate entrance that welcomes you as if you are wandering into an Oktoberfest tent.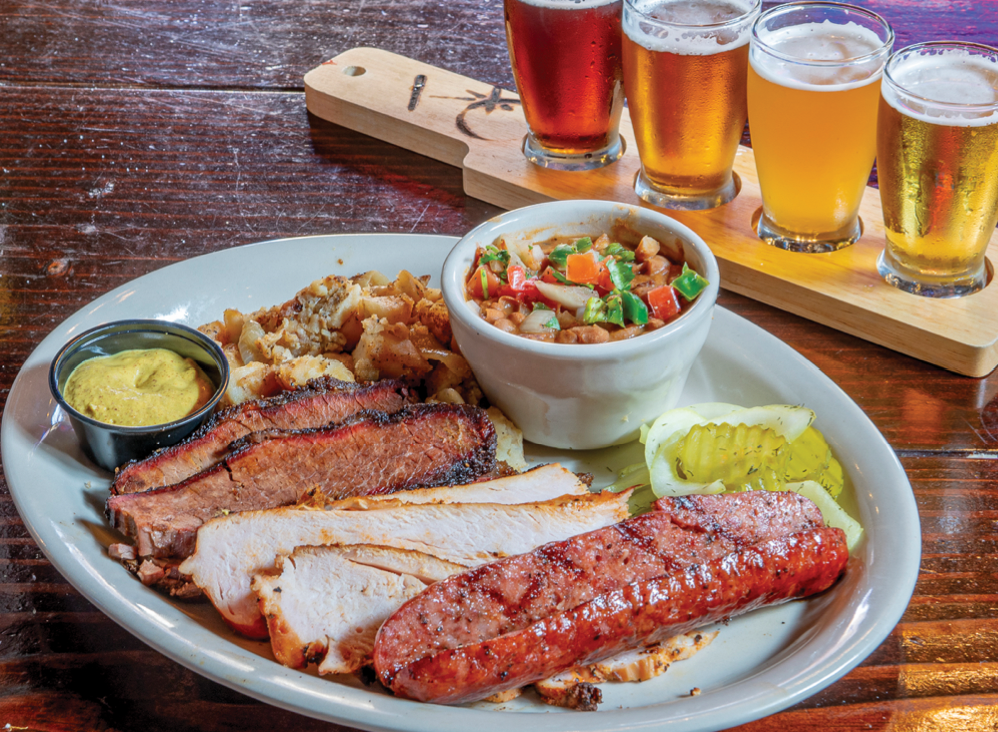 Inside, the restaurant maintains a rustic feel and features a diverse menu of German favorites, like bratwurst and schnitzel, along with a delicious twist on Tex-Mex comfort food, like their Whiskey Glazed Ribeye, Shrimp Diablos and Brisket Street Tacos. The meals are hearty and pair perfectly with their impressive selection of Texas craft beers and European lagers. You can even try a beer flight and taste up to four unique beers from around the world.
The perfect pairing with any beer is the house favorite Wurst & Cheese Board, and you can share this delicious snack with your entire group. It comes with smoked bratwurst and German sausages, Muenster and cheddar cheese, giant soft Bavarian pretzels, sweet pickles, and spicy mustard. It's the perfect appetizer for an afternoon in the beer garden, or a great way to get the party started in the main dining room.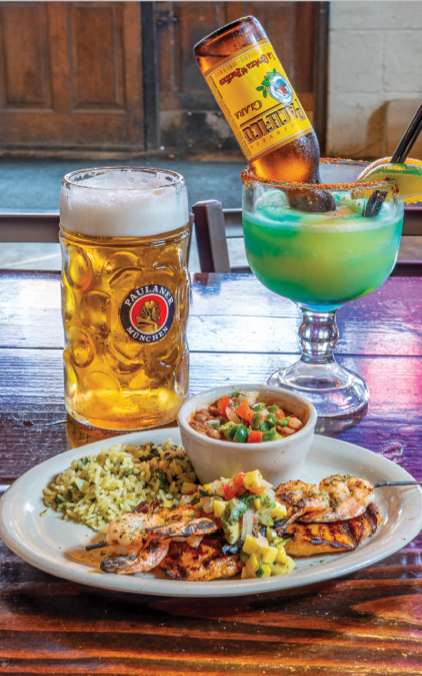 On a recent visit, Chef Joe Tellus featured the Grilled Asado Chicken; a citrus-marinated chicken breast served with poblano rice and mango pico charro beans. It was very tender and full of flavor and was enhanced with the addition of a grilled shrimp skewer. Another popular Hofbräu favorite is their Smoke Haus Combo Platter, which offers two or three barbecue meats that are smoked in-house overnight, along with two sides, pickles, onions, white bread, and barbecue sauce. The meat was outstanding and could easily rival any of the acclaimed barbecue joints in town.
The restaurant offers a great Happy Hour with half-priced appetizers and drink specials, as well as daily lunch specials. The outdoor patio, which holds over 400 people, is also the perfect place to host a large party. It's dog-friendly and offers plenty of room for the kids to run around and play games. There is something to please everyone at The Quarry Hofbräu, and recently, the General Manager, Alan Johnson, unveiled a new vegan menu at the restaurant. Trained as a vegan chef, Johnson wanted to offer San Antonio a healthy alternative to the meat-heavy dishes found on the German and Tex-Mex menu, so he created several dishes that feature nothing but plant-based meals. You'll find everything from asparagus tacos, to vegan sausage, to the Impossible Cheeseburger with vegan cheese. The menu has been quite a hit so far, and there are plans to expand the offerings as more customers ask for options.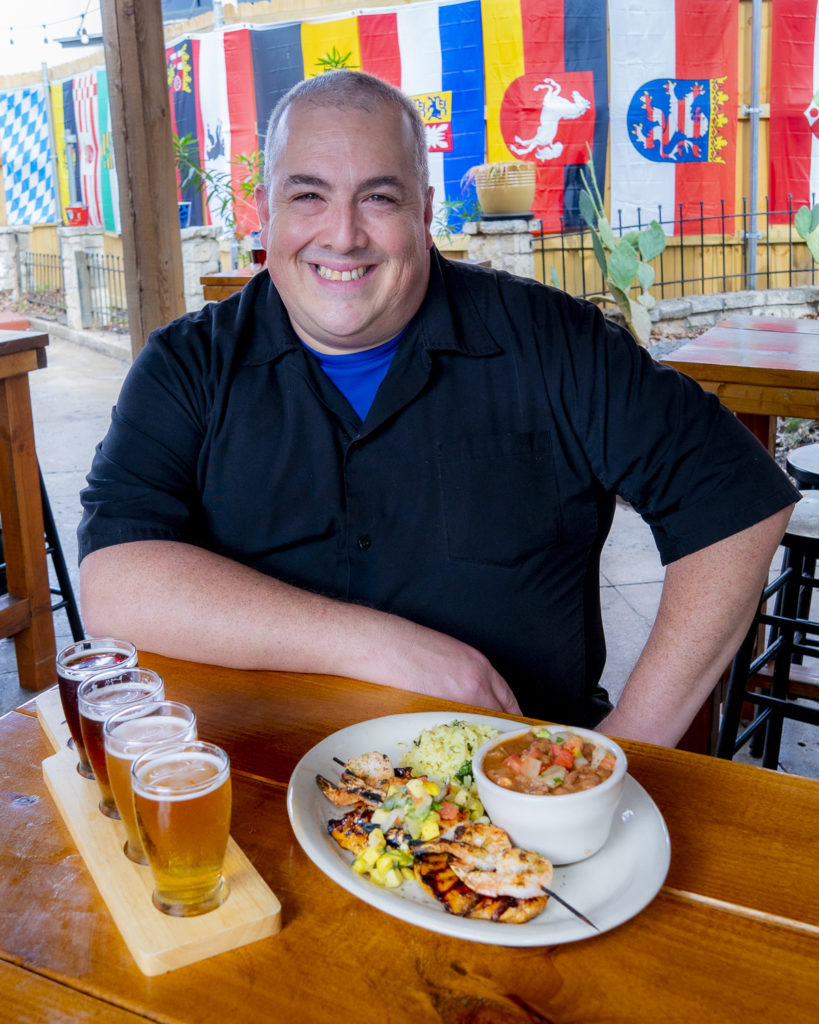 Johnson states, "We wanted to re-imagine the restaurant so that everyone can enjoy a meal out. We have a wide variety of flavors for the meat lovers, and now those living a healthier lifestyle will also have choices other than salad."
The Quarry Hofbräu is a unique establishment in the heart of Alamo Heights. The building was built in 1927 and functioned as the laboratory for the Alamo Cement Company for over 55 years. It has withstood the test of time and is even registered on the National Registry of Historic Places. Several establishments have come and gone since then, but with its sprawling outdoor space, cozy interior, and outstanding menu, you can be sure that The Quarry Hofbräu will continue to bring a little bit of Germany and a whole lot of Texas for many years to come.
By Meredith Kay
Photography By Al Rendon