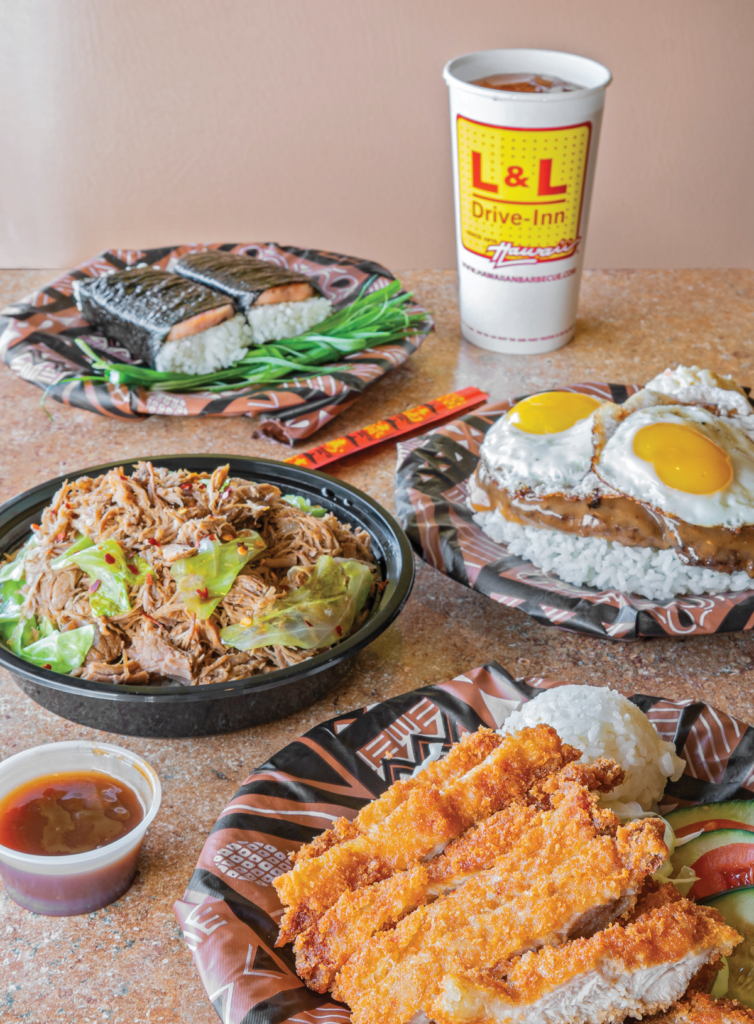 If you have ever been to an authentic Hawaiian luau, you know what a grand spectacle it is. You will be enchanted by the dancing, island music, and theatrics, but the star of the show is always the food. Hawaiian cuisine is a unique fusion of the flavors of Asia, the Pacific Islands, and America. Now you can satisfy your island cravings with authentic Hawaiian food at L&L Hawaiian BBQ, located on Austin Highway at Vandiver.
Sarah Yee, a native of Guam, decided to open L&L Hawaiian BBQ on the advice of her family, who had come to San Antonio many years ago. They were unable to find great island food, so they convinced her to combine her years of restaurant experience with the love of her culture and open a neighborhood place, unlike any other. Although Yee has an extensive background running corporate restaurant chains, now all of her energy is focused on bringing the delicious cuisine of the Pacific Islands to Alamo Heights.
The origin of Hawaiian cuisine can be traced to the sugar cane plantations in Hawaii, where migrant workers from Asia, America, and other cultures would come together for shared lunches. Each family would bring foods of their native lands and share them with the others, blending the flavors and using the ingredients on hand to create meals that would feed many people. This history also embodies the true "aloha" spirit of community and kindness. Aloha translates to "the breath of life," and it is in this spirit that Yee and her dynamic staff will welcome you to L&L Hawaiian BBQ with their friendly and gracious service.
You will find quite a diverse menu at L&L, and they are well known for their Hawaiian barbecue, featuring "sweet soy marinated meats grilled to perfection and cooked to order." The portions are very large, and the menu features everything from traditional Hawaiian grilled meat platters served with white rice and macaroni salad, to rice bowls with pulled Kalua pork. You will also find a selection of burgers and ramen bowls. There is even a Ramen Burger with grilled ramen noodles that make up the bun. However, one of the most unique items served is the L&L Musubi.
Musubi is a Hawaiian staple and comfort food made up of grilled SPAM and white rice wrapped in seaweed, a sort of Hawaiian sushi. The menu offers many breaded and fried entrées, like their extremely popular Chicken Katsu and fish and shrimp plates. If you are craving a large dish of pure protein, then I dare you to challenge yourself to order the Loco Moco Plate. It features two quarter-pound beef hamburger patties slathered in a savory brown gravy and topped with two fried eggs, and is served with a heaping portion of white rice and macaroni salad.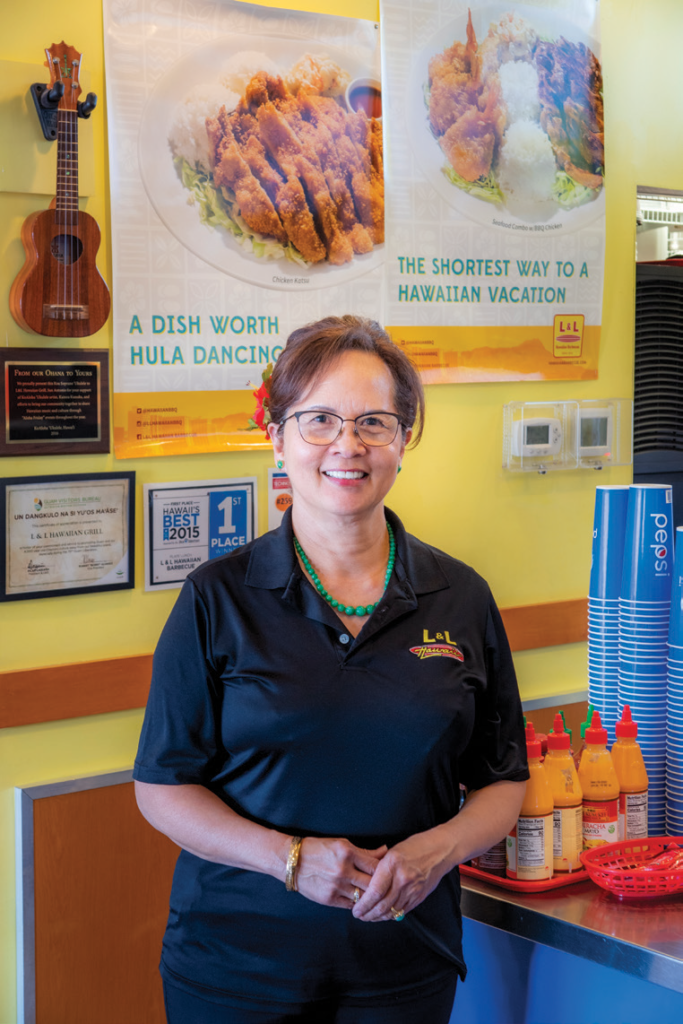 The restaurant offers catering, take-out, and delivery, and once a month on a Friday, from February through October, L&L hosts their "Aloha Friday" events in their parking lot. These are family-friendly events featuring traditional Hawaiian music, hula dancing, and much aloha spirit. Guests are invited to bring their lawn chairs and enjoy the entertainment while dining on authentic Hawaiian favorites. You won't be able to experience the breeze blowing off the Pacific Ocean, and palm trees swaying to the ukulele music, but with a little imagination, you can get a feel for the island life.
Sarah states that she doesn't hire just anyone to work at L&L Hawaiian BBQ and that she is grateful for her team. Each employee must embody that friendly, welcoming hospitality that it is uniquely Hawaiian. She says, "We work hard to serve the aloha spirit at L&L. It is a lifestyle where you love yourself so that it overflows into all aspects of life, and how you treat others." This feeling is evident when you walk through the door, and you are greeted with a warm, "Aloha" and a smile, as the intoxicating aromas of Hawaiian barbecue assault your senses, drawing you in further for a one of a kind culinary experience.
BY MEREDITH KAY
PHOTOGRAPHY BY AL RENDON