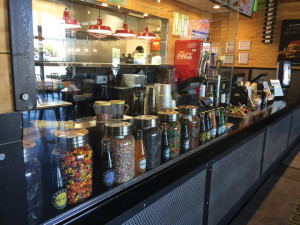 Burger purists and creatives alike, BurgerFi opened its Alamo Heights location in September 2015 and is redefining the "better burger." Made from 100 percent natural Angus beef, free of steroids, antibiotics, growth hormones, chemicals or additives, these gourmet burgers are chef-driven, according to the story behind BurgerFi's original founders. Fry aficionadas and shake nostalgists, BurgerFi is redefining your categories, even vegetarians. Hand-cut fries, blissful frozen custard treats and the VegeFi Burger, an impressive crispy quinoa and fresh-cut vegetable burger … these are just a sampling of pleasures that await.
Franchise owner and operating partner, Brandon Grossman, is hard at work not only here in Alamo Heights, where he and his wife and young children live, but also in other Texas cities, where he is spreading the good news of BurgerFi. Grossman's past food and beverage experience working in Mexico, along with a strong personal and professional commitment to excellence, have positioned him well to help grow this Florida-based company in burger-loving Texas. With seven restaurants under his wing thus far, four of which are in San Antonio, only the borders of Texas can stop him now.
I recently caught up with Grossman and asked him what sets BurgerFi apart. "It's all about hot and juicy burgers, crispy, crunchy fries and an exceptionally clean restaurant," he answered, adding, "executed by a highly motivated and energetic team." That summarizes my visits over the last several months and, as it turns out, is the BurgerFi mission. But how do they do it?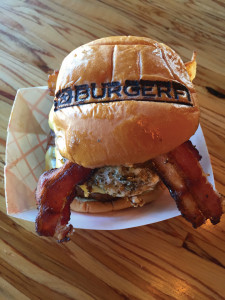 I didn't pump out all of their secrets, but one worth noting: no freezers, heat lamps, or microwaves. Translation: no short cuts. For them, fresh begins at the ground level. There is a reason the flavors pop and the colors are vibrant across menu items. The old-fashioned smells, tastes and textures we crave shine through because, as Grossman attests, "All recipes are created from natural, fresh ingredients that require team members (real people) to cut, chop and prepare menu items daily." In essence, a tomato tastes like a tomato because it was just cut, and meat patties are reminiscent of home because they are hand-formed each day.
Other efforts BurgerFi is taking to offer a "better burger" include practicing environmental sustainability. From the visible chairs made from recycled Coke bottles, tables and wall panels made from compressed recycled wood and ceiling fans which use 66 percent less electricity, to the less visible low-carbon footprint they maintain, BurgerFi is innovative and "feel good" to the core.
For some, the fun is in going "off menu" and creatively constructing the perfect burger fixings, hot dog combinations, designer hand-cut fries and onion rings with accessories, or frozen custard dessert possibilities. I liken it to playing "Chef." Patient employees stand by to guide customers in the process, but with such thoughtful and scratch-prepared toppings, every order is a big success.
Probably the fries and the unusually thick wedge onion rings are where customers find their creative pull the most with eight different suggested ways to dress them. According to Grossman, the most popular topping is "Urban Style: Parmesan, Herb, and Garlic Aioli." After trying them for myself, I realize why… it is a brilliant combination of Italian herbs and Parmesan cheese scattered over a basket of hot fries … striped heavily with garlic aioli (mayo) … was I in Milan? Paris?
For customers preferring more straightforward ordering, the menu wall contains tried and true favorites. For the full BurgerFi experience, I highly recommend the BAD Burger, which means, "Breakfast All Day." It is a natural Angus burger, American cheese, fried egg, hashbrowns, grilled diced onions, ketchup, and hickory- smoked bacon drizzled with maple syrup … speechless. Additionally worth noting, BurgerFi features a quarterly menu special, and currently it is the "Brisky Business," a double short rib and brisket blend burger, homemade tomato jam, candied bacon and sharp white cheddar. For anyone gluten-free, BurgerFi will gladly substitute the bun with a sturdy lettuce wrap. They really are full service, even featuring gourmet hot dogs with the slogan "Made from meat, not mystery." Select which dog (Kobe Style, Chicken Apple or Vienna Beef) and then the style – New York, Texas or Chicago.
Prices reflect a little higher than the average burger chain, but rewards exceed expectations, thanks to their emphasis on quality ingredients and high level of service in an environmentally friendly atmosphere. For the basics (burger, fries and a cane sugar-based Coca Cola product), average ticket price runs between $11-$13 per person. Bump it up by choosing from their selection of wines or rotating craft beers, bottled and on tap.
Alternatively, splurge by ordering a frozen custard variation for dessert. It may be the most difficult decision of your meal: shake, float, sundae or a "concrete"? (Concrete = sensational composition of creamy frozen custard layered with toppings.) Portions are generous, so consider splitting. I chose Key Lime and it was sublime, but I am eager to try the Red Velvet or "Oh My Chocolate" next.
Conveniently positioned in the old Milano Ristorante Italiano space off Nacogdoches neighboring the Oak Park HEB, BurgerFi offers an attractive outdoor patio with plenty of seats awaiting anyone wishing to savor the sunshine, complete with a playscape for younger children. Parents, this outdoor option is a game changer. We recently invited another family with children to join us for dinner at BurgerFi, and we actually sat calmly and experienced coherent conversations between us. With kids around, I haven't sipped wine this leisurely or tasted delicious subtleties in my food like this in a long time.
Enjoy the proximity of BurgerFi with your family or friends, or drop in for a quick meal solo. Either way, discover the many ways Grossman and his team are providing a "better burger" experience.
By Lauren Browning