FLAVORS ARE FRESH AND AUTHENTIC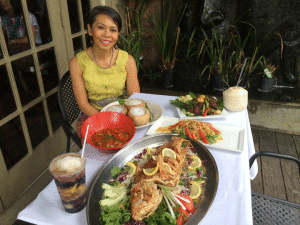 There's a lot of construction happening on Austin Highway these days — even if you only look at the stretch between Sloan Hall and Silo. Long-time denizen of the 'hood, Tong's Thai, is accordingly perfectly poised to take advantage of newbie neighbors. Hint: Go there now before the chaotic parking lot becomes even more so during lunch.
As with most Asian restaurants, there is an attractively priced lunchtime menu, but eaters with an adventuresome palate will at least want to look at the regular menu for some accessory options. The sushi bar, sharing spotlights with the gilded Thai Buddha that greets you upon entry, is a good place to start. The tamago, or omelet, that is one of the classics of the sushi-nigiri canon wasn't available on my visit, but the tai (red snapper) perched atop its lozenge of sushi rice, and the tako (octopus) belted to its base with a strip of dried seaweed, were both fresh and appealing. If you're a fan of pickled ginger, let your server know; Tong's version is undyed and appealingly sharp, but there could be more of both it and the potent wasabi paste.
More potent yet, especially if ordered in the Lao version, is Tong's slivered green papaya salad. Studded with tiny dried shrimp and salted crab, the salad is both a textural delight and a potential minefield; the chopped, shell-on crabs that give the classic dish its authentic accent can be a bit too crunchy to eat. Solution: Ask for chopsticks and seperate them out. What remains is all fish-sauced and deeply flavorful. The accompanying order of white rice helps to complement sauce that would otherwise go under-appreciated.
Tong's offers a number of specialties not easy to find elsewhere in town, among them the fried eggplant appetizer and clams in spicy basil sauce. Soups such as seafood-based Four Aces, served in a flaming hotpot, should also attract culinary thrill-seekers. But if forging new foodie frontiers is not on your agenda, a perfectly acceptable option is a dish such as the Pa-nang red curry with your choice of beef, chicken, pork or tofu. You could, of course, ask for it spicy, but as it otherwise arrives, creamy with coconut milk and lightly accented with chili, the dish will both soothe and satisfy. Fried rice is a good sidekick here. And a glass of — oh, let's say kiwi — bubble tea will send you out to that happenin' highway with a happy face. Thailand is, after all, "the Land of Smiles."