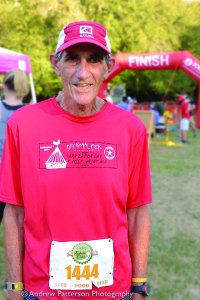 Name:  Richard Teitz
Age:  73 years young
Occupation(s):  Arts administrator, archaeologist, book editor, university professor, foundation officer, institutional advancement officer, economic development adviser, travel and restaurant writer
Personal/Family: Three children, four grandchildren
Current fitness activities: Running, yoga, gym workouts, biking
Fitness Highlights:  Remaining a competitive runner for 40 years, including 171 marathon finishes
Non-fitness facts about you: Former executive director of the Alamo, working for the Daughters of the Republic of Texas (DRT), Peace Corps volunteer in rural Central America, huge opera fan.
Is it true that you started your fitness journey in your mid-30s?
Maybe more accurately, I committed to making it a higher priority. I got up early to make certain I didn't get consumed by other things that left me unable to work out. Like the post office motto, I made it a point to not be deterred by rain, sleet, snow … and to exercise vigorously every day.
What gave you the spark to prioritize it?
I was not overweight, didn't smoke, but I felt a lot of stress from my job (director of a major art museum and art school), teaching as an adjunct professor, three young kids, and an early marriage that was unraveling.
Tell us about how you got started.
I played tennis in the summer, and I took fencing lessons from a former Olympian.  I found myself more comfortable with non-team sports.  I started running to keep in shape for these sports, first going a mile, then two, then four.  After a few months a friend asked me to enter a local 10k.  It was my first race, but I ran well and picked up a medal.  When someone told me that it was terrific, I was hooked.
Did you ever take your fitness commitment too far?
I let running take over much of my life. I remember once we were going to a party.  I hadn't done the long run on my (self-imposed) schedule.  So I told my wife to take my clothes in the car, and I would run to the party and shower and change when I got there. I didn't register how incredibly selfish that was. I just needed to follow my training plan.
Why do you continue to incorporate fitness into your life?
I like the positive feeling I get about myself. The fitness activities I pursue are who I am, as much as the intellectual things I pursue. As I mature (aka age), I know there are more years behind me than ahead, and I want to be there with my family and friends.  Fitness, apart from the pleasure it gives me, is a means to that end.  It tells me that I'm doing what I can to improve the chances that I'll be around to see my youngest grandsons (2 and 4 years old) grow up.  There are no guarantees for longevity, but I want to pack the odds in my favor.
What kind of fitness activities have you incorporated into your travels?
Running marathons overseas, in Davos at 9,000 feet, in Capetown, in Tbilisi, in Bangkok in 90 degree-plus temperatures. Trekking in Patagonia, Western Australia, New Zealand, the Caucasus, en route to Mount Everest, biking in Europe, the Rockies, sailing across the Atlantic, hiking in state and national parks. I believe travel is the key to education. We learn about ourselves when we experience other viewpoints and cultures. Getting beyond our comfort zone is what gives life its meaning.
What does your current fitness routine look like, and how would you like it to continue?
I run about 30 miles a week, usually every other day, and I do core building and machine exercises (stationary bike, rowing machine, elliptical) at the gym on other days. I race a couple of times a month, just to prove to myself I still can.  I see myself exercising forever.  I might be slower, but I intend to be out there.  You only go around once.
What you have learned?
That fitness is a lifelong pursuit.  But I've also learned the importance of a balanced life.  Of spending time apart from fitness with family and friends and truly enjoying the things they care about.  Of just sitting with a book, or preparing and eating meals with loved ones, or hiking with friends in the park, or reading to my young grandsons.