Exquisite Jewelry Paired With Female Fashion Savvy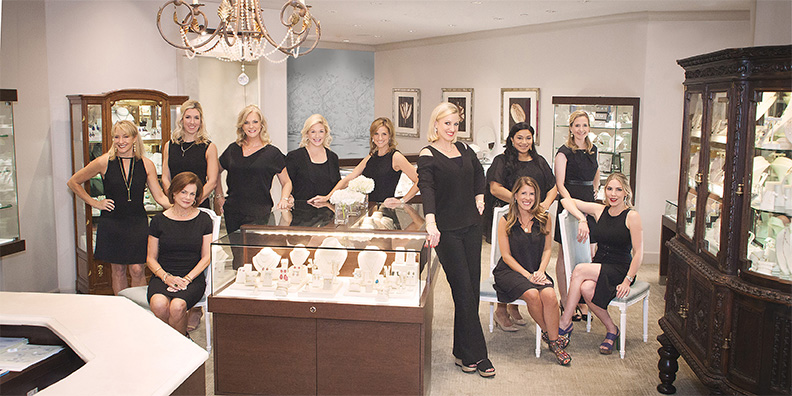 When a gift is required, women know what women want. That's just a simple statement of fact. Men may think they're up to the task when those important occasions arise – anniversaries, birthdays, engagements, etc. – but really, most males are clueless (and desperate) when it comes time to make that singular purchase for that special someone. What's a guy to do?
For those of us equipped with a Y chromosome, the solution is obvious: Consult a woman. And fortunately for '09ers of a masculine persuasion, there's not only the right place for that consultation, but the right place to make that acquisition as well. Located conveniently at 7373 Broadway (in the Texas Capital Bank building), just south of Basse Road, is Shetler Fine Jewelers, the perfect combination of exquisite, to-die-for jewelry coupled with lots of female fashion savvy. Now that's a powerhouse pairing – guidance and glitter!
Shetler Fine Jewelers' roots reach back 12 years to when current owner Michelle Shetler became a managing partner in the existing firm of Duncan & Boyd Jewelers, which occupied the same building where her company now operates. As she recalls of her coming on board, "Having worked retail for many years, I not only developed a special eye for fine jewelry but an intense passion for the luxury industry as well." And those traits proved to be ideal for ultimately gaining sole ownership of the thriving establishment and making it even neater.
As the company evolved (for some years it was known as Shetler and Wade, reflecting the additional name of her long-term friend and partner, Kelly Wade), Michelle ultimately developed a business plan that mixes extraordinary merchandise with some fun and quirky marketing, then staffing up with an incredibly knowledgeable group of — you guessed it —women. And remarkably, most of these talented, dedicated and capable ladies live right here in 78209 – you probably know them. As a package, has it worked? Yes, yes and yes!
The inviting showroom, located on the ground floor of the building, is an intimate 900 square-feet. Everything (and that's a bunch) is beautifully displayed in well-lit cabinets, some antique, arranged so that the customer can get up close and personal with the offerings. And at all times, an able and informed (female) representative is on hand to assist, advise and explain – just what men need.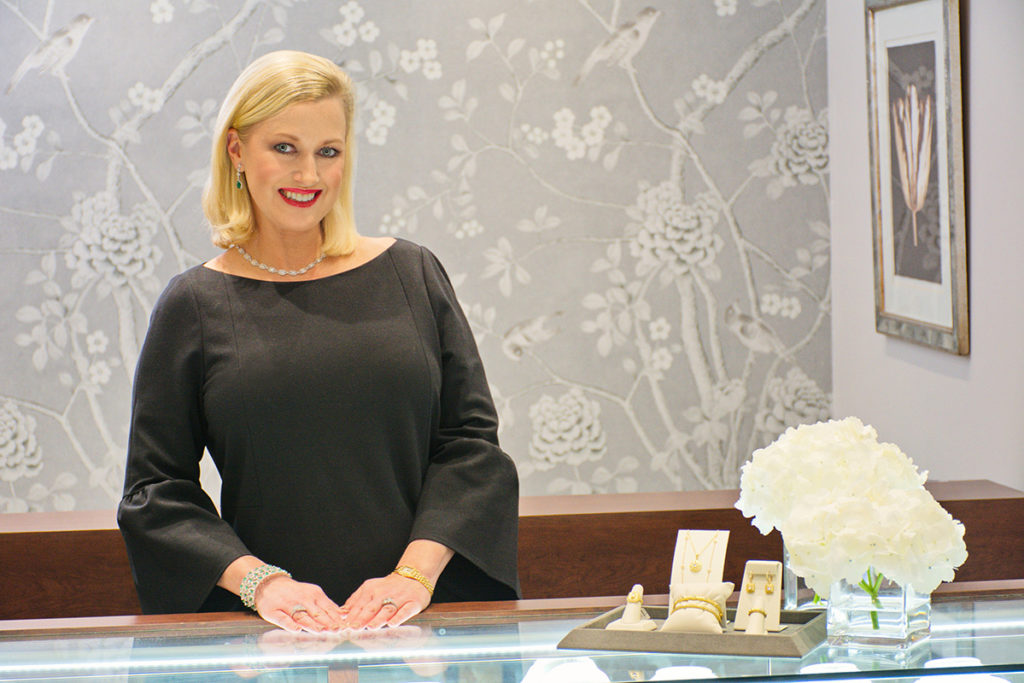 The generous inventory sparkles and gleams, reflecting an abundance of exquisite gems and precious metals wrought in incredible, traditionally classic and modern designs. Engagement rings, wedding bands, necklaces, pendants, bracelets, earrings and more dazzle the eye and beg to be bought. Everything in view is exceptional. And as a testament to its overall excellence, Shetler Fine Jewelers is proud to be the area's exclusive independent dealer of such prestigious lines as Armenta, JB Star, Jude Frances, Marco Bicego and Penny Preville. Considered in its entirety, Shetler is like a candy store of lavishness with prices starting at an affordable $200 and soaring to $200,000. In this regard, Michelle comments, "I feel that our diverse selection featuring some of the world's most elite designer brands, many only available regionally through our store, really does set us apart from other vendors."
Beyond the opulent offerings, Michelle and team provide other related but important services, including appraisals (handled quickly), cleaning, repair and redesign. And about the redesign, as Michelle explains, "Many of our patrons have older family pieces that, while of a high value, may be somewhat dated in appearance. We can expertly refashion these, giving them a new life of joyful usage. It really is gratifying to see the stunning results achieved."
And while Shetler Fine Jewelry may be a purveyor of exceptional bling, part of the process to ensure a positive experience will always be consideration for the customer. To this end, appointments are accepted (even on Sundays and evenings); on-site, complimentary beverages are available for enjoyment; and for those desiring discretion, a private entrance and secluded viewing room are on hand. A smiling Michelle clarifies, "Our new Shetler Privé allows a 'secret' gift purchase, to remain a surprise for the recipient. Husbands just love this slightly clandestine amenity."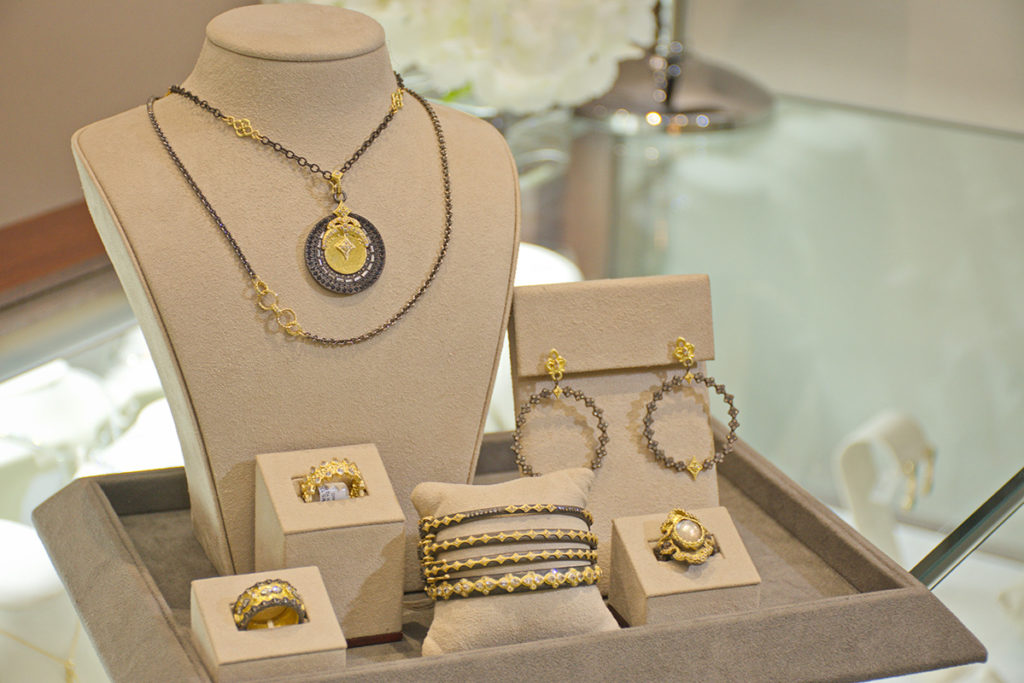 Lastly, as a proud member of our community, Michelle and company appreciate the support they have received over the past decade from many friends and neighbors who have made the establishment's success possible. In return, each year Shetler Fine Jewelers continues to give back generously through contributions to over 100 charitable organizations, including the Alamo Heights School Foundation, the Mule Team, the Alamo Heights Chamber of Commerce and the Charity Ball.
Shetler Fine Jewelers truly has proven to be a wonderful 78209 asset – for guys and gals. Great merchandise, expert assistance in making selections (hear that, gentlemen?), flexibility and consideration concerning a customer's needs and shopping requirements plus a variety of related services, all under one roof. And when you add in that essential "all women" factor that's benefited many an '09 husband, beau, betrothed and/or other "at sea" boyfriends frantic for that last-minute, crucially appropriate gift for his special "her," the answer to "Who you gonna call?" becomes obvious – Shetler Fine Jewelers, of course, because women really do know what women want!
By Ernie Altgelt
Photography by Martin Waddy