Over the past few months, moms all over 78209 have been carefully planning summer schedules filled with activities, camps and outings meant to keep kids active and having fun this summer.
While many of these activities reap the rewards of exercise and fresh air, some of them also pose a threat to our children's safety in ways we've never considered. Recognizing these dangers can help to keep our kids safe, so here are a few things to consider while having fun this summer: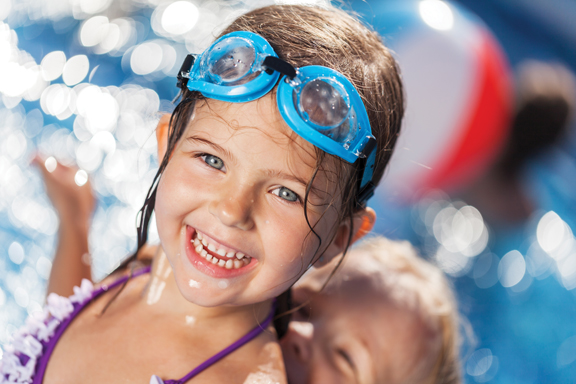 The Playground
"Each year in the United States, emergency departments treat more than 200,000 children ages 14 and younger for playground-related injuries." Of these injuries, 75 percent occur at public playgrounds, with monkey bars and climbing equipment causing the most injuries. Although they're fun, playgrounds pose a threat to our children if we don't verify their safety first.
Playground equipment should be age appropriate and in good condition with no loose screws, cracks, missing pieces or rust. It should also have adequate levels of soft material below it to prevent injuries (the standard is 12 inches deep and at least 6 feet in all directions).
But did you know?
Hot playground equipment can cause severe burns. "CPSC is aware of nearly 30 thermal burn incidents from 2001‐2008. Of those incidents, 10 were associated with plastic, rubber or other nonmetal surfaces…" Always check the temperature of playground equipment before allowing children to play on it.
A common playground injury that is often overlooked is caused on slides. When parents slide down with a child on their lap, the rubber sole of their child's shoe can get stuck on the raised side of the slide. This causes the child's leg to stop while the parent is still sliding down, resulting in injuries as serious as broken legs.
The Pool
According to the CDC, "…drownings are a leading cause of injury death for young children ages 1 to 14, and three children die every day as a result of drowning." Swimming is one of the most popular summer activities, but it presents a variety of dangers.
Regardless of swimming ability, children should never be left unsupervised in a pool and should wear age-and size-appropriate flotation devices. Keep kids away from drains or suction outlets because hair, swimsuits, floating equipment, jewelry or limbs can get caught in them (especially those with broken or missing covers). Also, puddles around the pool can cause falls, and the most common, but least followed rule that bears reminding is: No running.
But did you know?
When worn or secured incorrectly, children's flotation devices actually pose a threat to their safety. There are different types of lifejackets, and not one is appropriate for all situations. Visit the government website at www.tpwd.texas.gov/fishboat/boat/safety for more information on which life jacket is appropriate for your activity.
Another pool-related threat is recreational water illness or RWI. RWIs can vary from skin, eye, ear and respiratory infections to neurologic and gastrointestinal system infections. These types of illnesses occur when chemicals in the pool are ineffective at killing germs contained in the water.
One way to avoid contracting an RWI is smelling the water. If it smells especially strong, this does not mean that there is an abundance of chemicals in the pool, but is a sign that the chemicals in the pool may not be working effectively. For more information on preventing RWI's visit www.cdc.gov/healthywater/pdf/swimming/pools/.
Outdoors
Dangers lurk in many places, with the most common place being outdoors during the summer.
Walking on sidewalks (not in the street), looking both ways before crossing the road and wearing bright-colored clothes, reflectors or carrying flashlights at night are essential for safety.
Wearing a safety helmet that fits and is secured properly while riding bicycles, skateboards or other ride-ons is also necessary to prevent head injuries.
But did you know?
Using electronic devices while walking or riding is dangerous. Children should be reminded to be aware of their surroundings at all times and stop or wait to use their device until they've reached their destination. Keeping the volume on earphones low enough to hear what is going on around them is important, too.
In Southwest Texas, poisonous snakes may pose a threat, so reviewing the descriptions and markings of various snakes along with instructions on what to do if your child comes into contact with one is important. For more information on snakes and pictures, visit The South Texas Poison Center online: www.texaspoison.com/snakes.asp.
By Pamela V. Miller