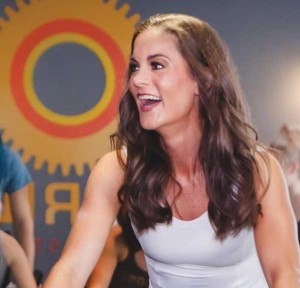 Name: Kelly Middleton
Age: 38
Occupation: Lead instructor/creative director at JoyRide Cycling Studio
Personal/Family: Husband James, daughters Margaret and Charlie, dogs Lady and Gilbert
Fitness Highlights: Taught the first outdoor cycling class in San Antonio to 70 riders on the Tobin Center Plaza, selected as Lululemon Ambassador for the Quarry Market store.
Interesting non-fitness fact(s) about you: I am an attorney and have a green thumb. I love all plants, especially succulents, and started my own business designing indoor/outdoor containers called "Duchess Designs."
Tell us about your fitness journey: I have always been interested in fitness and health. I was a competitive soccer player growing up and loved the intensity of the training and workouts. After I had my second daughter, I was looking for something new to get back in shape. I started cycling classes at my gym and got addicted! One day the instructor approached me about teaching because she loved my energy in class. Soon after, I was AFAA certified for group fitness and teaching indoor cycling and circuit/boot camp style classes. That was eight years ago.
How do you incorporate it into the rest of your life? The majority of people today equate fitness with weight loss goals and body image, but there are so many other benefits. Fitness is part of my daily routine for my overall happiness and sanity! It is an opportunity to take time for myself, hit the reset button, and challenge myself. I always tell my riders, if we take care of ourselves, the rest falls into place.
How has it changed you? There is the expression "Do what you love and you will never work a day in your life." I am an attorney and have been licensed to practice for the last 12 years. When my family relocated to San Antonio almost two years ago, I did some serious soul searching and realized I needed a break from lawyering. Literally, fitness has changed me because the fitness industry has become my source of happiness (and income!) I pop out of bed every morning excited about my job and my day. It never feels like work to me, and I feel truly blessed.
What do you love most about it? My career in fitness has made me stop and smell the roses and find and follow my passion. It has enabled me to help others by truly making an impact on my riders' lives, which is the most gratifying feeling in the world. The most obvious impact can be the scale, but when I hear from riders that I have helped them quit smoking, lower blood pressure, conquer life's challenges, become emotionally stronger or just be in a better mood, that impact is just as rewarding as their weight loss journey.
Where do you and your family like to do activities around Alamo Heights? Our favorite family time includes walking the dogs to the Bark Park and throwing the ball to them. Also, my girls go to Cambridge, and are very involved with sports and dance. We are relatively new to Alamo Heights, but their activities and JoyrRide have really made us feel a part of this amazing, active community.
BY Kristen Peterson