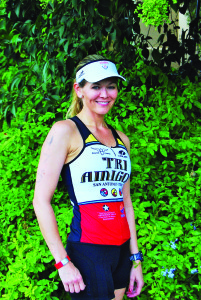 KELLY ANZ TALKS ABOUT TRIATHLONS, KIDS AND CAREER
AGE: 38
FAMILY: Mom, two children at Woodridge Elementary
CAREER: Cardiovascular Specialty
Representative
TRIATHLETE: Three years
RUNNER: 15 years
HIGHLIGHTS: 10 triathlons, including one Ironman, three 70.3's, three Olympic and three Sprints; 13 marathons, including the Boston Marathon, and over 30 half marathons
YOU WERE A RUNNER FOR 15 YEARS. WHAT PROMPTED YOU TO START TRIATHLONS?
A lingering hamstring injury pushed me to branch out from running, and Sports Medicine Associates suggested cycling. After I started cycling, triathlon was a natural evolution as I have always been a swimmer.
WHAT IS IT ABOUT TRIATHLONS THAT GOT YOU HOOKED?
I enjoy the challenge and variety plus the ability to make it a social sport when I feel like it and a solitary pursuit when I don't. After my hamstring injury, I realized that my best days of running were probably over. I am pretty competitive, and triathlon gives me a new way to be competitive. Since I am still a relative newbie, I probably have several more years of improving. There are so many different distances and types of triathlon that it will be a while before I feel like I need a new challenge. Training is something that I often do with my kids, and I feel like I am setting a good example of a healthy lifestyle.
YOU ARE A MOTHER OF TWO AND YOU HAVE A CAREER. HOW DO YOU FIND TIME FOR TRAINING?
I believe that we make time for what is important to us. Being active, athletic and competitive are important to me and are part of who I am, so I have to get creative to figure out how to fit in my workouts. I get up very early to do the trainer (a device that attaches to your bike and allows you to "ride" indoors, like a customized stationary bike). I often swim with the kids in the evenings. When they have sports practices, I run around the fields at their school. When I moved here in 2011, I ran everywhere with a double jogger. Then someone told me,"Seriously, it's time to get rid of the jogger. Your kids can ride bikes -– your kids plus the stroller weigh 120 pounds!" We had some good times with that stroller, though.
DESCRIBE YOUR REGULAR
WORKOUT WEEK:
I train about 10 hours a week but will ramp up to 16 hours as I get closer to my next 70.3 event. This includes three swims that average 7500m/week; three bike workouts, usually two on the trainer at home (1-1/2 to 2-1/2 hours each); a long bike outside on the weekends; and three runs, now totaling about 20 miles each week.
WHAT ARE YOUR FAVORITE PLACE(S) TO RUN, BIKE, AND SWIM IN 78209?
RUN: Terrell Hills, the area around the Heights pool and Olmos Dam, and, of course, Eldon, as it is the only flat mile in the ZIP code!
BIKE: south through downtown, and for hills — nothing beats Torcido hill repeats!
SWIM: UIW pool and Heights pool, as it is fun for laps and swimming with the kids.
NUTRITION/DIET/WEIGHT:
I hate dieting, and instead believe in an "everything in moderation" approach. This is how I raise my kids. No food is off-limits, but our bodies need more of some things and less of others. Like many women, I struggled with body image issues and eating disorders in middle school and high school and do not want my kids to have that experience. I believe that life is too short not to take care of my body so that I can experience everything that I want to do.
HOW DOES YOUR ATHLETIC LIFE OVERLAP INTO OTHER ASPECTS OF YOUR LIFE?
It is prevalent in all aspects of my life. It allows me to have an immediate connection to other triathletes, cyclists, swimmers and runners. It is an immediate conversation starter. I talk about triathlon (or swimming, cycling or running) with work colleagues and friends who share my love of the sport. I love to encourage "newbies" and share experiences with them.  Some of my closest friends are workout buddies, and I have met the most interesting and inspiring people through running and triathlon.
BY KRISTIN PETERSON