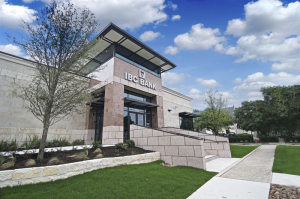 ALAMO HEIGHTS CHAMBER OF COMMERCE RELAUNCHES ONLINE PRESENCE
The Alamo Heights Chamber of Commerce is always welcoming new faces, and this month is no different as it officially ushers in a new face of its own, online. The chamber officially launches its newly redesigned website, alamoheightschamber.org.
When people visit the chamber's new website, they will see a straightforward site that is both dynamic and easy to navigate. Site visitors will be able to search and access a list of chamber members by business name and category and learn more about the chamber's leadership — its members of the board. They will also gain more information about the programming the chamber offers by clicking on categories such as luncheons/mixers, calendar of events, Taste of the Heights and Holiday Parade. In addition to pictures of recent luncheons, grand openings and ribbon cuttings, the chamber's website features useful links to public schools, local colleges and universities, city government, utilities, health care and attractions.
"I am excited that our new website reflects our mission to provide members a vehicle to promote their businesses that reaches beyond our ZIP code," said chamber president, Geoffrey Elkins. "The timing of our website relaunch could not be more perfect as we lay the groundwork to achieve our 2015 chamber goals for expanding our membership, offering valuable programming and getting plans under way for Taste of the Heights this fall." The site is operated by San Antonio-based PixelWorks Corporation, a member of the Alamo Heights Chamber, and publisher of 78209 Magazine.
AHCC MEMBER SPOTLIGHT: KAREN SAUNDERS
Karen Saunders owns Bambinos and recently relocated the store to Lincoln Heights. Bambinos is an infants' and children's boutique serving families in San Antonio for 21 years. Known for offering the finest layette collection, keepsake gifts, christening, baptism, and Communion apparel for girls and boys sizes 0-16, the store also carries infant and toddler clothes, gifts for showers and other celebrations, baby gear and a complete selection of items for nurseries or children's rooms.
WHY DID YOU MOVE TO LINCOLN HEIGHTS?
The move to Lincoln Heights was a bit of a homecoming, as Bambino's began in 78209. We added many new lines, some fresh and accessible items, and launched a new, fully integrated website, so it was important to reintroduce the boutique in a new space that's become an exciting retail hub.
WHY DID YOU JOIN AHCC?
Community partnerships and activism are an important part of the Bambino's mission. I joined AHCC because I think it's important to be involved in an organization that supports local businesses and fosters community. In addition to AHCC, Bambino's also partners with Alamo Heights Presbyterian Day School, Alamo Heights United Methodist Church, St. Luke's Episcopal School and Alamo Heights ISD, among others.
WHAT ARE YOU HOPING TO ACCOMPLISH WITH AHCC SUPPORT?
With AHCC's support I hope Bambino's will become an option for families in San Antonio that have never shopped with us before. We look forward to participating in and supporting AHCC events and meetings, and we are thrilled to be in such good company. The support, credibility and resources AHCC lends are invaluable.