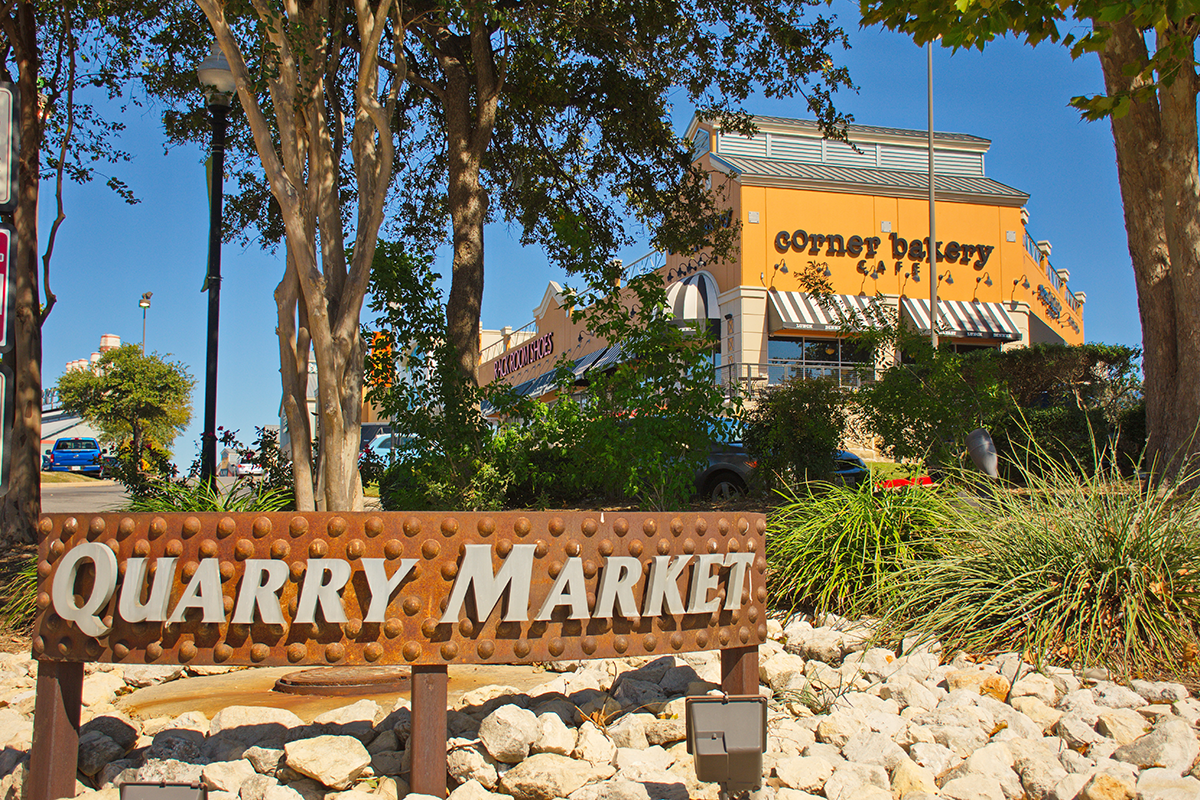 If there's one particular place in 78209 that folks have really been into for a "hole" long time, it's that unmistakable acreage situated just off Basse Road abutting Highway 281. Yep, since 1908, this sprawling patch of commercial AH real estate has been going (and blowing) like dynamite, and it's not showing signs of slowing down anytime soon — especially with the holidays at hand. Why, when considering the iconic site's proud beginnings as a sole purveyor of powdery Portland cement to the current expansive and varied retail offerings of "almost everything" we want and need, it's pretty evident that even after an amazing metamorphosis, it remains one rockin' place. Can you say the Alamo Quarry Market? And more importantly, can you dig it?
In the late 1990s, after eight decades of quarrying, the venerable Alamo Cement Company decided to vacate, heading for more lucrative mining areas located farther north. With its leaving, Alamo Heights found itself with a large unoccupied parcel of land that, while facing some environmental challenges (a huge pit for one), did have an unbeatable asset — its location. Well, that's when a group of farsighted entrepreneurs envisioned the creation of a multi-use shopping and entertainment center that incorporated not just the topography but many of the historical remnants of the old cement company. To the delight of everyone — the city, store owners, the citizenry — that's exactly what happened … in spades!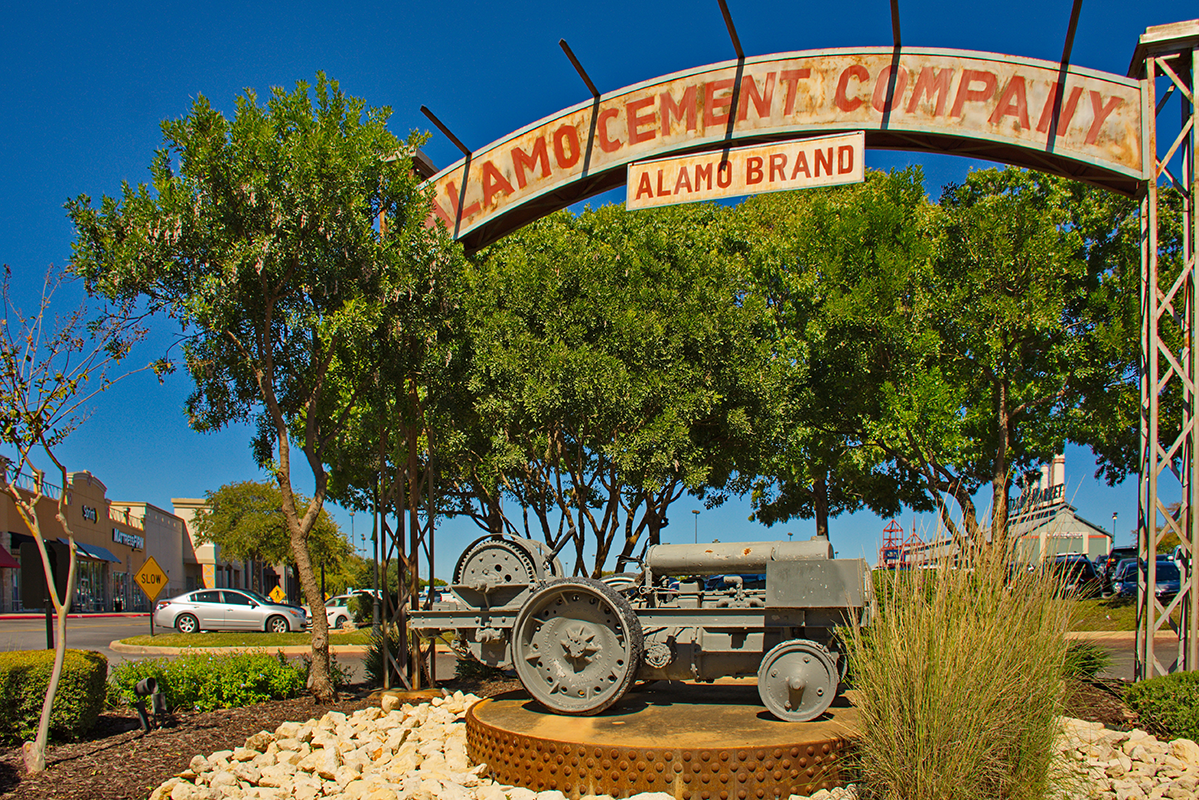 While some of the property became the much-played Quarry Golf Course (located in the actual quarry) and other sections turned residential, for the old cement company's core, it was nothing less than retail, retail, retail. Today, sprawling across almost 60 acres that include the adjoining Quarry Crossing section are more than 75 local and national upscale stores, shops, restaurants and, of course, the theater, which is housed in one of the oldest original company buildings. When taken all together, it's become a major shopping mecca, not only for '09ers but countless others from near and far. And all this from a former cement plant!
If you've never been to the Alamo Quarry Market (and who would that be?), a trip this December is essential. From one end of the 2.5 million-square-foot footprint to the other, consumers can find just about anything their hearts or stomachs desire (see sidebar). Jewelry (Ben Adams was the first one to set up shop in 1998), clothing, housewares, hardware, office supplies, hobby supplies, groceries and more are all featured in abundance. And since shopping can induce hunger, how about some chow, including Italian, Chinese, seafood, Mexican, steaks and, of course, burgers — yum! Still not satisfied or need a rest? Then take in a movie and chill for a while. Add in the convenience of its close proximity and the almost 3,500 free parking places, and all in all, you've got one very popular destination at this special time, or for that matter, any time of the year.
What quite evidently sets the Alamo Quarry Market apart from other malls and shopping centers are the lengths that the original developer (Trammel Crow) went to in preserving and incorporating the site's historical past. The most visible examples are the four looming smokestacks that can be seen for miles — especially when they are artistically lit in celebration of various events. But many other relics and holdovers dot the property, including original machinery, buildings and even one of the entry gates. To those who grew up near or actually on the property then known as Cementville, it's quite endearing and nostalgic. For others too young to remember, it's just plain neat.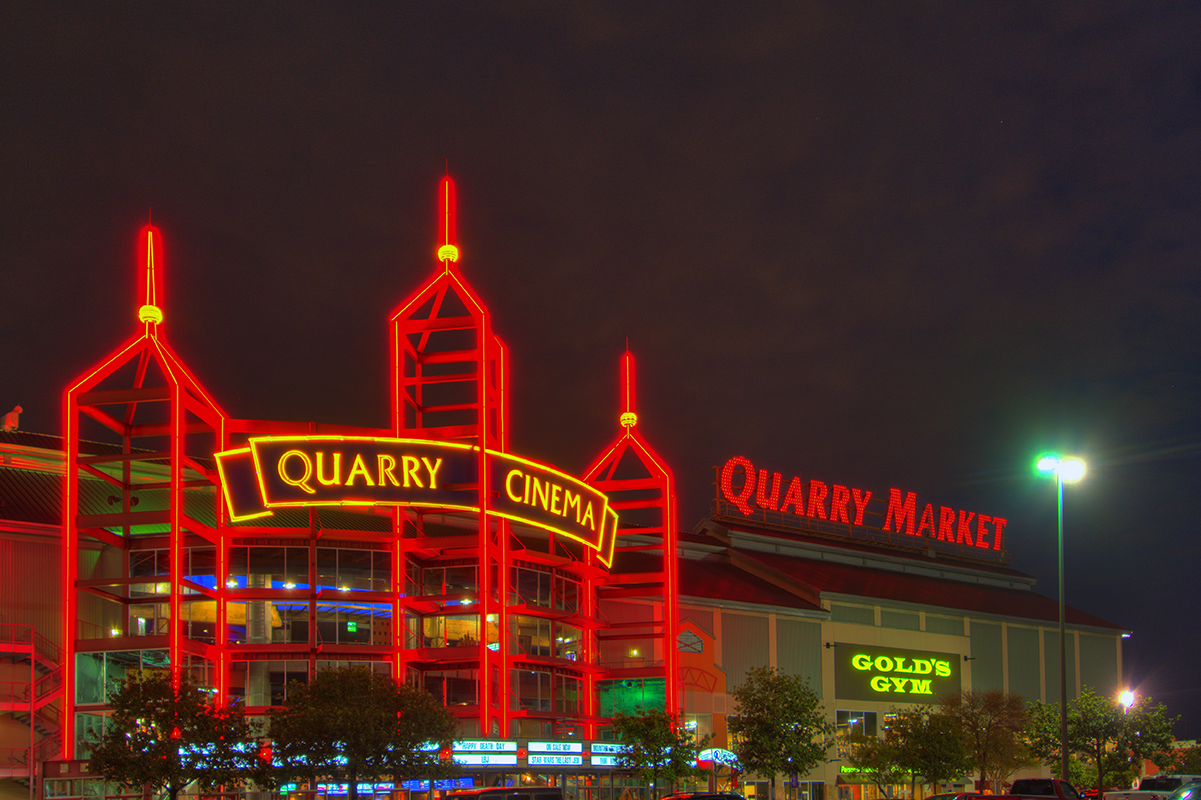 Since 2005, Alamo Quarry Market and the Quarry Crossing have been owned and managed by American Assets Trusts, a national concern dedicated to attracting quality tenants while providing an infrastructure tuned to the consumer's well-being. In this regard, based on the impressive and excited crowds who flock to the center each week, it's been a very successful arrangement indeed.
So, fellow shoppers, Santa is expected soon, but there are still a few empty places in his bag that need to be filled. What are you going to do? Ask most '09ers, and the answer you'll get well be a resounding, "no problem," because the Alamo Quarry Market really is the ZIP's complete shopping, supping and seeing venue. And we can dig that.
By Ernie Altgelt
Photography by Martin Waddy