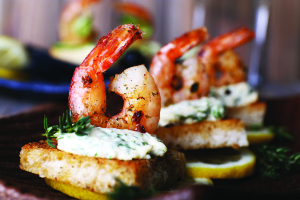 CHAMBER TO OFFER "TASTE OF THE HEIGHTS"
The Alamo Heights Chamber of Commerce will present its 22nd annual Taste of the Heights 7-10 p.m. Sept. 10 at the Witte Museum, 3801 Broadway.
The event enables visitors to enjoy samples of select dishes from several dozen Alamo Heights-area restaurants and catering companies.
Some of this year's scheduled participants are Black Swan Inn, Boardwalk Bistro, Canyon Café, Cheesy Jane's, Corner Bakery Café, El Machito, EZ's Brick Oven & Grill, Fresh Horizons Catering, Joseph's Storehouse Bakery, Kettle King, La Fogata, La Hacienda de Los Barrios, La Marginal, Menchie's Frozen Yogurt, Nothing Bundt Cakes, Paesanos, Paloma Blanca Mexican Cuisine, Picante Grill, Texas Pride Bar-B-Q, Tomatillos, Urban Taco and Zedric's. Other scheduled vendors are Al's Gourmet Nuts, Amy's Ice Cream, Pacuigo Gelato, R Cakes Custom, Cinco Vodka and Studio Benton.
Attendees will have a chance to sample select wines and craft beer. There will also be live music and a silent auction. Activities can be found inside and outside the museum.
Chamber president Geoffrey Elkins described the "Taste" as one of the premier events in the Alamo Heights community. He said for the most part the scheduled participating eateries and vendors are familiar with the event and regular attendees, but this will be the first time Cinco Vodka will be appearing.
Elkins said he hopes publicity leading right up to Sept.10 will result in another impressive turnout. "We noticed last year a huge turnout on the day of thanks to appearances on TV shows like 'Great Day SA' and 'San Antonio Living'," Elkins said. "We hope the same happens this year."
He added that organizers are looking for a crowd somewhere in the 500 to 750 range. "I think that's a pretty good-sized crowd, especially given the construction going on at the Witte," he said.
Tickets are $50 in advance and are inclusive of the sampling as well as valet parking. Self-parking is available at the multi-floor garage on Avenue B near the Witte. The event will happen, rain or shine.
Some of the proceeds will benefit the Witte and Morgan's Wonderland. For more information about Taste of the Heights, visit www.tasteoftheheights.com or call 210-822-7027.
AHCC MEMBER SPOTLIGHT
CATHY BUREAU
TELL US ABOUT YOUR BUSINESS AND WHAT YOU ENJOY MOST ABOUT YOUR WORK. I am a UTSA MBA graduate and licensed real estate broker with Green Commercial Realty (GCR). I have been helping the San Antonio business community to leverage its real estate to build businesses since 2005 by offering value-added services. My passion for sustainable business practices motivates me to offer performance-driven eco-friendly solutions that increase economic and health value for my client's business and for happier, more productive employees.
HOW LONG HAVE YOU BEEN A MEMBER OF THE ALAMO HEIGHTS CHAMBER OF COMMERCE? I joined the chamber in December 2014, when I moved to Alamo Heights. I sincerely believe in being active in the community in which I live and made it a priority from day one to support local businesses, especially start-ups since I am an entrepreneur and commercial real estate broker.
WHAT IS YOUR ROLE WITH THE CHAMBER? I serve on the board of directors and two committees: I chair the membership committee and serve on the restaurant subcommittee for Taste of the Heights. But as I do for all my clients, I jump in and help wherever I am needed.
WHAT BENEFITS DO YOU ENJOY AS A MEMBER? Of course, as the membership committee chair I can give you a great answer!  Having the opportunity to do this Member Spotlight is one. We choose members based on their contribution to the board and the role they play.  Our small chamber is a very close group, and we enjoy hanging out, especially if you serve on the board. You don't have to live or work in Alamo Heights; you just have to have a heart to be part of this beautiful small town.  Our monthly meetings are geared toward providing opportunities to grow your business and your skill set. Lastly, we are a networking organization, so members have ample opportunity to meet and know other business professionals to grow their sphere of reference.
BY EDMOND ORTIZ