House shoes, blankets, ties, and sweaters…the list of traditional holiday gifts is long. Perhaps, this is the year to surprise and give a gift with long range purpose and meaning…the gift of good health. 78209 residents need only visit local businesses in the ZIP code for ideas of gifts which will benefit loved ones for a lifetime.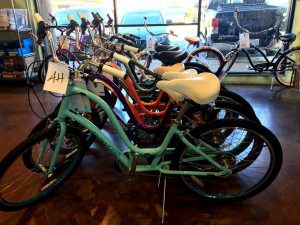 A NEW BIKE
Assistant manager, Art Limon, loves his business at Bike World and is happy to introduce anyone to the world of cycling. For beginners, he recommends consideration of two bikes:
Trek 7.3 FX – this bike is fast and fun and designed for someone who takes bike training seriously. It is a fitness bike. The wheels are tubeless already so there are no worries with flats. These bikes run from $600-$700, and all Bike World purchases include free adjustments and tuneups. Limon said, "These are perfect for the trails in our Alamo Heights area like Brackenridge."
Electra Townie 7D – These trendy bikes are made for comfort, fitness and fun. Riding one will definitely get the heart rate going, though it is not meant for rigid trails. "I have one of these for errands in my area," Limon said. "It is my grocery shopping bike." The price is around $500.
Of course, gifting a sturdy helmet is a must. Limon recommends the Bontrager Solstice Helmet. It is safe with a stylish edge!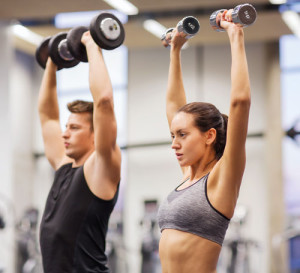 PERSONAL TRAINING
Revolution Sport & Fitness opened in this original Abercrombie & Fitch location five years ago and boasts of the best personal trainers in the city. Nina and Steve Bubel have designed an intimate health studio for personal training, Pilates and small group training. "The groups should only be four or less," Nina said. "We can put you in one or you can come with your own." They are happy to sell a gift certificate to give as a special gift. The personal training and Pilates instruction is $75 an hour, and the small group training is $50 an hour.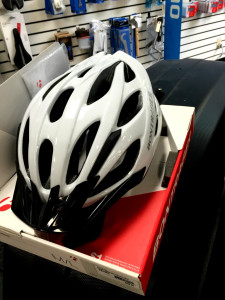 SPORTING SAFETY
5933 Broadway 210-930-3148
A specialty sporting goods business, Soler's Sports in Alamo Heights focuses on gear for runners. Employee Foster Hooks recommends as gifts for new runners the gift of security and peace of mind. "Safety is even more of a concern for walkers and runners during this time of year since the sun sets earlier," Hooks said. He recommends reflector lights and neon apparel as gifts to encourage family members to get up and move with no fear. "Also, we remind everyone to run and walk with awareness of your surroundings, and consider going in groups," he said.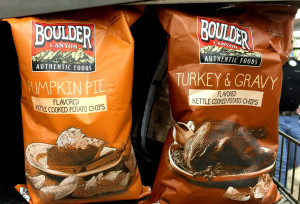 HEALTHY FOOD FARE
Finally, a search for gifts of good health must include a stop at HEB's Central Market, known for healthy and unique fare. Discover hostess gifts such as the Tiptree organic Christmas pudding served in earthenware with a cloth covering. For home, consider serving Boulder Potato Chips in Pumpkin Pie and Turkey & Gravy Flavorings; Olivia's Gluten-Free Stuffing; McCutcheon's Pumpkin Butter; and pumpkin pie made with farmer's market organic pumpkin. The cooking oils section is as varied and vast as the wines, and check out their original recipe for a holiday dish.
Good health is obtainable and there is really no greater gift to give friends and family than encouragement in this important area of their lives.
BY PAMELA LUTRELL