Where Everybody Knows Your Name
There are only a handful of places left where you are greeted by name when you walk in the door. At Cerroni's Purple Garlic you are family, even if it's your first time. Their mantra is "Enter as strangers, leave as friends." Cerroni's serves up homemade Italian food and exceptional hospitality offering a laid-back family friendly atmosphere conveniently located at 1017 Austin Highway.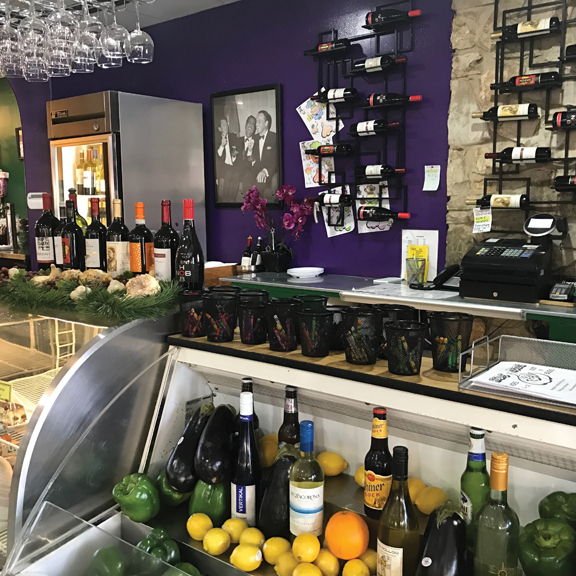 Cerroni's casual atmosphere makes it a perfect stop for large groups of people. Wait in line to place your order and then seat yourself; this is not a romantic candlelit Italian restaurant, but those two features are a must when your kids have too much energy, and you want to skip the awkward "can you split up the check request." Don't worry if you can't find a table inside; there's at least twice as much seating on the back patio, and it's located beach front, well actually, sandbox front, but what a bonus! The adults can talk, and the kids stay entertained. Let's be honest. If there's beer, wine and a play space for the kids, do you need anything more? Maybe not, but the bonus here, is that the food is tasty.
Jump in line when you first arrive. Everything is from scratch, so it's good to get your order in early. The line is short and moves quickly. While you wait, check out the wine list. There are several affordable selections, and the markup from retail is reasonable. One stands out, the Tenuta Raptiala Campo Reale, a 100 percent Nero D' Avola from Sicily. The Nero D' Avola grape is full-bodied and delicious, a perfect pairing with pizza or red sauce. The beer selection is not extensive, but they serve all the usual standards in bottles and offer a few on tap. To their credit, they offer one local beer, Alamo Ale, alongside national brands. More local beer would be a welcome addition. One subtle but excellent option is the opportunity to run a tab. More casual restaurants need to take a cue from Cerroni's, when that first bottle runs out, you just grab another. When relaxing on that porch, you will need a second bottle.
Cerroni's menu is extensive, the recommendation is to do some research before you arrive; they post it on their website. Start off with the Tomato and Basil Bruschetta, a well-balanced combination of fresh tomatoes and shaved Parmesean with a hint of pepper and garlic served on house-made bread. The garlic bread is a reliable option and a great first course to share with the kids; add the cheese and order a side of the marinara. (Italian chips and queso, y'all!). For entrees make sure to order something that features their fresh marinara sauce. It's a homemade delight with just the right amount of spice and a perfect consistency. You can't go wrong with the entrees or sandwiches. Cerroni's doesn't stray too far from what you'd expect from Italian food, but they don't need to, what they do, they do very well. A few of those standards are exceptional, like Chicken Parmigiana, Spaghetti and Meatballs, and Chicken Pesto Pasta. And of course, there's the pizza. They serve many options by the slice, but go ahead and order the whole pie. The Sly Stallion is a meat lovers dream, but if your preference is a pizza without red sauce, the Pizza Gorgonzola is a creative dish.
Cerroni's offers classic Italian food, but what you may not expect is the great healthy options, you read that right, healthy options. Amidst the cheese, bread, and pasta their healthy options make this a surprising light meal option. Wheat or gluten free dough is available on most of their pizzas, and the salad options are fresh and delicious. You can create a pasta dish or go for the Chicken Saute, chicken breast cooked with fresh spinach, spicy oil and garlic sauce served on a bed of penne pasta.
Cerroni's Purple Garlic is a neighborhood joint with friendly service and great food. After the Little League game wraps and you need a place to accommodate 20 for delicious, affordable food at a place your kids will love, or if you are craving Chicken Parmesan done right this is your spot. Tell them Scott sent you!
By SCOTT AUSTIN
Photography by RALEIGH HART