EATING FRENCH IN '09
CAFE DIJON IS OPEN FROM BREAKFAST THROUGH DINNER
BY SUSAN H JOHNSON
PHOTOGRAPHY BY RALEIGH HART
A French café is in the neighborhood — right in Lincoln Heights in the former Café Salsita location. And what could be more French than a patio with flowers, azure blue and black furnishings and food centered around eggs, beef, chicken, brioche and baguettes? There is even a chandelier in the beautifully appointed ladies room.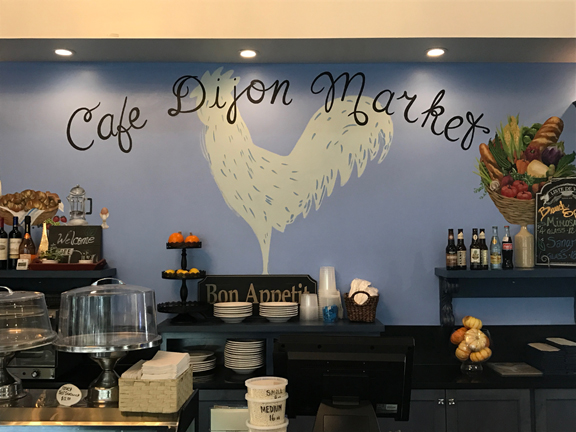 Café Dijon does it all with counter ordering for breakfast and lunch, a case featuring all-day takeout items, catering, happy hour from 4-7 p.m., and — just added — a full-service dinner until 9 p.m.This is a great spot to stop for a lunch with friends or to dash in to grab something to take home for dinner with friends and family.
The café is owned by sisters Natalie Newell and Noel Hollingsworth, who grew up spending summers in France. Their love of the food and healthy lifestyle led to the creation of this space. Although not touted in the menu, healthful, seasonal foods are offered. Chris Jara, who was most recently at the St. Anthony Hotel, is executive chef and general manager. His expertise as a former pastry chef is evident in the cookies, croissants and pastries available for dining in or taking home.
dns test completed nxdomain blunder can happen because of a few reasons DNS_Probe_Finished_NxDomain yet every one of them are identified with DNS server of your framework
I was especially intrigued with the beverage offerings. The water is not softened but filtered nine times, which makes for pure alkaline water and the best-tasting coffee, tea and aguas frescas. The coffee is a special blend of Ethiopian, Colombian and Guatemalan that is smooth, yet flavorful. Cappuccino and lattes, hot teas, wonderful iced tea and fresh-squeezed orange juice are offered. Most impressive are the homemade syrups — cinnamon, lemon, mint and simple syrups — available for thoroughly emulsifying your iced tea, hot tea or coffee with your sweet flavor of choice.
From the case, the all-day frittata was surprisingly light and flavorful, a great choice for breakfast, lunch or in between. The deviled eggs are quite nice with added curry for a healthy touch. The chicken salad is very French with all white meat, green onions, chopped white onion and mayonnaise. Also available from the case was a baked butternut squash that had been stuffed with white beans, purple cabbage, local greens and pomegranate seeds – delicious! These offerings change daily and are prepared with seasonal ingredients.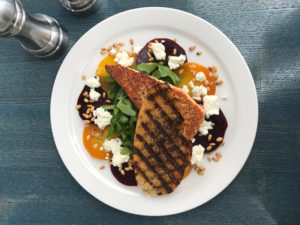 For lunch, we tried the daily special soup of zucchini bisque, which had a satisfying depth of flavor punctuated by chicken broth and herbs. The beet salad with goat cheese, pine nuts and baby arugula was a delight to the senses. The vibrant colors of purple and golden beets and contrasting flavors of the well-balanced balsamic vinaigrette were intermingled with the bitter arugula, creamy goat cheese and sweet beets. For $5 we added the grilled salmon option, which was nicely done and made for a very healthy lunch.
For our second visit, we tried happy hour and the newly implemented full-service dinner. These fall nights are pleasant for patio sitting. The broad variety of beer and wine is helped by the happy hour 20-percent discount between 4 and 7 p.m. All the wines have been carefully selected for full flavor and easy price point. The Oregon pinot noir offered by the glass was everything you want from a pinot — clean, bright flavors with a ripe, elegant cherry finish. The wine went well with the small plate options available during happy hour. We recommend you try the chick pea fries with chipotle aioli, burrata bruschetta or goat cheese fritter with spicy honey, arugula and crostini.
The Dijon burger is one of the best burgers in town. It's made with flavorful grass-fed Angus beef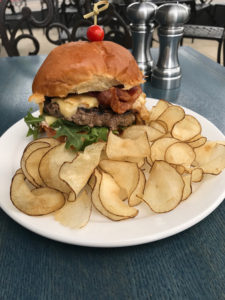 and accompanied by a light brioche bun, grilled onions, Gouda cheese, house-made pickles and a roasted tomato aioli. The side of homemade chips was just delicious. My dinner companion, who is a picky eater, devoured every bite! The Oriental chicken salad is nicely done with crisp cabbages and greens, fried chicken breast and an Asian-inspired vinaigrette with spicy chili sauce, sesame oil and rice vinegar, another healthy option that is satisfying as well. I learned that the chicken is breaded with cornstarch, making this salad an option for those wanting gluten-free deliciousness.
We are impressed with all that Café Dijon can do. The food is house-made, creative and delicious. We have yet to try the catering, but it is well worth exploring, especially for easy-to-prepare family meals after a tough day of holiday errands.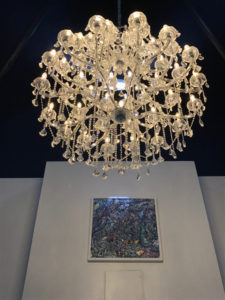 Café Dijon
555 E Basse Road, Ste 113
210-822-2665
CafeDijonSa.com
Breakfast, lunch, takeout,
catering, private parties
Open Tues Sunday 9am-9pm.