AHHS Golfer One of Top 24 in Nation Story Courtesy of American Junior Golf Association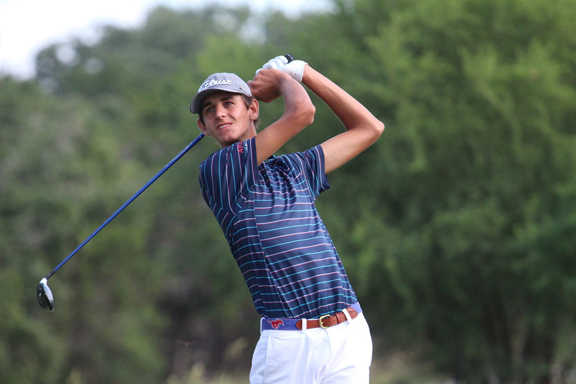 Twenty-four of the nation's brightest minds and best junior golfers were named to the 2016 Transamerica Scholastic Junior All-America Team, announced by the American Junior Golf Association. Created in 1988, the team consists of 12 young men and 12 young women who excel not only on the golf course, but also in the classroom and the community.
Alamo Heights High School's McClure "Mac" Meissner was the only Texan named to the list.
Meissner was named after earning a top-10 finish in an AJGA Open or Invitational. After qualifying, selections were then based on the following criteria (in order of importance): standardized test scores, GPA, school leadership/community service and writing skills as showcased in an original essay.
"These 24 young men and women deserve all our applause for the hard work and dedication they have shown in pursuing their academic and athletic passions," said Brian Forbes, director of sponsorships for Transamerica. "In addition to being a game of skill and tradition, golf is a great way to stay healthy, active and connected with friends and loved ones. This is why Transamerica continues to support golf at many levels and is proud to partner with the AJGA and honor Transamerica Scholastic Junior All-Americans."
The Transamerica Scholastic Junior All-America Team was honored at the Rolex Junior All-America Awards Banquet, Nov. 20 at PGA National Resort & Spa in Palm Beach Gardens, Florida. By being named to the team, each player was also eligible to participate in the Polo Golf Junior Classic, one of the most prestigious events in junior golf, which took place on PGA National Resort & Spa's Champion and Fazio Courses.
National High School Baseball Coaches Association Names Jason Thompson Southern Region Coach of the Year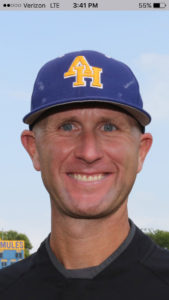 The National High School Baseball Coaches Association (NHSBCA) has named Jason Thompson the Southern Region Coach of the Year for the 2016 season.
Thompson coached the Mules varsity baseball team to the state playoffs for the first time in program history. The team played for the state championship title in June, earning the No.2 spot in the state. Thompson will be presented the award, and the organization will then announce the 2016 National BCA Coach of the Year winner on December 2nd at the NHSBCA Hall of Fame/Awards dinner in Columbus, Ohio.
This is a huge honor, as Thompson is one of only eight coaches in the nation to be selected, making him one of the top eight baseball coaches in the nation!
AHHS Students honored by National Merit Scholarship Program
The National Merit Scholarship Program is an academic competition for recognition and scholarships. Alamo Heights High School students who have been recognized and honored for their academic achievements by the National Merit Scholarship Program include National Merit Semi-Finalists: Samuel Berryman, Avery Myers, Ellery Parish and James Taylor; National Merit Commended: Grant Anderson, Samuel Becvar, Drew Benedikt, Jack Callahan, Benita Lee, Caitland Love, Joseph McGrath, Cooper Noble, Cole Pringle,
Sterling Rios, Sine Scribbick, Zoe Seay and Sophie Tippit; and National Hispanic Scholars: Elisabeth Medina, Sterling Rios, Zoe Seay, Martha Vazquez and Cameron Young.
Mariana Medaris named Region 20 Bilingual Teacher of the Year
Mariana Medaris has been named the 2016 ESC-20 Bilingual Teacher of the Year. Medaris is a bilingual teacher at Woodridge Elementary. She was honored during the ESC-20 Language Conference, November 2-4, at ESC-20. Medaris participated in a panel discussion, sharing the successes of the language programs at AHISD and was recognized during a special luncheon on November 4.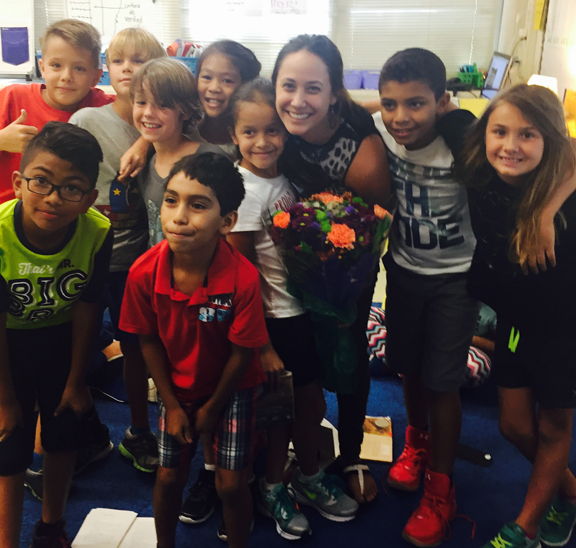 DUKE TIP Honorees
The DUKE University Talent Identification Program (DUKE TIP) is a nonprofit organization dedicated to serving academically gifted and talented youth. The 2016 Alamo Heights Junior School honorees include Grand Recognition: Sophia Carroll and Daniel Halff; State Recognition: Keats Baggett, Charles Bell, Paul Bessler, Laura Beuhler, Sophia Carroll, Bella Chase, Brooken Cole, Ethan Coleman, Blake Danner, Jennifer Drawert, Zachery Foster, Daniel Halff, Naomi Heath, Abigail Jones, Sofia Lloyd, Cristian Lopez, Timothy McLallen, Isabella Negrete, Claudia Olson, Robert Richardson, Samantha Rosart-Brodnitz, Colin Troy, Edward Villa, Benjamin Wolle, Emily Worthen and Theodore Yun.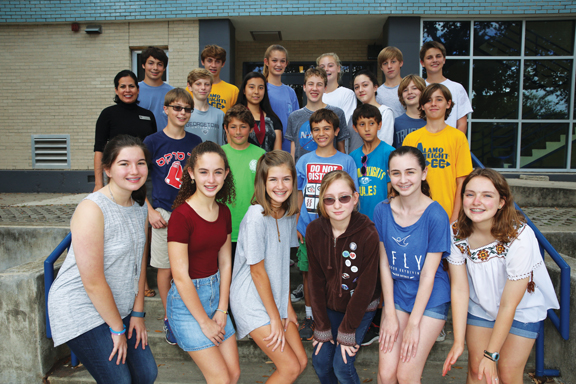 Parent Symposium
AHISD is educating more than its students. The first Parent Symposium was held at Alamo Heights High School in late October.
The event offered parents training on social and emotional wellness, digital citizenship and character education. It also featured vendor exhibits from area community resources such as ChildSafe and the Alamo Area Teen Suicide Prevention Coalition.
The keynote speaker, Dr. Don Lucas, author of Being: Your Happiness, Pleasure, and Contentment, spoke to a group of parents and district employees about happiness and how to maintain it.
Attendees also took part in breakout sessions, such as talking about mental health, identifying mistreatment and parenting tech talk.
Alamo Heights parents like Yolanda Tecuanhuey attended the seminar and gained a better understanding of the district's initiative. "It was a great opportunity for parents to see how we can help AHISD and our own children," said Tecuanhuey.
The event was part of an initiative recommended by AHISD's Task Force. For more information on upcoming events, please check "Resource Stop" on the Alamo Heights ISD website.
Texas Built Ford Tough Player of the Week, Will Chaney
Will Chaney was recognized as the Texas Built Ford Tough Player of the Week during the AHHS pep rally on Friday, November 11.
Will was named to the Dave Campbell's Top 300 Recruits list, and was voted team captain by his teammates. He received the Built Ford Tough 5A Texas Player of the Week award and was nominated for Mr. Texas Football for his standout performance in Week 7. In week 10, he was named the ESPN San Antonio Player of the Week. To top it all off, he was selected to play in the San Antonio All-Star Game alongside teammate Joe McGrath in 2017.
AHHS Tennis Takes 2nd at State
Alamo Heights High School excelled at the UIL State 5A Team Tennis Meet, November 1-2, earning second place in class 5-A competition. Larry Oxford coaches the team.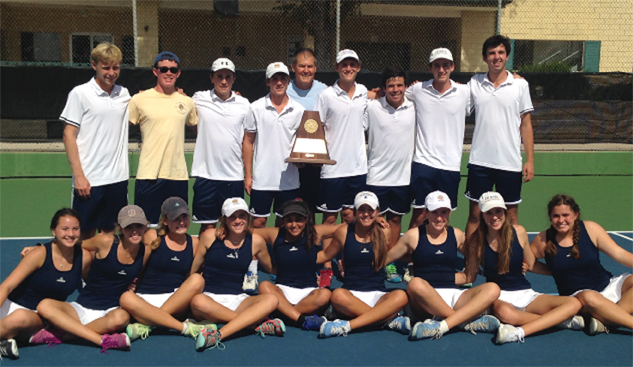 Advisory
The latest addition to the AHISD classroom this year is Advisory, about 20–30 minutes of class time set aside each week for students to focus on various topics.
During Advisory, students discuss subjects such as developing healthy relationships, positive digital citizenship, building good character traits, and social and emotional wellness.
During a recent Advisory period at Alamo Heights High School, in Andrew Walton's Spanish Immersion class, the topic was on ethics. He had his students transition from the traditional classroom setting into a big circle, saying, "This is the way I build a relationship with the kids and start discussions." The ethics topic quickly turned to unethical behavior online and on social media. "People are unethical on social media," said AHHS freshman Faith Holzhausen, "because they sometimes create anonymous accounts and negatively comment on pictures."
Mr. Walton expressed how important it is for students to have a safe environment where they can share their feelings and perspective. "You'll find teachers with great Advisory periods have a great culture in their classrooms. I really value it, and it's great for our school," he said.
Grants to Educators
The 2016 AHSF Prize Posse awarded over 46 grants worth $150,000 to teachers in the Alamo Heights Independent School District. The Grants to Educators program awards AHISD teacher applicants with funds that enable and encourage them to be innovative in their approach to teaching.
AHJS No Cell Phone Policy Opens Lines of Communication
New to Alamo Heights Junior School this year is the implementation of a no cell phone policy.
Based on recommendations by AHISD's Task Force, this policy was implemented to increase student interaction and decrease student distractions in the classroom. It allows students to use their phones before and after school, but they must be put away during the day. If a student is seen using a cell phone during the restricted time, it is picked up and taken to the office, where it can be recovered after school.
"Overall, students have handled it very well," said AHJS Principal Laura Ancira. "On average, we have picked up 20 phones per month since the inception of the policy." Parents of repeat offenders are asked to pick up the phones following a conference.
Ancira has also observed more peer-to-peer interaction, and eighth grader John Brookreson agreed. "It's a lot louder (at lunchtime)," said Brookreson. "Everybody is really talking. They used to be on their phones and playing games. It's a lot more like social skills and communicating!"
Saint Mary's Hall Teacher Named Teacher of the Year
Saint Mary's Hall master chair of Science and Middle School earth science teacher Mary Poarch was selected as the Texas Earth Science Teachers Association (TESTA) Teacher of the Year for her outstanding contributions to earth science education. Mrs. Poarch was selected from a large field of public and private school science teachers.
Mrs. Poarch was honored at a special dinner during the Science Teachers Association of Texas Conference for the Advancement of Science Teaching (CAST) 2016. The conference hosted more than 6,000 attendees and featured several Saint Mary's Hall science teachers, including Mrs. Poarch, as guest lecturers.
Saint Mary's Hall dean of academics and head of Middle School Sam Hamilton said, "We are simply thrilled for Mary on her award for excellence! She is a treasured member of the Saint Mary's Hall family."
Mrs. Poarch has been a teacher at Saint Mary's Hall since 2013 and has been a science teacher since 1985. She previously served as assistant director of school improvement and prekindergarten – grade 12 science program supervisor for NEISD.
As one of San Antonio's top college preparatory schools, Saint Mary's Hall prepares students for success in college and fulfillment in life by providing strong academic programs. The spiraling science curriculum helps students develop into critical and independent thinkers who are able to function effectively in a scientific and technologically driven society. At Saint Mary's Hall, we believe that the best way to learn science is to experience science.
St. Luke's Kaleidoscope! Night of Fun-Raising
St. Luke's Episcopal School's community of friends and supporters came together for a fabulous night of "fun-raising" at the St. Anthony Hotel on Thursday, November 3rd. The 250 attendees embraced this year's '60s-inspired theme, "All You Need is Love," some even pulling out the go-go boots and vintage frocks. Chairs Amy Swaney and Whitney Schones and a very "groovy" 2016 Kaleidoscope committee organized the evening's festivities.